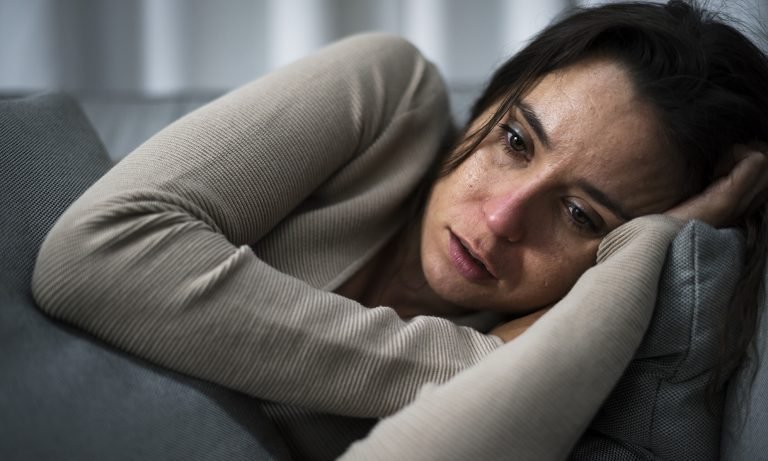 6 Types of anxiety disorders and Ayurvedic Treatment
26 Aug, 2021
Posted by admin
INTRODUCTION
Anxiety disorders are kind of mental state of the body. Anxiety is a normal emotion. It is  brain's way of reacting to stress . It's normal to have some anxiety. You may feel anxious or nervous when you faces any kind of  problem in your daily routine ,at work, before going  to an interview,  or before taking any  important decision. And anxiety can even be beneficial. For example, anxiety focuses our attention , prepare us for upcoming situations.
But when this  anxiety  goes beyond the regular nervousness and you feel fear  time to time then anxiety disorder occur .An anxiety disorder happens when:
Anxiety interferes with your ability to function.
You often over react when something triggers your emotions.
You have no control over your responses to any situation.
These  kind of feelings of tension  and panic affect  daily routine or activities , are difficult to control. You may avoid or stay away from the places or situations to prevent these panic.
SYMPTOMS  OF ANXIETY DISORDERS
Symptoms of anxiety disorder that you will notice in people include
Feeling of nervousness , restlessness
Always lives in fear of danger
Increased heart rate and breathing
Feeling weakness
Thinking capacity reduced
Reduced or disturbed sleep
Tend to avoid situations that cause anxiety
Experiencing GIT related problems
Sweating and trembling
 Types of anxiety disorder
There are several types of anxiety disorders, including:
Generalized anxiety disorder (GAD)
Panic disorder
Phobias
Obsessive compulsive disorder
Agoraphobia
Social anxiety disorders
1.Generalized anxiety disorder (GAD)
In GAD, Person may feel  excessive  and continues stress  and tension —sometimes without any reason . Most of the time person  may worry a lot about various circumstances or any topics like relationships , work, including health also
This condition affect physically also and  symptoms of GAD may  include restlessness, difficulty concentrating and sleeping problems.
2.Panic disorder
Panic disorder includes  frequent and repeated episodes of sudden feelings of stress and fear or terror that reach a peak within minutes (panic attacks). Sometime symptoms may include  shortness of breath, increased heartbeat, chest pain.
3.Phobias 
Phobias are feeling of intense fear of some situations or objects.  People mostly try to avoid situations that trigger  their phobia. It may cause you to avoid everyday situations. Some specific phobias include fear of:
Animals, such as spiders, dogs or snakes.
Fear from Blood.
Fear from Heights.
Fear of Injections (shots).
Fear of losing something or defeat.
4.Obsessive-Compulsive Disorder
Obsessive-Compulsive Disorder (OCD) is a kind of anxiety disorder that is  characterized by recurrent, unwanted thoughts (obsessions) and/or repetitive behaviors (compulsions). Repetitive behaviors like  hand washing, cleaning , counting are often performed by the person to avoid  obsessive thoughts or making them go away.
5.Agoraphobia 
In agoraphobia , person   may have feeling of intense  fear of being overwhelmed or unable to get help or person feels helpless. Usually, person feel fear of these environments:
Enclosed spaces.
Lines or crowds.
Open spaces.
Places outside your house.
Public transportation.
In severe situations, a person with agoraphobia avoid to go outside from house or may not leave house to avoid panic attack in public space.
6. Social anxiety disorder (social phobia)
In social anxiety disorder person feels high level of stress , fear and person avoid social situations to avoid feeling of embarrassment , feeling of being judged or low self confidence.
CAUSE OF ANXIETY DISORDERS
However cause of anxiety disorder are not fully understood. Following factors may cause anxiety
Genetics. Anxiety disorders can run in families.
Brain chemistry. Sometime anxiety disorders may be due to some defect in the areas of  brain that control fear and emotions.
Environmental stress. This includes  stressful events you have seen gone through your past.  Life events that are related to anxiety disorders include childhood abuse and negligence of child , facing violence or death of a loved one.
Drug withdrawal or misuse. Drug withdrawal symptoms may lead to anxiety disorders.
Medical conditions. Some disorders related to  heart, lung, and thyroid conditions can anxiety disorders or make anxiety symptoms worse.
Diagnose and treatment of anxiety disorders
Diagnosis of anxiety disorder is done on the basis of history of patient. Certain investigations can be performed to  rule out underlying cause.
Treatment of Anxiety disorders is done to reduce the symptoms of anxiety disorders
Medications – Several type of medicines are used to treat anxiety disorders . These include
Antidepressants – Include benzodiazepines , bupropion
beta blockers
Anticonvulsants
Antipsychotics
Psychotherapy is effective and beneficial to patients.
Prevention
Practice yoga and meditation
Eat right and do exercise
Avoid intake of excessive alcohol , caffeine , tea. As these substance increase symptoms of anxiety disorders
Get better sleep
Relax you mind and control negative thoughts
Ayurvedic approach for Anxiety disorders
In Ayurveda anxiety disorders are described under Manas roga . Treatment of Manas roga has been described by Acharyas .  In treatment it is given that keep you intelligence , memory in balance and pure. Follow the rules that has been given to sustain healthy life , do respect of aged persons , Do prayer, read holy books .
Beside of this treatment certain combinations or herbs have been given in ayurveda that are effectively used in treating anxiety disorders. Herbs include Brahmi , Shankhpushpi , Ashwagandha , indri , jatamansi , Tagar , Sarpgandha and many more.
Panchakarma procedure  Shirodhara is widely used to treat anxiety disorders . Other procedure like nasya , Shiro basti , thalam dharan are also very beneficial in this condition.
Medhya rasayan has been given in ayurveda that include
Yashtimadhu with milk
Shankhpushpi paste
Guduchi swaras
Mandukparni swaras
These are very effective in treating anxiety disorder and boosts mental strength.
Chandigarh Ayurveda centre provides the natural and effective way to treat Anxiety disorders. Medications include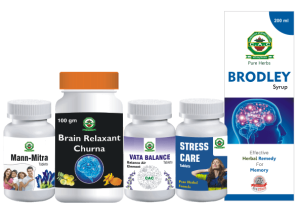 Mann Mitra Tablet
Vata Balance Tablet
Stress Care Tablet
Brain Relaxant Churna
Brodley Syrup