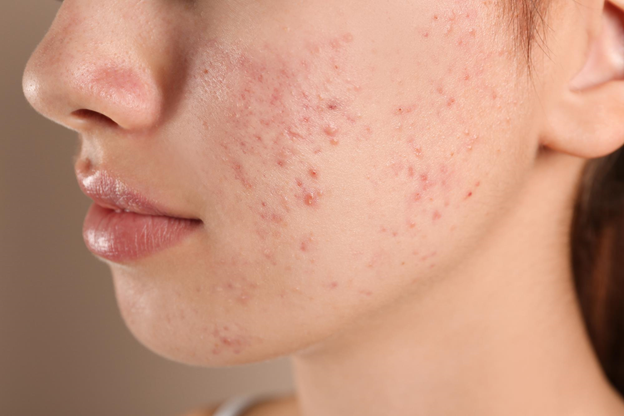 ACNE
04 Apr, 2022
Posted by admin
Acne is a very common skin condition in which skin eruptions occur on face, forehead, chest, shoulders and back.
The pores of skin get clogged with oil, sebum, bacteria and dead skin cells.
The blockages produce whiteheads, blackheads and different types of pimples.
Acne is very common in teenagers, though it can affect people of any age group.
There are a variety of treatments of acne available but recurrence is very common.
It is estimated that 80% of people experience at some point of their life.
Difference Types of Acne 
Acne is of several types:
Blackheads
Whiteheads
Papules
Pustules
Fungal acne
Nodules
Cysts
Causes of Acne
Acne occurs due to imbalance of androgenic hormones. Androgens are the hormones which are secreted by primary sexual organs. As they get active during teenage, there amount increases.
These lead to more production of sebum from sebaceous glands. The sebum when combines with bacteria, dirt and dead skin cells, leads to formation of pimples.
However, there are certain other factors which cause or make the acne worse:
Clothing
Fluctuating hormonal levels
Air pollution
Picking at acne sores
Consuming oily and fried foods
Usage of oily skin care products
Having a family history
Certain medications
Stress
Symptoms of Acne
Acne variations occur from person to person. Following are the signs and symptoms of acne:
Small, red tender pustules
Large, solid lumps called nodules
Painful, pus-filled lumps
Whiteheads
Blackheads
They mostly appear on face, neck, upper back and shoulders.
Complication of Acne
Some of the complications which arise with acne are:
There occur pitted skin and thick scar (keloids) on skin.
There can be hyperpigmentation or hypopigmentation on the affected skin.
Prevention of Acne
Prevention of acne is difficult as it is caused due to hormonal imbalance. But with some steps it may not occur or become worse:
Wash face regularly with warm water and a mild cleanser
Moisturize face regularly
Use less cosmetic products or if doing make up remove at the end of the day
Don't touch the face again and again
Home Remedies of Acne
Following are the home remedies for the treatment of acne:
Grapes cleanser
A chemical component called resveratrol is present in the skin of grapes. It is having bactericidal properties.
Take a few fresh grapes and cut it into half. Rub the pulp on the face and neck.
2.   Cucumber face mask
Cucumbers are very good hydrating agents. They help in reducing swelling, irritation and pain.
It is soothing for the inflamed skin and thus gives relief in acne.
Blend 1 small cucumber with 1 cup of oatmeal. Mix this paste with 1teaspoon of yogurt. Apply it on face and keep it for 30 minutes.
3. Honey Mask
Honey has anit-bacterial properties and helps in healing burns and wounds.
It prevents growth of acne causing bacteria.
First rinse the face with water and then apply honey. Leave it for 30 minutes.
4. Yeast and yogurt mask
Yogurt and yeast cause fermentation. They inhibit the growth of bacteria. Thus, they are helpful in pevention of acne.
Combine 1 teaspoon of yeast with plain yogurt and make a thin mixture. Apply the paste on the affected areas and keep it for 15-20 minutes.
5. Turmeric face mask
Turmeric is used traditionally in India before wedding as a turmeric mask.
Turmeric is anti-inflammatory, anti-microbial and anti-oxidant in nature.
It is very good for acne, atopic dermatitis and other skin conditions.
Mix ½ cup of chickpea flour with 2 teaspoon of turmeric, sandalwood powder and ghee and a little bit water.
Apply it on face and leave it for 5-10 minutes.
Chandigarh Ayurveda Center's Medication for Treatment of Acne
Here are some of the medications of Chandigarh Ayurveda Center which are used for the treatment of acne:
1. Aloe Vera Gel
Aloe Vera Gel is formed with the pure extract of herb Aloe Vera and the mixture of rose petals.
Thus this wonderful composition provides a cooling effect on the skin that relieves from burning sensation, itchiness, etc.
The gel helps in maintaining healthy skin and repairing skin damage.
Recommended Dosage – Gently apply over the affected area of the skin
2. Panchatikta Ghrita Guggulu 
The tablets are very beneficial in curing skin diseases as it contains the Pitta pacifying ingredients such as Shuddh guggulu (Commiphora mukul), Neem (Azadirachta indica), Amrita (Tinospora cordifolia), Gajapippali (Piper chaba), Shunthi (Zingiber officinalis), etc.
The tablet is Tridoshahara, thus is very effective in maintaining the hormonal level in the body.
Recommended Dosage –2 tablets twice daily with normal water
3. Blood Purifier
It is herbal syrup that deeply works to eliminate the toxins from the blood and maintains the proper circulation.
The syrup is made up of Neem (Azadirachta indica), Patola (Trichosanthes dioica), Guduchi (Tinospora cordifolia), Vasa (Adhatoda vasica), Patha (Cissampelos pariera), Vidanga (Embelia ribes), etc.
It corrects the digestive system, relieves constipation, prevents and cures boils, pimples, and skin eruptions.
Recommended Dosage –2 teaspoonfuls twice daily
4. Twak Detox Powder
As skin problems occur due to accumulations of toxins in the body and as per Ayurveda occur due to aggravation of pitta dosha.
Thus, twak detox powder is very beneficial in eliminating the toxins and improves the proper circulation of blood and other hormones.
Further, it provides glowing, healthy skin and prevents the formation of pimples, boils, acne, etc.
Recommended Dosage –1 sachet twice daily with normal water
5. Skin care tablet
Skin care tablet is a pure ayurvedic formulation. It helps to maintain the texture of your skin depending on the type of skin you have.
It contains various herbs like Haridra khand, Panchnimb churna, Khadir chahal, Chirayta, Mulethi, Chopchini, Gandhak, Ajmoda that work very effectively on all skin types.
Skin care is a blood purifying tablet. It cools and detoxifies the blood, increase blood circulation of the skin.
It minimizes the blemishes, lighten sun tan, delay ageing of skin and heal skin problems.
These tablets also act as a skin moisturizer, Improves blood circulatio, reduce itching and burning sensation of skin, Prevent acne and pimples.
Recommended Dosage – 1 tablet twice daily with normal water.
6. Twak Churna
Twak churna is a composition of two main ingredients – Yashtimadhu (Glycyrrhiza glabra) and Manjistha (Rubia cordifolia) that are considered as the best herbs for skin.
The churna has anti-inflammatory, antibacterial, and antiandrogenic abilities that treat acne and also prevent it from re-occurrence.
The herb Manjistha acts against bacteria such as Propionibacterium acne and Staphylococcus epidermidis which play a role in the development of pimples.
Recommended Dosage – 1 teaspoonful twice daily with normal water