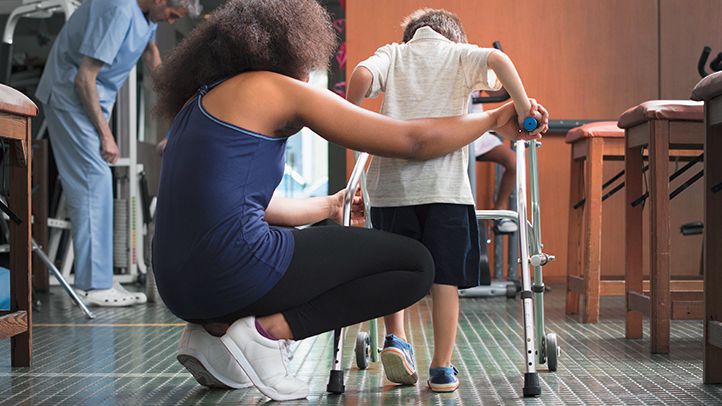 ALTERNATIVE TREATMENT FOR MUSCULAR DYSTROPHY
26 Apr, 2023
Posted by admin
A group of genetic conditions that causes muscle weakness and other muscle related symptoms is known as Muscular dystrophy. In Muscular Dystrophy, faulty genes (mutations) prevent the body from making the necessary proteins from building healthy muscle. Over a period of time the symptoms of muscular dystrophy gets worse. Muscular dystrophy tends to affect ability to walk, perform daily activities and move depending upon their type.
This condition can also affect muscles which helps the lungs and heart function. Some types of muscular dystrophy appear at birth or start to manifest in children.
WHAT ARE THE TYPES OF MUSCULAR DYSTROPHY?
Different kinds of muscular dystrophy exist. Common kinds include the following:
Becker Muscular Dystrophy (BMD) : Although symptoms of this kind can arise at any age between 5 to 60, they often appear around adolescence. The patient's heart gradually becomes affected by illness, which first affects their hips, thighs and shoulders. The likelihood of developing Becker muscular dystrophy is higher in men.
Duchenne Muscular Dystrophy (DMD) : This ailment often affects boys between the age of 2 to 5 but can also impact girls. A toddler may have difficulty leaping, walking or running and if illness worsens, the child's heart and lungs may also be affected. The most prevalent kind of muscular dystrophy is this one.
Facio-scapulohumeral Muscular Dystrophy (FSHD) : Its symptoms often begin before the age of 20 and it mostly affects the upper arms, face and shoulder blades. This form of muscular dystrophy is third most prevalent type.
Congenital Muscular Dystrophy : This illness exists from conception. The newborn has curled too-stiff, spine or too loose joints and weak muscles. The youngster may have learning difficulties, convulsions and eyesight issues.
Emery-Dreiffus Muscular Dystrophy (EDMD) : By the age of 10, sign of this kind of muscular dystrophy, which typically affects youngsters, include weak upper arms, calf muscles and shoulders. The patient's heart may potentially be impacted.
Limb-Gridle Muscular Dystrophy (LGMD) : The muscles closest to body such as the hips and shoulders, are affected by this kind of muscular dystrophy. It typically has an impact on people of all ages.
WHAT ARE THE SYMPTOMS OF MUSCULAR DYSTROPHY?
There are some common symptoms that an individual with muscular dystrophy experience. The symptoms includes :
Irregular walking gait
Spasticity
Muscle atrophy
Muscle pain
Difficulty climbing stairs, walking or running.
Stiff or loose joint
Permanent tightening of muscles, skin and tendons
Trouble swallowing
Curved spine
Intellectual disabilities
Fatigue
Heart problems like heart failure, arrhythmia etc
Learning disorder
Breathing issues
WHAT AYURVED SAYS MUSCULAR DYSTROPHY?
It is comparable to Mamsa-shosha in Ayurveda, which develops as a result of imbalance in dosha and dhatus (the fundamental components necessary to sustain bodily structures). The body's digestive fire is hampered by Kapha vitiation, which leads to Ama production. Due to their comparable qualities, the Kapha and the ama impede the srotus (channels), which vitiates the vata dosha.
The affected area becomes depleted as a result of the vitiated vata. Additionally, the Dhatwagni(metabolism), which is in charge of the metabolism of the respected  Dhatu (fundamental element), is vitiated also leads to depletion of mamsa(muscle).
HERBS :
Arjuna
Guggulu
Bala
Guduchi
Gokshura
Ashwagandha
Triphala
PANCHAKARMA :
Vasti
Shiro dhara
Abhyanga
Sarvanga dhara
Sahtika shali pinda sweda
CHANDIGARH AYURVED CENTRE MEDICATIONS FOR THE TREATMENT OF MUSCULAR DYSTROPHY :



1. Nerve up tablet:
These tablets are pure ayurvedic formulation. Nerve up tablets help in balancing the vata doshas and kapha dosha. It acts as nervine stimulant. It shows effective results in improving the central nervous system. It contains natural ingredients like shudha kuchala, shudha shilajeet, praval pishti, shankh bhasma etc. This tablet helps in Backache, kneepain, headache, bronchitis, depression.
Recommended Dosage– Take 1 tablet twice daily.
2. Immuno up Powder
Immuno up powder is pure herbal formulation. The importance of working on your immunity is now on an all-time high. If a person fall ill easily, it means their body's immunity is low. This pacifies tridosha (Vata, pitta and Kapha), strengthen your immunity, keeps your digestive system fit and also detox your body. it also works in cold, fever and flu conditions. It consists of effective levels of antioxidants, Vitamin C and E which circulate in the body to protect it against the damage caused by free radicals. it is a natural immune-modulator properties to prevent and ease coughing, sneezing, etc. It provides quick relief from early signs of running nose, Sore throat, body pains, and weakness.
Recommended Dosage– Take 1 Sachet twice daily with normal water.
3. Pain-O-kill Tablets
As the name suggests these tablets will kill the pain naturally. The herbs present in the formation of these tablets are Ashwagandha, Hadjod, Punarnava, Nirgundi, Methi, Garlic, etc. These herbs in combination show antioxidant, analgesic, anti-inflammatory, immuno-modulator properties. The regular use of these tablets reduce body pain and acts on its root cause.
Recommended Dosage: Take 1 tablet twice daily with normal water.
4. Makar Rasayan tablet:
It is a herbo-mineral tablet and is purely Ayurvedic formulation. CAC MAKAR RASAYAN tablet help in balancing all the three doshas. It helps to rejuvenate body tissues and act as an immunomodulator. It helps in proper blood circulation. It prevents the skin from dryness. It contains natural ingredients like shudha kuchla, guduchi satva, shudha shilajeet,  ras sindoor, moonga bhasma, shankh bhasma, praval pishti etc. Herbs and minerals used for the formulation of these tablets show antioxidant, aphrodisiac, analgesic and immunomodulator properties.
Recommended Dosage: Take one tablet twice daily.