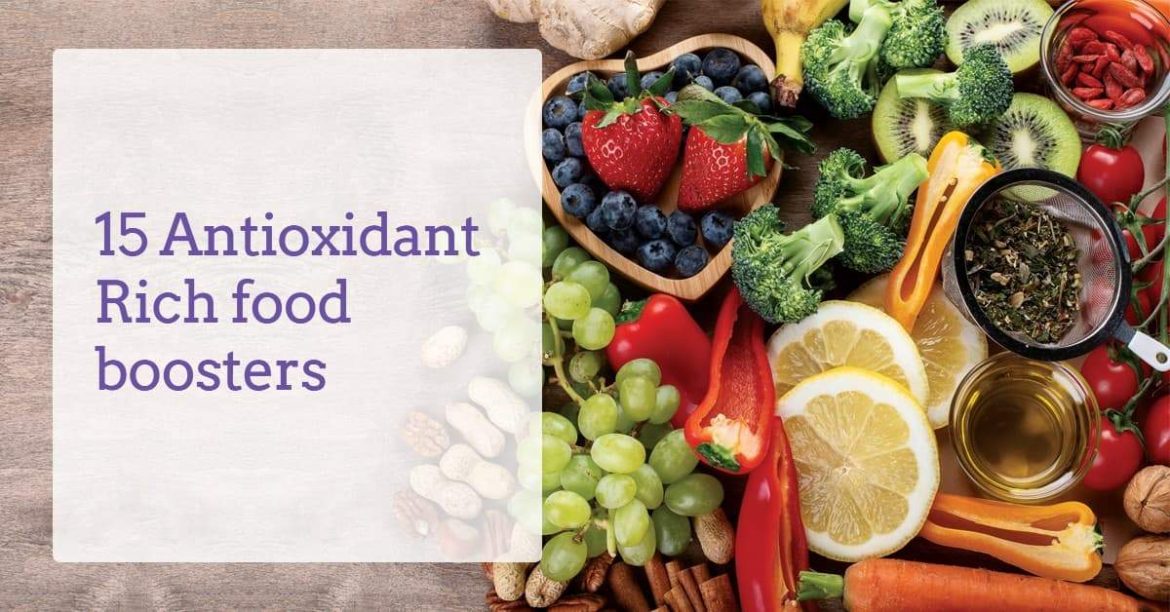 Antioxidant Rich Food
18 Sep, 2021
Posted by admin
Antioxidant is a molecule that stops the oxidation process. Oxidation is a chain reaction that occurs in cells that eventually leads to damage to the cells. Our body is made up of cells, any cell damage has a bad effect on the health of the whole body. But antioxidant-rich foods help to end the process of oxidation, which can keep cells healthy. This slide show lists some such antioxidant-rich foods.
Lemon
Lemon belongs to the citrus family. in this yellow fruit Vitamin C present which is a powerful source of antioxidants. Lemon is a rich source of antioxidants. The antioxidant found in lemon is very beneficial for your, hair, health and skin.
Strawberry
The antioxidant element found in vitamin C-rich strawberries increases immunity by eliminating free radicals that harm the body. Regular consumption of one bowl of strawberries protects against many diseases. There is no store of vitamin C in the body, so vitamin C should be consumed daily.
The nuts
Nuts are a rich source of vitamin E and are the best source of dietary supplements for your body. Vitamin E, unlike vitamin C, can be stored in the body along with fat in the liver. Almonds, walnuts, pistachios, etc. can be consumed in nuts. According to one study, those who eat nuts live two years longer than those who eat nuts.
Brokley
Each plant is rich in vitamin C, due to which it is considered the best source of antioxidants. Apart from vitamin C, broccoli also contains selenium. Salinium helps fight the loss of cells of the human body. It can be eaten in salads or raw, its vegetables can be made, or it can also be eaten by boiling. Broccoli is also baked and eaten in some dishes.
Egg
Egg is the most common diet preferred worldwide. Doctors also recommend to eat one egg every day. The vitamin E present in it is necessary to end the oxidation process.
Fish
The high amount of selenium and chemical is found in fish, it helps in protecting the body cells from being damaged in any way. Like fish, different types of fish can also be consumed to maintain sufficient amount of antioxidants in the body.
Brown rice
However, you don't like this brown taste any more. But it has many qualities. Brown rice has a very low calorie content and is gluten free. In addition, a powerful antioxidant called polyphenol in brown rice helps prevent the oxidation process.
Beans
Beans are nothing but seeds of a plant. In which there is an anti-oxidant called cysteine ​​which helps in removing free radicals from the body. Also, beans are a good source of nutrients necessary for human health due to being free from fat.
Watermelon
Watermelon popularly known fruit is also an important source of antioxidants. Melon being a rich source of glutathione protects cells from toxins. Apart from this, it is also a very good source of vitamin C. It has antioxidant properties.
Red wine
Red wine prepared from dark colored grapes contains a high amount of antioxidants called polyphenols. Due to this, it helps in combating the oxidation process in the human body.
Antioxidant Food
For a healthy diet and overall health – we should include these top 5 antioxidant food
1. Vegetables
Broccoli and kala are considered as super foods that fight diseases.
However, the Indian market supplies equally effective antioxidant alternatives in the form of spinach, lettuce, cauliflower and cauliflower enriched with minerals and vitamins in antioxidants such as lutein, quercetin.
Antioxidant vegetables in India include: tubers are sweet potatoes or sharkcand, onions and garlic are other rich sources of antioxidants. Orange vegetables such as carrots are rich in vitamin A and phytochemical and can be eaten raw, with salads or eaten as a main dish.
2. Fruit
Grapes, especially dark grapes, loaded with antioxidants such as phytochemicals (flavonoids) such as proethocyanidins and anthocyanidins, are loaded with selenium and vitamin C, aiding in the protection from heart disease and cancer. Apple or apple, another major antioxidant food in India – is rich in fruits, vitamins and quercetin.
Bananas are easy-to-eat fruits packed with vitamins B6 and C, potassium, and manganese, and can be enjoyed, sprinkled with chulet, or mixed in chicken
3. Indian Spices
An Indian meal is not possible without the addition of spices. The good news is that many of them also provide antioxidant benefits, turmeric, a common food flavoring and coloring agent, an ingredient called curcumin, which has been proven to interfere with the growth and spread of cancer.
Other spices rich in antioxidant foods include ginger, cinnamon, mustard seed, chili and black pepper in India.
4. Tea
In addition to flavor, antioxidant foods in tea leaves are a boon for tea lovers in India, who can enjoy supplements of anthocyanin and proanthocyanin, helping the body with inflammation, quercetin and catines. Can be followed by cancer, which can result in blocked cell damage.
5. Add Beans and Pour
Black beans, red beans, pinto beans, soy beans – this food group is packed with the goodness of flavonoids, folates, vitamins, and minerals. Lentils such as moong bean are rich in vitamin B1 and magnesium. This is another item that should be included in your antioxidant foods India.
It is easy to promote a daily diet with antioxidant food in Indian foodstuffs, along with everyday foods found in Indian homes and markets!