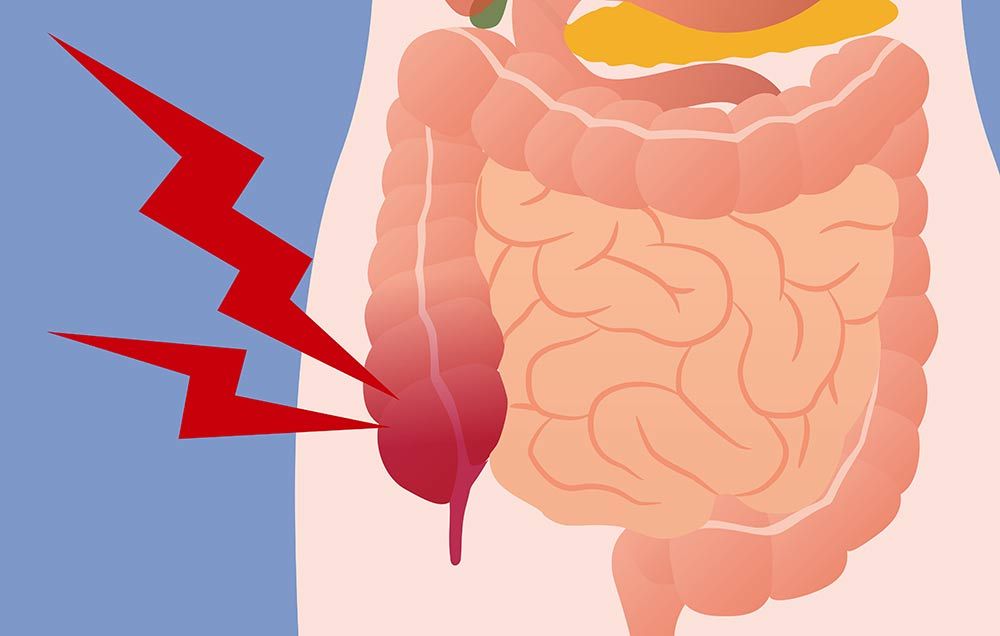 APPENDICITIS
26 Feb, 2022
Posted by admin
Appendicitis is a medical condition in which inflammation of appendix takes place. Appendix is a small finger like pouch projecting from the colon or large intestine. It is present on the lower right side of the abdomen.
People of any age can develop appendicitis. But it usually occurs between 10-30 years of age. It is more common in men than women.
Appendix is a vestigial organ. It has no known function. However, it is made up of lymphoid tissue. Lymphoid tissue makes antibodies which helps in body's defense mechanism. But the exact function of appendix is still unknown.
When micro-organisms enter the appendix, inflammation of the tissue takes place. It leads to blockage of the pouch due to formation of pus and swelling. It causes pain. If left untreated, it can burst. Then all the bacteria will spill into the abdominal cavity and it will lead to peritonitis. It is a very serious condition.
Pain usually starts around the navel and moves towards the lower right side. With increase in inflammation, the pain worsens and eventually becomes unbearable.
TYPES
Appendicitis is of two different types:
Acute appendicitis
Chronic appendicitis
Acute appendicitis
Acute appendicitis is a sudden and severe case of appendicitis. Pain develops and intensifies quickly in just 24 hours. It requires immediate medical treatment. If not treated, can cause serious health implications.
Chronic appendicitis
Chronic appendicitis occurs less frequently than acute appendicitis. It occurs in 1.5 – 2 percent people.
Symptoms are less mild. However, they disappear and reappear within a few weeks or month or years.
It's diagnosis is difficult and thus more fatal.
CAUSES
Appendicitis is believed to occur due to obstruction of the pouch. But what leads to its obstruction is not exactly known.  However, there are  certain possible reasons for the blockage. They are:
Accumulation of hardened stool
Intestinal worms
Enlarged lymphoid follicles
Any tumor
Abdominal injury
Infection
Cancer
SYMPTOMS
There are certain classic signs and symptoms of appendicitis :
Sudden abdominal pain starting around the navel and then shifts to the lower right side
Sudden pain starting from the right side of the abdomen
Nausea
Vomiting
Low grade fever
Abdominal bloating
Feeling of fullness
Diarrhea or constipation
Abdominal swelling
Flatulence
COMPLICATIONS
If Appendicitis is not managed properly, it will burst and can cause serious health implications. These complications are:
Peritonitis – when appendix bursts, the content in it such as bacteria, stool, pus, etc. will spill out in the abdomen and thus will cause infection in the abdominal cavity. It is a very serious condition and if not managed on time, can cause death of the patient.
Abscess – a pocket of pus develops in the wall of appendix. This will stop the spread of infection to the other adjoining parts. But it can tear and then lead to peritonitis.
DIAGNOSIS
The doctor will do the patient's physical examination and look for the symptoms of the disease.
He will recommend some of the medical tests also:
Blood tests
Urine tests
Ultrasound
Rectal examination
CT scan
Abdominal X-Ray
TREATMENT
Appendicitis is an emergency medical condition. It needs to be treated on the spot. Surgery is the standard treatment of appendicitis. It is known as However, mild appendicitis can be treated with antibiotics alone.
If there is abscess formation, then drainage is done.
AYURVEDIC TREATMENT OF APPENDICITIS
In Ayurveda, a disease occurs in body due to imbalance of the three doshas – vata, pitta and kapha.
Appendicitis is caused by the aggravation of pitta dosha. It is caused by the unhealthy eating habits and sedentary lifestyle.
Below are some of the herbs which help in relieving symptoms of appendicitis:
Buttermilk: it is rich in probiotics and thus helps in mitigating bacterial growth in appendix.
Mint leaves: Mint leaves relieves the feeling of nausea and vomiting.
Fenugreek seeds: They prevent formation of pus and mucus. It helps in stomach ache.
Green grams: They are anti-inflammatory and thus lessens pain.
Garlic: It is having anti-microbial and anti-inflammatory properties, thus treats appendicitis naturally.
Ginseng: It reduces pain and inflammation.
CHANDIGARH AYURVED CENTRE'S MEDICATIONS
The  Chandigarh Ayurveda Centre's medications which are used for the treatment of appendicitis are:
Panchsakar Churna
There are five ingredients in this churna: shunthi, haritaki, trivrat, pippali and sauvarchala lavana.
It helps in relieving flatulence, abdominal pain and constipation. It detoxifies the body.
Recommended dose – 1 teaspoon with warm water at bedtime
Sheet Dhara Syrup
It consists of mushk kapoor, ajwain satva, peppermint, etc.
It is good for belching, nausea, indigestion and bloating.
It reduces abdominal pain and cramps associated with appendicitis.
Recommended dose: ½ teaspoon in half cup water before meals twice a day
Trikatu Syrup
It contains dry ginger, black pepper, long pepper, etc.
It has anti-inflammatory, analgesic, anti-oxidant and immune-modulator properties.
Recommended dose – 2 teaspoons three times a day before meals
Detox Premium powder
It has the following ingredients: prawal pishti, shukta pishti, shankh bhasma, giloy satva, etc.
It helps in balancing pitta dosha in the body, thereby, reducing inflammation, pain, etc in the body.
Recommended dose – 1 satchet twice a day