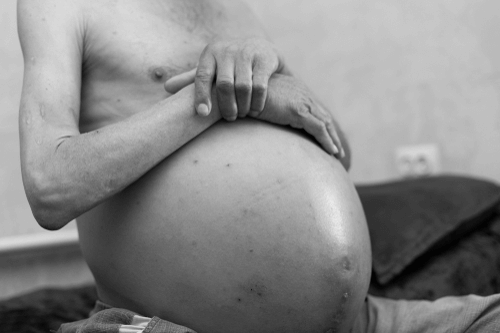 ASCITES AND ITS AYURVEDIC TREATMENT
15 Jul, 2023
Posted by admin
Ascites is a problem in which fluid accumulates in the abdomen. Water accumulates in the empty space in the stomach. If there is a lot of fluid or water accumulated in the stomach, then this condition can become painful and due to this the patient may have to face problems in walking and getting up. This problem mainly occurs when the liver fails or stops working. Ascites is diagnosed when more than 25 milliliters (mL) of fluid accumulates inside the abdomen. Fluid in the abdomen, if left untreated, can lead to various abdominal infections and if the fluid reaches the chest, it can cause breathing problems, which may lead to emergency hospitalization Is.
HOW MANY TYPES OF ASCITES
The problem of accumulation of water in the stomach ascites i.e. ascites is divided into two types. Following are the two types of ascites:-
Transduative
Exudative
Both types of ascites are classified on the basis of the amount of protein found in the fluid. This protein liquid i.e. albumin is found in the organ affected by ascites, it is compared to the albumin found in the rest of the body i.e. blood. Albumin refers to the simple form of protein that dissolves in water and is softened by heat. Apart from this, on the basis of some underlying causes, the problem of ascites can also be divided into a few different categories.
There are following types of ascites on the basis of different categories:-
Malignant ascites – This type of ascites occurs due to complications arising due to cancer. Malignant ascites is caused by more than one type of cancer, including ovarian cancer, breast cancer, colon cancer, colon cancer, lung cancer, pancreatic cancer, cervical cancer, uterine cancer, esophageal cancer, and liver cancer.
Infectious ascites – If you are suffering from bacterial, fungal or parasite infection then also you can have the problem of ascites
Haptic ascites – This type of ascites occurs due to liver cirrhosis and other liver related problems.
Cardiogenic ascites – This type of ascites occurs due to cardiac problems, in which the problem of heart attack is the most important factor.
Nephrogenic ascites – This type of ascites can occur if kidney related problems worsen or are not treated.
WHAT ARE THE SYMPTOMS OF ASCITES?
If you are struggling with ascites, then you may see the following symptoms: –
Painless abdominal swelling that gets bigger instead of going away
Persistent stomach upset
Belly fat
Feeling full after eating little
Shortness of breath when pressure in the abdomen increases, pushing the diaphragm up and reducing the space for the lungs to expand
Difficulty walking due to weight gain
Weakness due to poor diet
Frequent vomiting
Swollen feet
Shortness of breath
Having piles with the above problems
WHAT ARE THE CAUSES OF ASCITES?
Ascites is often caused by problems related to the liver, in which liver cirrhosis plays the most important role. Cirrhotic ascites develops when the blood pressure in the portal vein, the blood vessel that carries blood from the digestive organs to the liver, becomes too high. As the pressure rises, kidney function deteriorates and fluid accumulates in the abdomen.
As the liver struggles to manage this fluid, it is forced into the abdominal cavity, resulting in ascites. Some cancers can also cause ascites. In peritoneal cancer, tumor cells in the peritoneum produce a proteinaceous fluid, which can become ascites.
If you have heart or kidney failure, the amount of blood in your arteries may drop. This triggers changes in various body systems that cause constriction of the kidney's blood vessels and sodium and water retention. These, too, can cause ascites.
WHAT ARE THE RISK FACTORS FOR ASCITES?
The following are some of the conditions that can increase the risk of the problem of water filling in the stomach:
Heart failure
Tuberculosis
Dialysis
Pancreatic disease,
Intravenous drug use
Obesity
High cholesterol levels
Diabetes type 2
Kidney disease
Ovarian lesions
Severe malnutrition
Pancreatic, liver, or endometrial cancer
WHAT COMPLICATIONS CAN RESULT FROM ASCITES?
If ascites is not treated or it continues to grow, it may lead to some of the following complications:-
Stomach ache
Pleural effusion,
Hernia, such as inguinal hernia
Bacterial infections, such as spontaneous bacterial peritonitis (SBP)
hepatorenal syndrome
HOW IS ASCITES DIAGNOSED?
The diagnosis of ascites takes several steps. Your doctor will first check for swelling in your abdomen and do a complete abdominal exam.
Ultrasound
CT scan
MRI scan
Blood test
Laparoscopy
HOW CAN ASCITES BE PREVENTED OR CONTROLLED?
It is not always possible to prevent ascites or its causes. You can take some of the following steps to avoid this serious water retention: The problem can be avoided by:-
Eating a diet that is high in fresh fruits and vegetables and low in added fat and salt
Eating whole foods instead of highly processed foods
Managing your body weight
Exercise regularly
Limiting alcohol use
If you have cirrhosis, you can adopt the following measures, which can prevent ascites: –
Limiting the amount of salt in your diet
Limiting fat and protein intake
Abstinence from alcohol
Taking care to avoid raw or undercooked fish, shellfish, or meat to reduce the risk of infection
CAC TREATMENT TO MANAGE ASCITES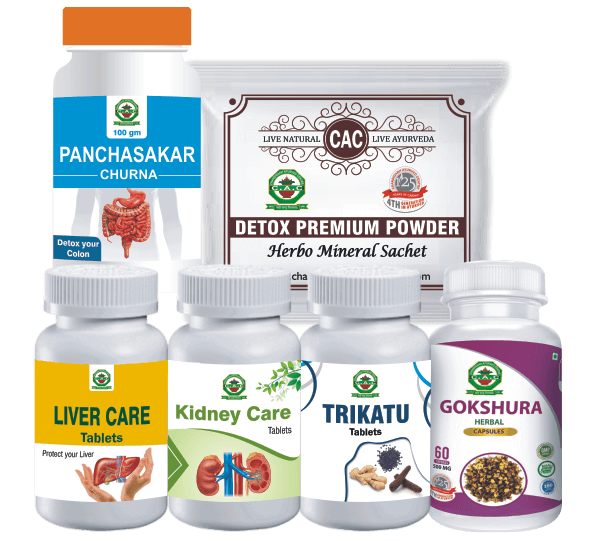 1. Gokshura Capsule
Gokshura capsule is pure ayurvedic medicine which is very effective in ascites as it has anti-inflammatory properties that reduce the swelling of the abdomen. It also acts as diuretic which causes increased urine secretion from the body and removal of all the toxins. These capsules contain pure extract of Gokshura (Tribulus terrestris).
Recommended Dosage – Take one capsule twice daily with normal water.
2. Detox Premium Powder
Detox premium powder contain various herbo-mineral ingredients. This herbal powder helps in the removal of toxins from the whole body, strengthens the body, and helps in maintaining general health.
Recommended Dosage – Take one sachet twice daily with normal water.
3. Panchsakar Churna
This churna is very effective for constipation patients as it shows antioxidant, anti-inflammatory, laxative, and analgesic properties. It is a classical herbal churna prepared from ingredients like Shatapushpa, Balaharitaki, Shunthi, and Saindhav lavana. It helps in removing all toxins from the body and provides good results in constipation. All signs and symptoms related to constipation are treated with the regular use of this churna.
Recommended Dosage – Take 1 teaspoonful at bedtime with warm water.
4. Liver Care Tablet
These tablets are 100% safe and purely ayurvedic formulation. It maintains the proper functioning of the liver and stimulates the growth of new liver cells. Liver Care Tablets contains Ingredients like Kalmegh (Andrographis paniculata), Kutaki(Picrorhiza kurroa), Bhumi amla( phyllanthus niruri), Giloy(Tinopora Cordifolia), Yavakshar( Hordeum vulgare), or Imli Kshar( Tamarindus indica), etc. These herbs balance excess Pitta Dosha and helps in problems like abdominal bloating, flatulence, abdominal pain, loss of appetite and indigestion.
Recommended Dosage – Take 1 tablet twice daily with normal water.
5. Trikatu Tablet
Trikatu tablets are mixture of three herbs which are Saunth (Zingiber officinale), Marich (Piper nigrum), Pippali (Piper longum). These tablets improve digestion, boost your metabolism, helps in eliminating fat tissues and kapha dosha, support respiratory functions, and remove impurities and ama from the body.
Recommended Dosage – Take one tablet twice daily with normal water.
6. Kidney Care Tablet
A healthy working kidney plays an important role in keeping the whole body clean, well-fueled, strong and functioning properly. Kidney failure puts the body at risk, allowing waste to accumulate and damage the kidneys from inside. It is a good idea to do a kidney cleansing and keep a check on the health of the kidneys in your middle and old age. The toxins that buildup results in nausea or feeling sick to the stomach, lack of concentration and blood pressure changes are all symptoms of kidney failure. The herbs used are very effective in treating kidney disorders and revive damaged kidney. It has diuretic, anti-inflammatory, anti-oxidant and analgesic properties.
Recommended Dosage – Take 1 tablet twice daily with normal water.