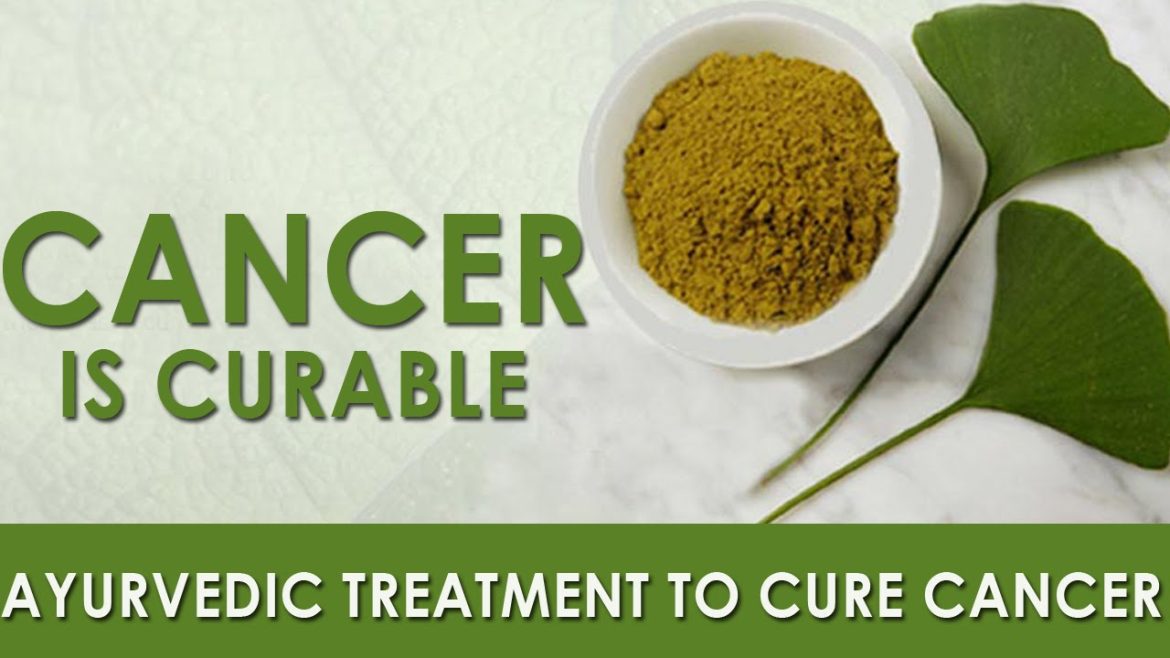 AYURVEDIC TREATMENT FOR CANCER
30 Oct, 2021
Posted by admin
DESCRIPTION
Abnormal growth of the cell is known as cancer.
These cells grows out of control and affect the surrounding tissue and organs.
With a particular period of time, toxins collect at particular organ which result in fatal growth in its surrounding cells.
These cells accumulate and produce swelling at that site.
Surrounding cells and tissues are also affected if the toxins are not removed because infected cells circulated to other parts of the body through the blood stream.
TYPES OF CANCER
Cancers are classified on the basis of cells involvement from where the tumor cell originate These may include:
Carcinoma – Cancer derived from epithelial cells.
This is the common type of cancer occur in breast, prostate, lung, pancreas and colon.
Sarcoma – Cancer arise from connective tissues such as bone, cartilage, fat, nerve.
Lymphoma – This type of cancer originated from cell that make blood.
It is more in children as compare to other ages.
Germ cell tumor – this cancer is derived from pluripotent cells, commonly present in testes and ovaries.
Blastoma – this type of cancer derived from embryonic tissue.
SYMPTOMS OF CANCER
There are many type of cancer which affect any part of the body and produce symptom and their cause vary according to type and location of cancer. Some common symptoms include:
Fever
Fatigue
Pain
Unusual bleeding
Nagging cough
Indigestion problems or trouble swallowing.
Unexplained weight loss
Skin changes
CAUSES OF CANCER
There are many reasons of cancer. Some of the common reasons are:
Carcinogens like tobacco, arsenic, radiation etc.
More exposure of sunlight and ultraviolet rays
Excessive use of alcohol
Obesity Lack of physical activity
Mutation in the DNA
Cigarette smoking
Exposure to radiation such as X-rays, gamma rays, cellular phones and cell phone towers.
DIAGNOSIS AND TESTS
Laboratory test include:-
Blood test,
Urine test,
Stool test may indicate cancer.
CT scan
X-Ray
MRI
Ultra sound
Endoscopy Biopsy
TREATMENT OF CANCER
There are many types of cancer treatments which depends upon the type and stage of cancer.
This may include:-
radiation therapy,
chemotherapy,
immunotherapy,
Hormone therapy and surgery.
AYURVEDIC VIEW OF CANCER
Ayurveda treats the disease according to the specific nature of the patient, the aggravated body energies involved and the body tissues are affected.
Treatment not focus only the area of malignancy but involve entire body system.
In cancer there is the involvement of Tridosha, Sapta Dhatus, the Agni, and satrotas (channels of the body).
Ayurvedic treatment includes the administration of blood cleansing herbs along with the detoxifying diet.
Circulatory stimulant also prescribed to promote blood circulation.
 Immuno booster herbs and minerals are given to boost the strength of patient.
CAC TREATMENT FOR CANCER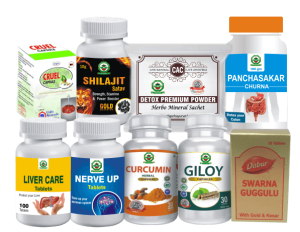 Detox premium powder – This herbal powder contain herbo-mineral preparation. The ingredients in this powder are moti pishti, parwal pishti, shukta pishti, giloy satav, kamdudha ras, jahar mohra pishti, akik pishti, heerak bhasma, gandhak rasayan, tal sindoor, shankh bhasma, etc. These all ingredients in combination stop the extra cells growth & treat cancer easily.
Recommended dosage – Take 1 sachet twice daily with normal water.
Curcumin capsule -Curcumin capsules are prepared from the standardized extract of herb Turmeric. These capsules show antioxidant, anti-inflammatory, analgesic, & anti-cancer properties. All these properties will fight against the unwanted growth of cancer cells. It will build up a strong immunity in an individual dealing with the disease cancer.
Recommended dosage – Take 1 capsule twice daily with normal water.
Giloy capsules – Giloy capsules are prepared from the standardized extract of herb Giloy (Tinospora cordifolia). This herb shows antioxidant, analgesic, anti-inflammatory, immuno-modulator, & anti-pyretic properties. As in cancer patients, toxins are accumulated in the body so for proper detoxification these capsules give effective results. It builds up a natural immunity to fight against cancer cells.
Recommended dosage – Take 1 capsule twice daily with normal water.
Nerve up tablet – These tablets are pure ayurvedic formulation. Nerve up tablets help in balancing the vata doshas and kapha dosha. It acts as nervine stimulant. It shows effective results in improving the central nervous system. It contains natural ingredients like shudha kuchala, shudha shilajeet, abhrak bhasma, praval pishti, shankh bhasma etc. This tablet helps in Backache, kneepain, headache, bronchitis, depression.
Recommended Dosage – Take 1 tablet twice daily.
Liver Care Tablet – These tablets are 100% safe and purely ayurvedic formulation. It maintains the proper functioning of the liver and stimulates the growth of new liver cells. Liver Care Tablets contains Ingredients like Kalmegh (Andrographis paniculata), Kutki (Picrorhiza kurroa), Bhumi amla (phyllanthus niruri), Giloy (Tinopora Cordifolia), Yavakshar( Hordeum vulgare), Imli Kshar( Tamarindus indica), Mukta Shukta pisti etc. These herbs balances excess Pitta Dosha and helps in problems like abdominal bloating,flatulence, abdominal pain, loss of appetite and indigestion.
Recommended Dosage – Take 1 tablet twice daily with normal water.
Unjha Cruel Capsules – These herbal capsules helps in reducing the abnormal tissue growth and checks the neoplasm, heal the chronic wounds, Promotes immunity and restores the energy, Checks the progression of the malignant conditions, Checks the degeneration and promotes the regeneration. Herbal ingredients present in these capsules are Hirak Bhasma, Panna Bhasma, Abhrak Bhasma, Suvarna Bhasma, Ras Kapoor, Sarveshwar Parpati, Laving, Tamra Bhasma, Safed Mari, Punarnava, Vayvarun, Yashtimadhu, Saragava, Rohitak, Tulsi. This is very effective in primary carcinoma, tuberculosis, secondary metastasis, degenerative conditions, and immune compromising conditions.
Recommended Dosage – Take 1 Capsule twice daily with milk.
Swarna Guggulu – Swarna guggulu is one of the best and effective medicine to cure Arthritis, Sciatica, Joints pain, and other physical weakness. The main key ingredients of this tablet are Ashwagandha, Kumkum, and Swarna bhasma. These ingredients reduce stiffness, pain, cure difficulty in walking, and provide strength to the joints.
Recommended Dosage – Take 1 tablet twice daily with normal water.
Panchasakar Churna – The churna has best results in the detoxification of excess toxins from the body and maintains the proper metabolism. It is made up of a total of 5 ingredients – Shunthi (Zingiber officinale), Haritaki (Terminalia chebula), Svaran patri (Cassia angustifolia), Shatapushpa (Foeniculum vulgare),Sauvarchala lavana (Rock salt). The powder reduces the inflammation, redness, relieves constipation, abdominal discomfort, etc. and also prevents it from re-occurring.
Recommended Dosage – Take 1 teaspoonful at bedtime with lukewarm water.
Shilajit satva – This is the Ayurvedic formulation of Shilajit satav. It is a potent Immunity Booster and acts as an antioxidant, possesses anti-inflammatory properties. It has a tremendous effect on Male Infertility, Anemia, Alzheimer disease, improves brain functions, Fatigue, various Tumors and Cysts like PCOD in females. Due to its anti-inflammatory properties it works on inflamed lymph nodes as well. It balances blood sugar, increases absorption of nutrients, helps in detoxification.
Recommended Dosage – 5 to 10 drops of Shilajit to be mixed in one glass of Luke warm milk.