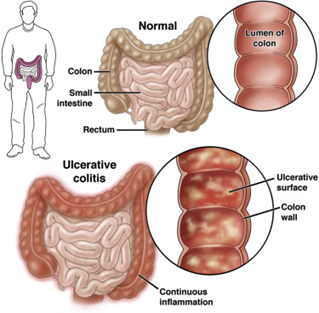 Best Ayurvedic Doctor for Ulcerative colitis
21 Feb, 2022
Posted by admin
What is Ulcerative colitis?
Ulcerative colitis is an inflammatory condition that is classified under inflammatory bowel disease (IBD) that leads to inflammation and ulcers (sores) in your digestive tract. In Ulcerative colitis innermost lining of large intestine (colon) and rectum is affected. Symptoms of UC develops gradually, rather than suddenly.
Ulcerative colitis has become major health problem nowadays due to unhealthy life style and dietary habits . Sometimes it leads to life-threatening complications. Ulcerative colitis has no known permanent cure in modern science, but  treatment can greatly reduce signs and symptoms of the disease and improve the quality of life in patients.
Symptoms of ulcerative colitis
Symptoms of Ulcerative colitis  can vary from person to person and depends upon the severity of inflammation and where it occurs. Signs and symptoms that are commonly seen in people may include:
Loose stool often with blood or pus
Abdominal pain and cramping
Rectal pain
Generalized weakness
Urgency to defecate
Anemia
Weight loss
Fatigue
Fever
Symptoms of UC may be mild to moderate.
Types of Ulcerative colitis
Ulcerative colitis is classified according to its location of affected. Types of ulcerative colitis include:
Ulcerative proctitis.When Inflammation affected the closest area to the anus (rectum), and rectal bleeding is seen this condition is known as ulcerative proctitis.
In this condition Inflammation involves the rectum and sigmoid colon i.e.  the lower end of the colon. Bloody diarrhea, abdominal cramps and pain, and tenesmus are symptoms seen in this condition.
Left-sided colitis.Inflammation affects the parts up to the rectum  through the sigmoid and descending colon.
In this entire colon is affected and bloody diarrhea is seen in  severe cases , abdominal cramps and pain, fatigue, and significant weight loss can also occur among people .
When to see a doctor
You should consult with doctor if you have symptoms of
Abdominal pain
Blood in your stool
Diarrhea that doesn't respond to over-the-counter medications
Diarrhea that disturbed your sleep
An unexplained fever lasting more than a day or two
Causes of Ulcerative colitis
The  cause of ulcerative colitis is unknown yet . Diet and stress factors but may aggravate the ulcerative colitis.
One of the causes of UC is an immune system malfunction. As Ulcerative colitis is auto-immune disorder so in this an abnormal immune response causes the immune system to attack the cells in the digestive tract, too.
Heredity also play a role in ulcerative colitis. People who have family history of ulcerative colitis are more prone to develop the disease.
Risk factors    
Ulcerative colitis affects the  women and men equally. Risk factors may include:
It can affect in any age . Ulcerative colitis usually begins in some people  before the age of 30.
Race or ethnicity. It can occur in any race. Whites have the highest risk of developing the
Family history.
Complications
Possible complications of ulcerative colitis include:
Severe bleeding
Perforated colon
Severe dehydration
Body pain
Inflammation of your skin, joints and eyes
An increased chances of colon cancer
Swelling colon (toxic megacolon)
Increased risk of blood clots in veins and arteries
Diagnosis of Ulcerative colitis
Diagnosis of Ulcerative colitis is made by taking history of patient and by doing certain investigations . Endoscopic procedures with tissue biopsy are confirmatory way to diagnose ulcerative colitis. Other types of investigations are helpful to rule out complications or other forms of inflammatory bowel disease, such as Crohn's disease.
To confirm the diagnosis of ulcerative following investigations are also useful.
Lab tests                               
Blood tests.
Stool studies. .
Endoscopic procedures
Flexible sigmoidoscopy. .
Imaging procedures
Treatment of ulcerative colitis
Treatment of Ulcerative colitis is done according to the severity of the disease. Different  categories of drugs may be effective in treating ulcerative colitis. The drugs used to treat the condition may vary from person to person . Commonly used drugs in UC patients may include
Anti-inflammatory drugs
Anti-inflammatory drugs are the first step to treat ulcerative colitis and are used in majority of people with this condition. These drugs include:
Immune system suppressors
These drugs works by suppressing the immune system and also reduce inflammation.
Immunosuppressant drugs include:
Azathioprine (Azasan, Imuran) and mercaptopurine (Purinethol, Purixan).
Cyclosporine (Gengraf, Neoral, Sandimmune).
Tofacitinib (Xeljanz).
Other Medications
Other medications that are used in patients of UC to treat their symptoms and improve their quality of life may include
Anti-diarrheal medications.
Pain relievers.
Iron supplements.
Surgery         
When above mentioned medications does not work for patient then surgery is done .Surgery  remove your entire colon and rectum (proctocolectomy) and  thus eliminate UC.
Ayurvedic View of Ulcerative colitis
Ulcerative colitis in Ayurveda is correlated to "Grahniroga" in which mainly pitta dosha is imbalanced along with the kapha dosha. Ulcerative colitis in ayurveda is also classified in one of the disorders of mandagni.
Ayurveda offers best treatment for ulcerative colitis. For a proper ulcerative colitis treatment in Ayurveda various herbs has been given that act on the root cause & vanish it from there. Ayurvedic Treatment for ulcerative colitis is done with medicines and certain dietary and life style modifications.
In ayurveda management of disease is done on the basis of imbalanced dosha. On this Principle Chandigarh ayurveda centre provides very effective ayurvedic treatment for Ulcerative colitis.
Chandigarh Ayurved centre have best Ayurvedic doctors that deal with both acute as well as chronic conditions and treat them successfully. Vaidya Karanvir singh is the best Ayurvedic doctor for Ulcerative colitis that has treated so many cases of ulcerative colitis successfully. CAC provides 'Ulcerative colitis care kit' that contains combination of medicines that treat the condition effectively.
Medicines for ulcerative colitis are
Detox Premium Powder
Ulcer heal tablet
Stop bleeding tablet
Kutajghanvati
Puran pachak Syrup
Digestion Tablets
Sheet dhara syrup
For more information you can visit our website :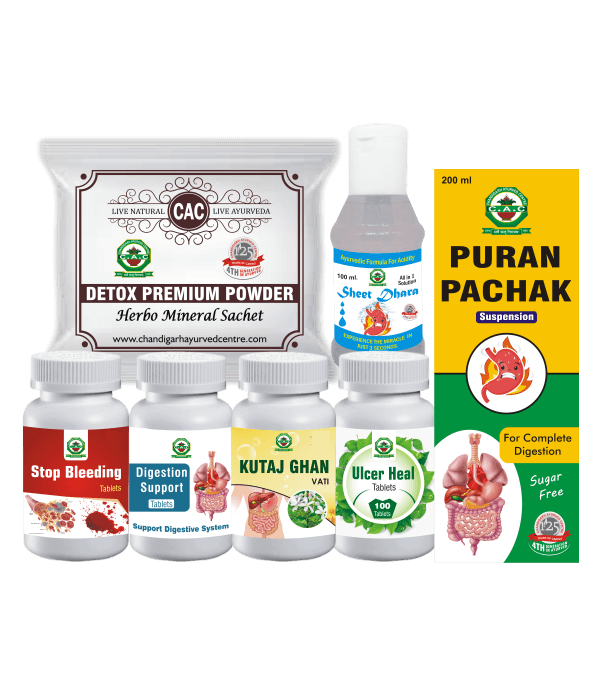 Ulcerative Colitis Care Kit