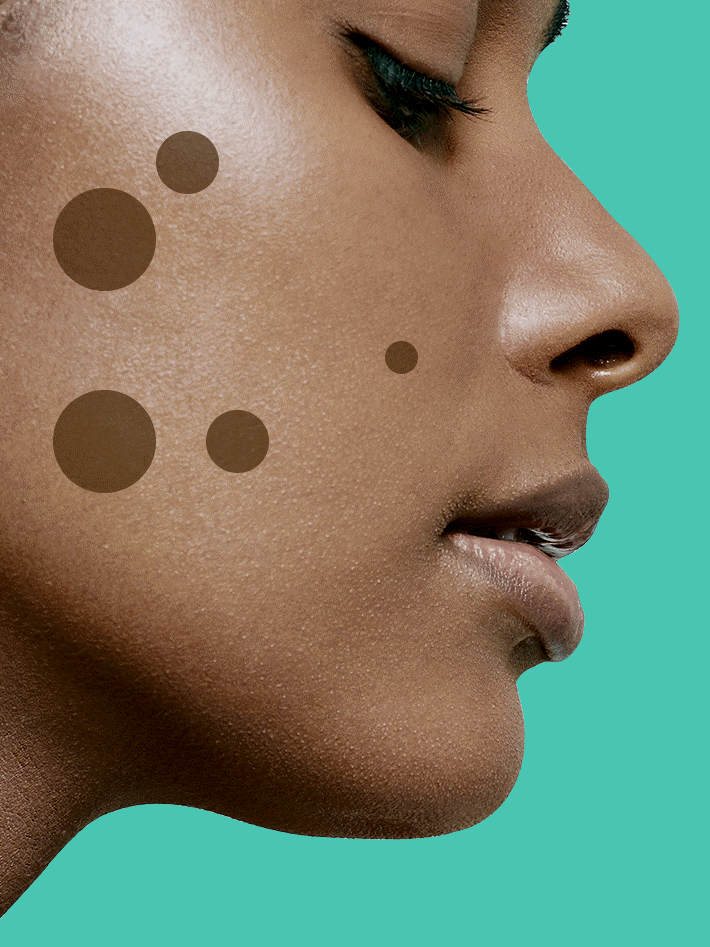 HOW CAN BLACK SPOTS ON FACE REMOVED BY AYURVEDIC TREATMENT ?
08 Apr, 2022
Posted by admin
DESCRIPTION
Every other person especially teenagers have pimple problems these days, whenever a pimple arises everybody wants it to heal quickly but sometimes what happens is they leave a dark spot on the skin even after the pimple is gone. Most dark spots cause no harm and people usually treat them because of cosmetic reasons. Certain blemishes may indicate an underlying condition which requires prompt medical treatment.
WHAT IS A DARK SPOT ?
A pimple is a form of inflammation and when it heals, the cells sent to restore your skin surface contain melanin. When certain cells have more melanin than others, the result is a darker patch of skin or a dark spot. This is also known as inflammatory hyper pigmentation.
Pricking or squeezing a blemish can increase your chances of post – inflammatory hyper pigmentation. People with dark skin are usually at higher risk for this.
Dark spot can be a single mark or some area that could present in variety of colors like black, brown or red. It can occur at any part of the body and its appearance can be raised or flat surface.
CAUSES OF DARK SPOTS:
UV rays exposure
Certain infections
Excessive salty and spicy food
Hormonal imbalance
Excessive intake of oily and fried food
Certain medications
HOW TO REMOVE DARK SPOTS ?
These are some home remedies for removing dark spots at home:
ALOE VERA GEL: Use aloe vera gel and mix it with one teaspoon of honey and apply it to the affected area and let it dry. Wash it with water after 10 minutes.
SUNSCREEN USE: Always use sunscreen while going out to protect your skin FROM uV RAYS.
PURE MILK: Take a cotton swab and dip it in milk and apply it your face every night.
VITAMIN C INTAKE: Vitamin C also has antioxidant properties, which protects the skin from age-accelerators and thus pigmentation.
USE OF POTATO: Potato contains azelaic acid that helps in removing blemishes and dark spots. Cut a potato into a half and rub it on the dark spots. Wash it off after it dries.
APPROPRIATE DIET: Proper diet having proper nutrients and vitamins helps in faster healin of the skin making it clear.
COMMON PLACES OF DARK SPOTS
Dark spots can occur at part of the body and can vary in size too but most common areas of dak spots are:
MANAGEMENT
Following treatment can also be done to remove dark spots :
Laser treatment
Cryotherapy
Chemical peels
Microdermabrasion
In Ayurveda, it is supposed that when a person is consuming excessive salty, fried, oily food products it causes an imbalance in the Bhrajak Pitta which further leads to the formation of certain skin problems and one of the most common is blemishes. To cure blemishes, several natural herbs have various medicinal properties that work of its root cause and maintain the hormonal balance by which the person doesn't have to face such types of skin issues.
AYURVEDIC TREATMENT
CHANDIGARH AYURVEDIC CENTRE's TREATMENT
Chandigarh Ayurvedic Centre has its own BLEMISH GO KIT for natural and ayurvedic treatment of dark spots. This kit has:
DETOX PREMIUM POWDER:
Detox premium powder is a very effective ayurvedic medicine to cure blemishes as it purifies the whole body by removing excess toxins from the body. The powder is composed of shukta pishti, giloy satv, gandhak rasayan, moti pishti, akik pishti, shankh bhasma, etc. The ingredient reduces all the signs and symptoms associated with the blemishes.
Recommended Dosage – Take 1 sachet twice daily with normal water.
SKIN GLOW KADHA:
INGREDIENTS: Skin glow kadha is an Ayurvedic proprietary that gives the best result in the treatment of acne, blemishes, rashes, and other common skin problems. The decoction is composed of dalchini, giloy, tulsi, chirata, haldi, mahaguni, bahera, etc.
BENEFITS:  The ingredients have anti-aging properties and act as natural astringent that provides freshness to the skin, helps in improving the skin texture, restores the skin balance and naturally improves the quality of the skin.
Recommended Dosage – Take 20 ml twice daily with an equal amount of water.
BLOOD PURIFIER SYRUP:
INGREDIENTS: It is ayurvedic syrup that consists of various natural ingredients such as Khadir Chall (Acacia catechu), Manjistha (Rubia cordifolia), Neem (Azadirachta indica), Giloy (Tinospora cordifolia), Harad (Terminalia bellirica), Baheda (Terminalia chebula), Amla (Emblica officinalis), etc. As
BENEFITS : The syrup purifies the blood by removing excess toxins it is very beneficial in maintaining proper circulation and improves the skin naturally.
Recommended Dosage – Take 2 teaspoonful twice daily.
ALOE VERA GEL:
INGREDIENTS : Aloe Vera herb is well known for its medicinal properties and has multiple benefits in case of skin problems. The gel is made up of pure extract of aloe vera that has a mixture of rose petals in it.
BENEFITS: The gel has anti-inflammatory, anti-oxidant, anti-fungal, anti-bacterial properties and also provides a coolant effect to the skin.
Method of Application – Gently apply over the affected area of the skin.
TWAK TAILAM:
INGREDIENTS : Twak tailam is very effective for the skin as it deeply nourishes the tissues and improves the skin luster. The tailam is composed of yashtimadhu (Glycyrrhiza glabra), manjistha (Rubia cordifolia), etc.
BENEFITS: The tailam supports skin health, helps in reducing uneven pigments, improves complexion, and helps in deep detoxification and blood purification without any side effects.
Method of Application – Apply over the affected area of the skin.
SKIN CARE TABLET:
INGREDIENTS: Skin care tablet is a pure ayurvedic formulation. It helps to maintain the texture of your skin depending on the type of skin you have. It contains various herbs like Haridra khand, Panchnimb churna, Khadir chahal, Chirayta, Mulethi, Chopchini, Gandhak, Ajmoda that work very effectively on all skin types.
BENEFITS: Skin care is a blood purifying tablet. It cools and detoxifies the blood, increase blood circulation of the skin. It minimizes the blemishes, lighten sun tan, delay ageing of skin and heal skin problems.
Recommended Dosage: Take 1 tablet twice daily.
PANCHATIKTA GHRITA GUGGULU:
INGREDIENTS : This tablet contains pure herbal ingredients such as Nimba(Azadirachta indica), Patola(Cucumis acutangulus), Guduchi(Tinospora cordifolia), Vasa(Adhatoda vasica), etc.
BENEFITS : These herbs shows Antioxidant, Anti-rheumatic, Anti-inflammatory, Analgesic, antipruritic, neuro-protective properties. This tablet is effective in Indigestion, blood purification, blemishes, scars, asthma, and gout.
Recommended Dosage: Take 1 tablet twice daily.