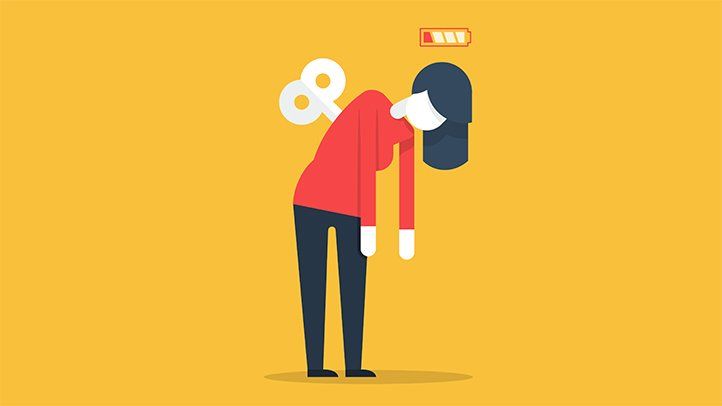 CHRONIC FATIGUE SYNDROME, SYMPTOMS, CAUSES AND AYURVEDIC TREATMENT
26 Feb, 2022
Posted by admin
Chronic fatigue syndrome is also called Myalgic encephalomyelitis or Systemic exertion intolerance disease (SEID). This disease is characterized by extreme tiredness or pain in the whole body. The tiredness doesn't go away with rest.
The exact reason of the disorder is not completely understood but there can be a combination of factors underlying it such as stress, any infection, etc.
Chronic Fatigue Syndrome is often seen among women especially after 40's. But it can also affect men.
The disease usually lasts for six months or more. The fatigue worsens with increased physical or mental activity. It thus affects patient's daily tasks.
CAUSES OF CHRONIC FATIGUE SYNDROME
The cause of the chronic fatigue syndrome is not exactly known. But it is speculated that it can be due to a variety of factors:
Weakened immune system
Viral infections such as Epstein-Barr virus, human herpes virus, rubella virus, etc.
Hormonal imbalances
Physical trauma
Psychological stress
Genetic predisposition towards the disease
RISK FACTORS OF CHRONIC FATIGUE SYNDROME
There are some factors which make the person more vulnerable to the disorder. These are:
Women are four times more affected than men
Family history
Any recent infection like flu, cold, stomach infection
Exposure to toxins
Having any mental disorder such as depression, anxiety
Early abuse or trauma
Family problems
SYMPTOMS OF CHRONIC FATIGUE SYNDROME
Symptoms of chronic fatigue disorder vary in individuals. It can be from mild to severe. Following are the symptoms:
Feeling tired all the time
Muscle ache
Pain in joints
Numbness in hands and feet
Lack of concentration
Anxiety
Decreased libido(sexual drive)
Hair loss
Abnormal heart rate
Difficulty in sleeping
Gastric problems
High stress levels
Extreme exhaustion after physical exercise
Vision problems
Muscle cramps
Seizures
COMPLICATIONS OF CFS
Some of the complications which arise in chronic fatigue syndrome, if not treated are:
Increased absents on work
Social isolation as patient always feels tired
Lifestyle restrictions
DIAGNOSIS OF CFS
Chronic fatigue syndrome is a complex disorder, so it is difficult to diagnose.
The doctor will do a thorough physical examination. He will look for core symptoms of the disease and rule out other health conditions.
He will ask patient about his feelings, thoughts and emotions and will thus get his psychological assessment.
 AYURVEDIC TREATMENT OF CHRONIC FATIGUE SYNDROME
In Ayurveda, chronic fatigue syndrome is called Balakshaiya
It occurs due to imbalance of the three doshas of the body- vata, pitta and kapha, resulting in health complications.
Main dosha which is affected is vata dosha. It makes the nervous system weak and thus causes pain and tenderness in the whole body.
Due to vata imbalance, there occurs cognitive disorders and sleep disturbances.
Ayurveda focuses on pacifying the vata dosha. It adds rasayan herbs which help in rejuvenation of tissues and increases strength of nervous system. It thus helps in mind relaxation.
Some of the methods used in Ayurveda are:
Abhyanga – It is massage with warm herbal oils. It helps in restoring energy.
Shirodhara – A liquid either decotion or oil is poured over forehead. It helps in relieving stress.
Yoga – It rejuvenates the body systems
Panchkarma – It is a detoxification process which eliminates toxins.
Rasayan therapy – Herbs are given to patient which relaxes both mind and body. Herbs used are – ashwagandha, shilajit, guggul, etc.
CHANDIGARH AYURVED CENTRE'S MEDICATIONS FOR CHRONIC FATIGUE SYNDROME
Here are some of the medications which are given for the treatment of chronic fatigue syndrome:
Rasayan vati
It contains several herbs such as Aswagandha, Shilajeet, Amla, Kesar, Musali, Shatavar, Brahmi Abhrak Bhasam etc.
It works as an anti-inflammatory, anti- antioxidant, antipyretic and analgesic.
It also strengthens immune system, thereby removing general weakness of the body.
It relaxes mind and helps in curing psychological disorders.
Recommended dose– 1 tablet twice a day after meals
Brodley syrup
It contains Shankhpushpi, Dhania, Saunf, Yashtimadhu
It increases blood flow to the brain and thus increases memory.
This syrup acts as an anti-depressant and thus helps in reducing stress level
Recommended dose– 2 teaspoonful twice a day.
Stress care tablet
Stress care tablet contains Brahmi, Jatamansi and Sarpgandha .
It is a brain tonic. It thus relieves anxiety and depression .
Recommended dose– 1 tablet two times a day with normal water.
Re active powder
Re active powder consists of Ashwagandha, Shatavari, Shudh shilajeet,etc.
Re active powder increases body's stamina. It provides extra bone strength.
It maximizes muscle growth and power . Thus it is very helpful in treating chronic fatigue syndrome.
Recommended dosage– 1 teaspoon with milk twice a day
SHATAVR CHURAN
It helps the body to cope with physical and emotional stress
It is a general health tonic for both men and women.
It is anti- inflammatory, anti-oxidant and an immunity booster.
Recommended dose– 3-6grams twice a day with milk