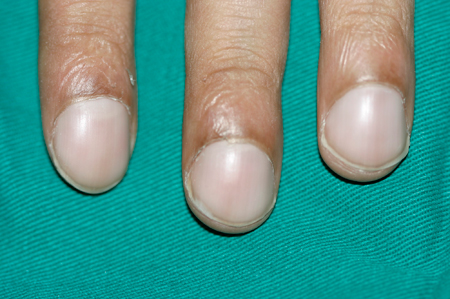 CLUBBING OF NAILS
27 Apr, 2023
Posted by admin
Fingernails or toenails that are curved downward, like a spoon that describe clubbing nails the nails may feel soft when pressed and no longer sit even with the cuticle. This often occurs along with swelling or bulging of the tips of the fingers or toes as well.
Nail clubbing is a warning sign of a serious condition such as a lung or heart condition or certain cancers.
WHAT ARE THE CAUSES OF CLUBBED NAILS
Clubbing is associated with:
Lung Diseases:
– Lungs cancer
– Interstitial lungs disease most commonly pulmonary fibrosis
– Complicated tuberculosis
– Suppurative lung disease: lungs abscess, empyema, bronchiectasis, and cystic fibrosis.
– Mesothelioma of the pleura
– Arteriovenous fistula or malformation
– Sarcoidosis
Heart Diseases:
– Any disease featuring chronic hypoxia
– Congenital cyanotic heart disease (most common cardiac cause)
– Subacute bacterial endocarditis
– Atrial myxoma (benign tumor)
Gastrointestinal and hepatobiliary diseases:
– Malabsorption
– Crohn's disease and ulcerative colitis
– Cirrhosis especially in primary biliary cholangitis
– Hepatopulmonary syndrome a complication of cirrhosis
Others:
-Graves' disease (autoimmune hyperthyroidism)
– Familial and hereditary clubbing
WHAT ARE THE COMMON SYMPTOMS OF CLUBBING
– The nail beds soften.
– The nails may seem to "float" instead of being firmly attached.
– The nails form a sharper angle with the cuticle.
– The last part of the finger may appear large or bulging. It may also be warm and red.
– The nail curves downward so it looks like the round part of an upside-down spoon.
WHAT ARE THE STAGES OF FINGER CLUBBING?
There are five stages of clubbing
1. Grade 1 – The nail bed becomes soft
2. Grade 2 – There are changes in the angle of the nail fold
3. Grade 3 – The nail takes on a more obvious curve
4. Grade 4 – The end of the finger becomes thicker (club-like)
5. Grade 5 – The nail takes on a shiny appearance
HOW CLUBBING AFFECTS NAIL BEDS
Any medical illnesses that can cause clubbing are generally allied with decreased oxygen levels. Clubbing occurs when body undergoes changes in response to low oxygen.
Several processes affect the nail beds in secondary clubbing. The nail widening occurs due to the growth of excess soft tissue below the nail beds. The enlargement is associated with inflammation and a proliferation of small blood vessels in the nail beds.
A protein called vascular endothelial growth factor stimulates the growth of blood vessels, and this protein is considered a major factor in the physical changes that occur in clubbing.
WHAT ARE THE DIAGNOSIS OF CLUBBING NAILS
– A chest X-ray and possibly a CT scan to look for lung cancer as well as other lung and heart-related conditions
– An electrocardiogram (EKG) and/or echocardiogram to evaluate your heart
– Arterial blood gases and/or pulmonary function tests to evaluate your lung function and look for underlying lung diseases
– Blood tests, such as liver function tests and thyroid function tests.
HOW DO I PREVENT CLUBBING FROM COMING BACK?
If you are at risk for clubbing, you should take steps to avoid conditions that might worsen lung or heart problems. Stopping smoking is essential. You can also lower your chances of catching viruses that cause lung infections by following a healthy diet, getting exercise, and receiving necessary vaccines.