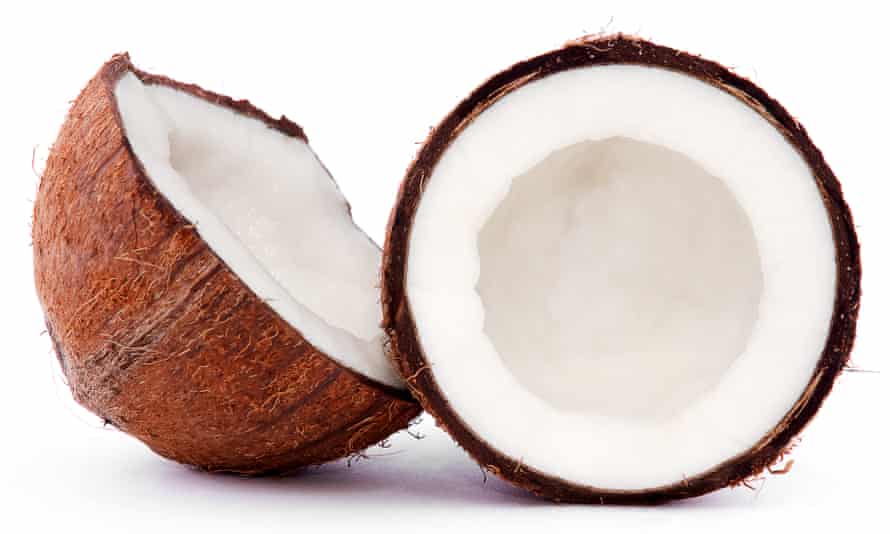 COCONUT HEALTH BENEFITS
11 Sep, 2021
Posted by admin
DESCRIPTION
SCIENTIFIC NAME – Cocos nucifera
FAMILY–  recaceae
The coconut tree stems from the Southeast Asian (probably Malaysia), but is cultivated in tropical regions all around the world. The slender, leaning, ringed trunk of the coconut rises up to 25 meters (80 feet) from a swollen base and is surrounded by a graceful crown of giant featherlike leaves. Mature fruits are ovoid or ellipsoid in shape, 6–8 inches in diameter, have a thick fibrous husk surrounding the familiar single-seeded nut. A hard shell encloses the insignificant embryo. Most of the world coconuts are produced on small native plantations. Full bearing is obtained in 15 years. Yields continue benefits until trees are about 50 years old. Coconuts are rich in manganese, which is essential for maintaining bone health and metabolism of carbohydrates, proteins, and cholesterol. They are also rich in copper and iron, which help to form red blood cells, an important antioxidant that protects your cells.
COCONUT MILK CONTENT
Calories: 552g
Fat: 57 g Saturated fat: 50 g
Protein: 5.5 g
Carbohydrates: 13 g
Fiber: 5 g
Sugar: 8 g
COCONUT WATER CONTENT
Calories: 46
Fat: 0.5 g
Saturated fat: 0.4 g
Protein: 2 g
Carbohydrates: 9 g
Fiber: 3 g
Sugar: 6 g
COCONUT OIL CONTENT
Calories: 121
Fat: 13 g
Saturated fat: 11 g
Protein: 0 g
Carbohydrates: 0 g
Fiber: 0 g
Sugar:  0 g
HOW DOES COCONUT WATER WORKS 
Coconut water higher in carbohydrates and electrolytes such as potassium, sodium, and magnesium. The electrolyte composition in coconut water help to treat and prevent dehydration.
COCONUT BENEFITS
COCONUT OIL ON SKIN 
It helps to protect and hydrates the skin, reduce dryness and allow your skin to retain moisture. It provides a protective barrier, helping skin from environmental toxins, dirt and other. It smooth's skin, minimizes fine lines and wrinkles, calms temporary redness, provides antioxidants, absorb easily in the skin and soothes irritated skin.
COCONUT OIL ON HAIR 
Coconut oil help in hair growth deep into its follicles. Coconut oil make healthy scalp and fighting against insect bites, lice and dandruff. Coconut oil moisturizes dry hair. Coconut oil provide luster, shine and softness to the hair. Coconut oil prevents hair breakage and split ends, it help to slows down hair loss.
COCONUT ROLE ON DIGESTION 
Coconut and its derivatives promote healthy digestion in many ways. Coconut oil has anti-microbial properties that promoting healthy gut. Coconut have its anti-inflammatory properties which can help with disorders such as IBD. Coconut meat is excellent source of fiber, while coconut water promotes hydration and digestion. Coconut have protein that helps to develop immunity to the digestive diseases. Coconut milk has anti-ulcer properties which help to reduce ulcers.
COCONUT ROLE ON WEIGHT LOSS
Coconut water has more minerals as compared to any other fruit juices. Other fruit juices may added or hidden sugar. Coconut water is not just low in calories but also have less sugar as compared to other fruit juices. Consuming coconut water on an empty stomach early in the morning can help you not in one way but many ways. Coconut contains lauric acid that helps in boosting immunity. It helps to fight with dehydration and constipation and relieve morning sickness and heartburn in pregnant women.
COCONUT ROLE ON PREGNANCY
Coconut water during pregnancy help in hydrating and provides electrolytes. It replaces lost electrolytes such as potassium, sodium and magnesium from morning sickness. Coconut water may soothe acid reflux. Coconut water contains small amounts of some minerals, provide macro- and micronutrients needed for fetal and maternal health. Women's who have high blood pressure during pregnancy coconut water regulating blood flow and blood pressure because potassium present in it which help to regulate the blood pressure.
COCONUT WATER ROLE ON KIDNEY 
Coconut water also helps in dissolving kidney stones because of the presence of potassium, which plays a key role in urine alkalizing and preventing the formation of kidney stones.