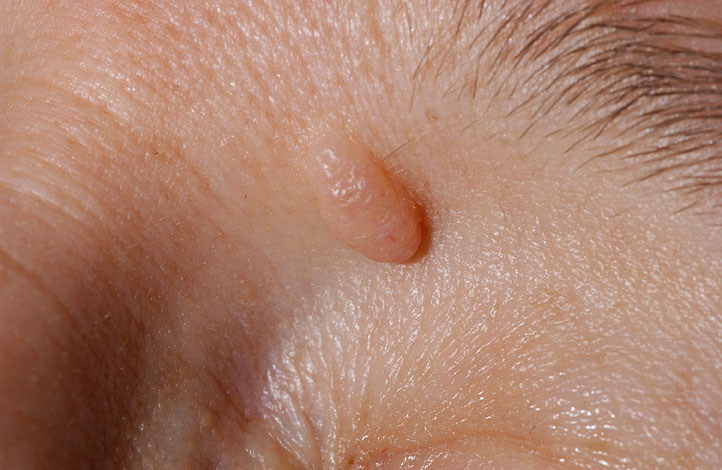 DERMAL NEVUS
11 Nov, 2021
Posted by admin
INTRODUCTION
A dermal nevus is a classic mole or birthmark.
Dermal means the mole cells are located under the external layer of skin.
Nevus refers to the mole.
It is an elevated, dome-shaped bump on skin surface.
About 1% of newborns are born with an intradermal nevus.
Mostly dermal nevi appear after adolescence and they are noncancerous skin growths.
Dermal Venus Glow is a non-surgical skin treatment that exfoliates, clean, moisturizes skin and improve its health and appearance.
It offers dermal renewal for patients the patient wanting brighten and revitalize skin.
Technology consists of an adjustable vacuum, rotating tip, and two ultra-fine jet streams to deliver four Glow Serums into the skin.
Venus Glow treatment involve a variety of skin concerns that create a glowing, and young complexion.
SYMPTOMS OF AN INTRADERMAL NEVUS
Flesh-colored bumps on the surface of the skin appear slightly brown.
In some cases, they will contain brown spots of small dilated blood vessels.
It can appear anywhere on the skin most often on the scalp, neck, upper arms and legs, and neck.
They can also appear on the eyelid.
The bumps are usually small, ranging from 5 millimeters to 1 centimeter.
In children they are flat and a similar to the color of person skin tone.
After reaching an adolescence age, the nevus usually becomes more visible.
At the age of 70 years old almost all nevi lost their pigmentation.
It appear as a raised surface from the skin and feel rubbery.
CAUSES OF DERMAL NEVUS
A dermal nevus is the result of three causes that include:
Sun damage – occur especially in those people with fairer skin
Immunosuppressive treatments – people used in cancer which can cause more development of moles.
Genetic factors – parents having a lot of moles which makes it more likely that child will have them as too
CAN AN DERMAL NEVUS BE REMOVED
If mole has recently changed in size, shape, or color, as such no treatment is necessary for a dermal nevus. It is possible to remove the mole if people don't like it.
Method used to remove the nevus called dermal electrosurgical shave excision it is fast and inexpensive way to remove moles.
BENEFITS OF VENUS GLOW
Venus Glow treatment offers many advantages to the people for healthy and shiny look skin. Advantages include:
Removal of dull and dead skin cells
Deep cleaning pores to extract dirt and impurities
Moisturizing and renewing skin for glowing results
Improving uneven skin tone and texture.
CAC TREATMENT OF DERMAL VENUS
CAC DETOX PREMIUM POWDER – these are herbo-mineral sachets which are purely Ayurvedic formulation. These sachets mainly detox the body and eliminate toxic substances and helps in proper metabolism of all the functions. This formulation act at the level of the nervous system and facilitate proper conduction of signal impulse from the nerves to the muscles. These sachets have anti-inflammatory, antioxidant, and anti-bacterial, anti-fungal, and immune-modulator. The ingredients present in it are moti pishti, parwal pishti, shukta pishti, Giloy satv, kamdudha ras, Jahar Mohra, akik pishti, gandhak rasayan, sutshekhar ras, etc. These ingredients balances all the three doshas (Vata, Pitta & Kapha) and helps in blood purification, reduces burning sensation, weakness, and hot flashes in ulcerative colitis patients. It reduces the level of high uric acid in the body. The powder is very beneficial in relieving discomfort, numbness, muscle ache, and reduces swelling of the pelvic region. This powder provides a cooling & calming effect on the mouth ulcers. It is very beneficial in reducing the swelling, redness, stiffness, and improves the movements of joints.
DOSAGE – Take 1 sachet twice daily with normal water.CAC Skin care tablet – this is herbo mineral and purely ayurvedic formulation. It help to maintain the texture of your skin depending on the type of skin you have. It contains various herbs like Haridra khand, Panchnimb churna, Khadir chahal, Chirayta, Mulethi, Chopchini, Gandhak, Ajmoda that work very effectively on all skin types. Skin care is a blood purifying tablet. It cools and detoxifies the blood, removes stagnant blood and dissolves obstructions in the blood flow that further increase blood circulation of the skin. It minimises the blemishes, lighten sun tan, delay ageing of skin and heal skin problems.
DOSAGE – Take 1-2 tablets twice daily

CAC Panchtiktaghrit guggulu – It is a herbo-mineral ayurvedic formulation of CAC consist of herbs specifically designed to treat drying, inflammation, and deadening of tissue and skin, particularly of the rectum area. The main ingredient is Neem which is best for treatment of ailments of the blood and plasma, most effective against many skin diseases which is caused due to harmful toxins and vitiation of the blood. It has antiseptic and anti-inflammatory effects which makes it useful in treating piles, and fissures. In addition, this blend contains many ingredients which shows cleansing action on the liver and kidneys, which further helps to detox the skin and post-digestive functioning. The herbs added shows rejuvenating and soothing action on the circulatory and digestive systems. It is used to treat a variety of skin conditions including, but not limited to, rectal bleeding and inflammation.
Dosage – 1 tablet twice a day.

CAC TWAK TAILAM – this is the herbal oil and is purely Ayurvedic preparation. CAC Twak Tailam provides relief from various skin problems such as pimples, blemishes, scars, ulcers, wounds, skin rashes, dry patches, itching, skin irritation, reduces redness, etc. It is composed of natural herbs that pacifies all three doshas and provides healthy skin. This oil is made up of pure herbs such as yashtimadhu (Glycyrrhiza glabra), manjistha (Rubia cordifolia). Twak tailam supports skin health, helps in reducing uneven pigments, delays the process of ageing, improves complexion, and helps in deep detoxification, blood purification without any side effects. This oil moisturizes your skin, and makes your skin spotless and glowing naturally.
Method of Application – Apply over the affected area of the skin.