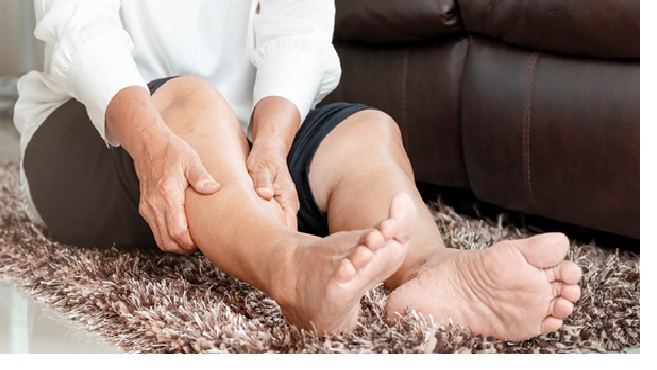 DIABETIC NEUROPATHY
21 Jan, 2022
Posted by admin
DIABETIC NEUROPATHY: Know the Symptoms, Ayurveda Treatment and Prevention Methods
Due to damage to the nerves in diabetes Patient, there are problems like tingling, prickling and numbness in the hands and feet. This is called diabetic neuropathy. It is one of the most common problems of diabetes caused due to increased blood sugar level in the body.
What is diabetic neuropathy?
The name 'diabetic neuropathy' is used only for the problems associated with diabetes (nerves in the body are called fibers through which signals from one place to another place in the body).
There are many different types of diabetic neuropathy depending on the part of the body affected.
Peripheral neuropathy
Sensory neuropathy
Automatic Neuropathy
Focal Neuropathy


In this article, we will talk about peripheral neuropathy in detail.

Peripheral neuropathy

Peripheral neuropathy damages the nerves around the hands and feet. Due to this, the affected person has to go through problems like tingling, pain and numbness in the arms and legs.

Its symptoms first affect the hands and feet and gradually spread throughout the body. Such a sensation occurs even while wearing stockings or gloves. That's why doctors also call it the stocking-glove pattern. Some people are also very sensitive to touch.

If this is not taken care of, the affected nerves can get worse in the future (over 10 or 20 years).

SIGNS AND SYMPTOMS-

The person may feel these signs and symptoms:

Weakness and dizziness
Weight loss, as muscle mass is lost.
Loss of coordination and balance
Digestive problems
Trouble with sexual activity
Blisters on feet

These symptoms progress very slowly, so they are not recognized until they become very serious or complicated.

Peripheral neuropathy is already present in 10.5% to 32.2% of people with diabetes in India. At the same time, about 50% of people get this problem during diabetes.

Who is at risk of Peripheral Neuropathy?

Anyone affected by diabetes can develop peripheral neuropathy. However, in these conditions mentioned below, the risk is high.

Age Factor- Age more than 55 years old.
Affected by diabetes for a long time.
Blood sugar is not being controlled.
High blood pressure or Hypertension.
Obesity

Who gets Peripheral Neuropathy?

Researchers have not been able to determine the exact cause of peripheral neuropathy. Although there is no doubt that it is caused due to high blood sugar level.

Recent research shows that in addition to high blood sugar levels, metabolic disorders, changes in blood vessels, high blood pressure can also cause this problem.

Apart from this, due to high fat and high cholesterol level around the waist, peripheral neuropathy can also occur.

The increase in the amount of sugar in the blood causes damage to the blood vessels, which affects the supply of blood from nerve cells to other parts of the body. Because of this, there is no oxygen supply to the nerve cells, which causes damage that cannot be repaired.

Care for peripheral neuropathy

Unfortunately, there is no cure for diabetic neuropathy in modern science. Doctors prescribe medicines such as pain relievers and anti-depressants to reduce its symptoms. Prescribed Cream and ointment also helps in relieving the symptoms.

Controlling the blood sugar level is the best way to protect the nerves from damage.

These Tips Will Help in Overcoming the Pain-

Exercise as much as possible – Exercise not only relieves pain but also improves mood. Things like walking, gardening, doing household chores and doing light activities come in exercise only.
Take care gently clean, dry and apply moisturizer to your feet every evening. Regularly check for blisters, cuts and wounds on the feet. If any wound is found on the feet and it is getting delayed in recovery, then go to the doctor without delay.
If you are suffering from diabetic neuropathy, then smoking can be dangerous for you as it aggravates the problems of the feet. Apart from this, the pain also increases with smoking.
Cut of alcohol from your life.
Buy a good pair of shoes. Your shoes should be comfortable. Do not wear high heeled shoes.
It is also important to adopt a healthy diet to control blood sugar level:

Eat less sweet and oily things.
Eat small amounts but at short intervals, eat at least five times a day.
Eat more fruits and vegetables.
Avoid fruit juices as they are low in fiber and high in sugar.
It is beneficial to eat fresh fruits like berries, oranges and apples in limited quantities.
Avoid high carbohydrate vegetables like potatoes and corn. Include vegetables rich in fiber like spinach, green salad in the diet. But yes, eat all the vegetables in limited quantity.
Eat whole grain things.
Avoid processed things like chips and biscuits as much as possible.

  

CAC SPECIAL MEDICATIONS FOR DIABETIC NEUROPATHY

1. Detox Premium Powder

This herbal powder is prepared from ingredients such as parwalpishti, shuktapishti, jaharmohrapishti, akikpishti, giloysatv, &talsindoor. These all ingredients in combination reduce excessive white discharge from the vagina, pain during micturition, abdominal cramps, itching, & fatigue, etc.

Recommended Dosage – Take 1 sachet twice daily with normal water.

2. Nerve Plus tablet

These tablets shows Anti-bacterial, Anti-inflammatory, Antioxidant, Analgesic and immune-modulator properties. It contains herbal ingredients Ghritkumari (Aloe barbadensis), Kali mirch (Piper nigrum), Giloysatav (Tinosporacrdifolia), shudhakuchala, shudhashilajeet, shudhavatsnabh, shudhsingraf. It is beneficial for migraine, lower back pain, rheumatoid arthritis, gout, stimulating nerves and appetite.

Recommended Dosage – Take 1 tablet twice daily.

3. AnuTailam:

Anutailam is the wonderful Ayurvedic nasal oil that is a very effective remedy for allergies, sinusitis, headache, etc. This herbal oil has both the lubricating and cooling effect. It cleanses and moistens the mucous membranes, kills bacteria and fungi, thin mucus and stimulates its flow, shrinks swelling in the mucous membrane of the sinus. Anutailam is very refreshing and can be used for mental fatigue also. The base oil of AnuTailam is Sesame oil and other ingredients like– Yashtimadhu (Glycyrrhizaglabra), Tulsi (Ocimum sanctum), Brihati (Solanumindicum), Chandan (Santalum album), Mustaka (Cyperusrotundus), etc. It possesses anti-bacterial properties and eliminates the excess mucus from the nasal cavity and balances adequate secretion of mucus.

Recommended Dosage – Put 2-3 drops of Anutailam in each nostril.

4. JeevantyadiGhrita:

JeevantyadiGhrita is an ayurvedic formulation that is known to be prepared from the mixture of fruitful herbs. The ghee is used as a base for this formulation. This is known to control aggravated pitta and eye problems. Helps in Eye problems like cataract in early stages, Pitta related diseases.

Recommended Dosage – Quarter to half teaspoon with water, before food, one to two times a day.
For eye ailments – take with triphalachurna after dinner.

5. Vata Balance Tablet:

Vata balance tablet is a rejuvenating blend of herbs is specially formulated to balance Vatadoshas without aggravating Pitta or Kaphadoshas. It may be used to support overall health and well-being by Vata constitutions with or without food. For those with a dual constitution that includes Vata or a tridoshic constitution, it is an excellent formula for the Vata season, which in most parts of the world is autumn and early winter.

Recommended Dosage – Take 1 tablet twice a day with normal water.

6. Trikatu Syrup:

Trikatu Syrup is purely Ayurvedic formulation made up of three herbs. CAC Trikatu Syrup helps to eliminate excess Kapha or mucous from the body, supports respiratory system, manages weight, helps to take out impurities or ama from the body, supports healthy detoxification, reduces swelling. It shows anti-inflammatory, analgesic, expectorant, antioxidant properties. This syrup is made up of equal parts of three herbs such as Pippali (Piper longum), Shunthi (Zingiberofficinale), &Marich (Piper nigrum) that maintains the metabolism in the body. The regular use of this syrup balances the thyroxine hormone and treats hyperthyroidism naturally. It is an Appetizer and it improves digestion, supports normal gastric function, and normal circulation.

Recommended Dosage – Take 2 tablespoon a day.

7. Easy Clean Tablet:

CAC easy clean tablet keeps the stomach clean and removes constipation. Ayurveda states that if the stomach is not clean, then in a way, it is responsible for many diseases. So according to that, stomach cleansing is a medicine that prevents a lot of diseases.
Till now you know that the important benefit of this medicine is to remove the constipation.

Recommended Dosage – Take 1 tablet twice a day with normal water.