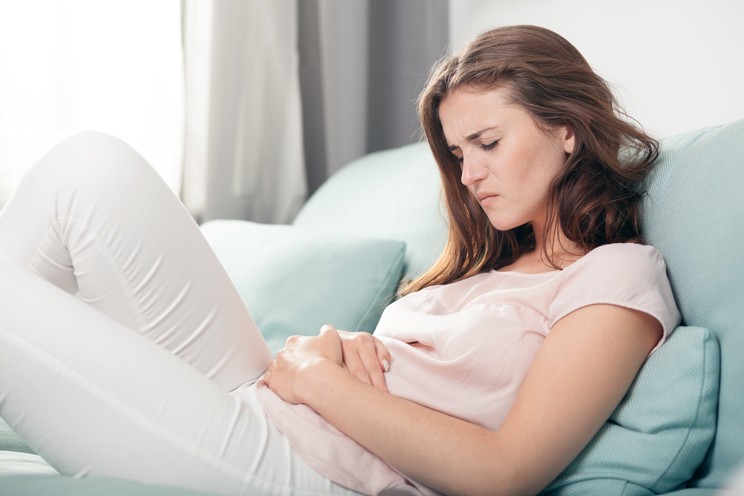 DYSMENORRHEA AND ITS AYURVEDIC MANAGEMENT
01 May, 2023
Posted by admin
Dysmenorrhea is the medical name for painful menstrual periods brought on by uterine contractions . In the modern world, it is the most prevalent gynecological disorder that affects women. Before and during their periods, many women have menstrual cramps.
Some ladies may just find the discomfort irritating. Others may suffer from severe menstrual cramps that keep  them from living their normal lives for a few days each month. Primary and Secondary dysmenorrhea are the two types of Dysmenorrhea.
Primary Dysmenorrhea : Individual experience recurrent menstrual cramps and this kind is not brought on by an underlying illness. Pain often begins at the beginning of menstrual cycle or 1 to 2 days prior. Female may have mild to severe lower abdomen, thigh or back discomfort, which typically lasts 12 to 72 hours. In certain, situations, a person may feel symptoms including diarrhea, nausea or exhaustion.
Secondary Dysmenorrhea : Period pain brought on by an illness or condition of the female reproductive system. The discomfort typically starts earlier in the menstrual cycle and lasts longer than regular cramps. There are no signs of weariness, vomiting, nausea or diarrhea.
WHAT ARE THE CAUSES OF DYSMENORRHEA?
Prostaglandins, which are the hormones that drive uterus to contract during menstruation and birth, are thought to be the major cause of Primary Dysmenorrhea.
The causes of Secondary Dysmenorrhea includes :
Adenomyosis : A syndrome when the uterine lining extends into the uterine muscles. This syndrome can result in abnormal bleeding, discomfort and a significantly larger uterus that is typical.
Cervical Stenosis : The cervix's opening is too narrow to permit menstrual flow, which leads to an uncomfortable rise in uterine pressure.
Endometriosis : A painful condition where tissue lining the uterus is found outside of uterus, usually on ovaries, fallopian tubes or tissues lining pelvis. These tissue fragments might result in scarring, swelling and discomfort since they bleed during menstrual period.
Pelvis Inflammatory Disease(PID) : A bacterial infection that originates in uterus and can spread to other reproductive organs. PID tends to cause stomach pain or pain during intercourse.
Fibroids : While they frequently go un-noticed, fibroids are non-cancerous tumors that can put strain on uterus, produce painful irregular menstruation or both.
WHAT ARE THE RISK FACTORS FOR DYSMENORRHEA?
There are certain factors that might increase the risk of developing Dysmenorrhea in individual. The factors includes :
Family history of dysmenorrhea
Irregular menstrual bleeding
Younger than 30 years of age
Early puberty, at age 11 or younger
Smoking
Heavy bleeding during menstrual cycle
WHAT ARE THE SYMPTOMS OF DYSMENORRHEA?
Common symptoms females experience during menstrual cycle includes :
Cramping or throbbing pain in lower abdominal region
Diarrhea
Pain radiates towards lower back and thighs
Headaches
Fatigue
Mood swings
Weakness
Vomiting
Fever
Nausea
Dizziness
WHAT AYURVED SAYS ABOUT DYSMENORRHEA?
It has a correlation to "Kashtartava" in Ayurveda. It is believed that the primary reasons of the onset of this condition are vitiation of Vata and pitta. Apana vata, a subtype of vata, is incharge of the downward migration, but its vitiation for various reasons is what causes severe cramping and discomfort in the lower belly.
Through the use of herbs and panchakarma treatments, ayurveda aids in the restoration of the equilibrium. These treatments aid in removing obstacles and promoting normal vata movement, relieving discomfort and suffering.
HERBS :
Shatavari
Kumari
Ashoka
Lodhra
Sonth
Ashwagandha
Amlaki
Lawang
PANCHAKARMA :
Abhyanga
Vamana
Virechan
Basti
CHANDIGARH AYURVED CENTRE MEDICATION FOR TREATMENT OF DYSMENORRHEA :
1. Immuno up Powder
Immuno up powder is pure herbal formulation. The importance of working on your immunity is now on an all-time high. If a person fall ill easily, it means their body's immunity is low. This pacifies tridosha (Vata, pitta and Kapha), strengthen your immunity, keeps your digestive system fit and also detox your body. it also works in cold, fever and flu conditions. It consists of effective levels of antioxidants, Vitamin C and E which circulate in the body to protect it against the damage caused by free radicals. it is a natural immune-modulator properties to prevent and ease coughing, sneezing, etc. It provides quick relief from early signs of running nose, Sore throat, body pains, and weakness.
Recommended Dosage– Take 1 Sachet twice daily with normal water.
2. Femine care tablet
It is a pure and natural remedy that contains various herbs extract that works on the female reproductive system and make it healthy. These tablets show antioxidant properties, anti inflammatory and immuno modulater properties. It contains Ghritkumari , Muramakki, Sonth. It works in various diseases like pcod, bulky uterus, endometriosis, general female health, irregular menses, and uterine fibroids. It affects on Tridosha- balances Vata and Kapha.
DOSE– 1-2 tablets two times a day or as directed by physician.
3. Women Power Plus Tablet
CAC woman power tablet is a complete health supplement for women which is best for female health and vital energy. It helps to build up the immunity. This is a pure herbo mineral product of the best quality herbs. The herbs used are Ashoka, Shatavari, anatmool, etc. These are herbs used since ancient times to maintain female health metabolism.
DOSE– Take 2 tablet twice a day or as directed by physician.
4. Women Champion Syrup
Woman Champion is purely herbal and ayurvedic formulation. It is a very effective tonic for women and help to maintain their health. It balances all the doshas of body and also maintain hormone levels . It contains herbs like Lodhra, Manjishta, Ashok chaal, Punarnava,Shatavar,Bala,Daruharidra,Nagarmotha that help women typically with mood changes, stress, headache and pain. CAC Women champion helps in leading a life of minimum discomfort during those difficult days every month.
Recommended Dosage: Take 2 tablespoon a day or as directed by physician.
5. Panchsakar Churna
This churna is very effective for acidity patients as it shows antioxidant, anti-inflammatory, laxative, & analgesic properties. It is a classical herbal churna prepared from ingredients like Shatapushpa,Balaharitaki, Shunthi, Swarnapatri, & Saindhav lavana. It helps in removing all toxins from the body and provides good results in Amenorrhea.
Recommended Dosage: Take 1 teaspoonful at bedtime with warm water.