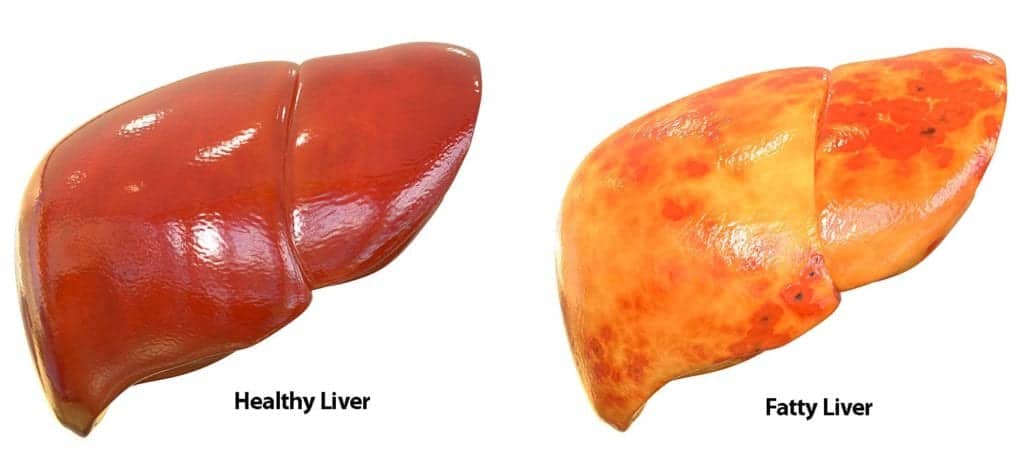 FATTY LIVER AND ITS HERBAL TREATMENT
10 Jul, 2023
Posted by admin
Fatty liver is a disease resulting from storage of extra fat in liver. When there is too much fat build up in the liver it leads to inflammation which can lead to scarring and other complications.  Fatty liver is also known as hepatic steatosis and all though having small amounts is fat in liver is normal too much is a health concern.
When fatty liver develops in an alcoholic patient it is known as alcoholic fatty liver disease and when it develops in a patient who doesn't drink a lot of alcohol, it's known as non alcoholic fatty liver disease.
SYMPTOMS OF FATTY LIVER
Fatty liver tends to progress through four stages:
Simple fatty liver: There is a fat build up in liver and it is harmless if doesn't worsen.
Steatohepatitis: There is presence of excess fat along with inflammation in liver.
Fibrosis: Due to persistent inflammation in liver there is scarring but liver more or less still functions normally.
Cirrhosis: When the scarring of liver is widespread it impairs the liver's ability to function. This stage is severe and irreversible.
In both AFLD and NAFLD the presentation is similar but in most cases there are no noticeable symptoms.  But as the disease progresses liver damage increases and moves towards cirrhosis exhibiting following symptoms:
Pain in abdomen
Appetite loss
Loss of weight
Fatigue and weakness
Nausea
Itchy skin
Yellow eyes and skin
Easy bruising or bleeding
Dark colored urine
Stool which is pale in color
Fluid accumulation in the abdomen
Swelling in the legs
Web like clustering of blood vessels under the skin
Confusion
Breast enlargement in males.
TYPES OF FATTY LIVER DISEASE
The two main types of fatty liver disease are alcoholic and non alcoholic
Non alcoholic fatty liver disease
It happens when fat builds up in the liver of people who do not drink a lot of alcohol. If there is no inflammation then condition is known as simple NAFLD.  Non alcoholic steatohepatitis is a type of NAFLD where there is inflammation.
Alcoholic fatty liver disease
Alcohol usage damages liver and if no inflammation the condition is simple alcoholic fatty liver. If there is involvement of inflammation then the condition is known as alcoholic steatohepatitis.
Acute fatty liver of pregnancy
Acute fatty liver of pregnancy occurs when there is build up of excess fat in liver during pregnancy. The exact cause is unknown although can be attributed to genetics.
It usually occurs in third trimester of pregnancy and poses a serious threat to mother and child.
CAUSES OF FATTY LIVER
 Alcohol is the major cause for alcoholic fatty liver. Some of the folloowing factors also play a role:
Obesity
Type 2 diabetes
Insulin resistance
High fat levels mainly triglycerides
Metabolic syndrome
 Some other potential causes are:
Side effects of certain medicines
During pregnancy
Some infection or deficiency
Rare genetic conditions
 Other potential causes of fatty liver include:
pregnancy
side effects from some types of medications
some types of infections, such as hepatitis C
certain rare genetic conditions
HOW AYURVEDA HELPS IN FATTY LIVER
According to ayurveda fatty liver comes under the category of Yakrut vikar. It occurs due to the aggravation of pitta dosha. This in turn later leads to imbalance of the other two doshas – vata and kapha. According to Ayurveda, fatty liver occurs because of the bad eating habits and unhealthy lifestyle. The ayurvedic herbs help in increasing metabolism by balancing the pitta and kapha doshas. They remove toxins from the body and improve functioning of the liver and get rid of excess fat accumulation in liver.
FATTY LIVER CARE KIT
Detox Premium Powder:
As the name suggests this herbal powder helps in overall detoxification of the liver. This herbal powder contains ingredients such as giloy satv, shukta pishti, parval pishti, kamdudha ras, gandhak rasayan, etc. It reduces pain, swelling, abdominal pain, & abdominal swelling.
Recommended Dosage: Take 1 sachet twice daily with normal water.
Liver care tablet:
Liver Care tablet help in balancing Pitta dosha. These tablets stimulate the growth of new liver cells, promote functions of liver, and improve blood flow from the liver. It helps in the treatment of fatty liver, liver cirrhosis, Hepatitis, hepatomegaly, and obstructive Jaundice. Liver Care Tablets contains Ingredients like Kalmegh (Andrographis paniculata), Kutaki(Picrorhiza kurroa), Bhumi amla( phyllanthus niruri), Giloy(Tinopora Cordifolia), Yavakshar( Hordeum vulgare), Imli Kshar( Tamarindus indica), Mukta Shukta pisti etc. It helps in removing fats from the liver cells & keeps your liver healthy.
Recommended Dosage: Take 1 tablet twice daily with normal water.
Kutki Capsules:
Kutki capsules are a pure herbal extract of Kutki herb whose main function is to balance Vata and pitta doshas. It helps in the removal of harmful toxins from the body. Kutki capsules of CAC show great results in the case of liver diseases, purify the blood, and treats respiratory disorders. It maintains the overall digestive system and useful in various diseases like abdominal distension, ascites, constipation, etc. it has anti-inflammatory properties, also reduces the stiffness of joints.
Recommended Dosage: Take 1 capsule twice daily with plain water.
Panchsakar Churna:
As the name suggests five ingredients are used for the preparation of this herbal churna. The ingredients such as shunthi, shatapushpa, balaharitaki, saindhavan lavana, & swarnapatri are used for removing toxins from the body. The abdominal pain, swelling, loss of appetite, fatigue, etc related to fatty liver are treated.
Recommended Dosage: Take 1 teaspoonful at bedtime with lukewarm water.
Liver Care Syrup
Liver Care Syrup is a herbo-mineral Syrup which is purely ayurvedic formulation. CAC Liver Care syrup helps in balancing Pitta dosha. This Syrup enhances regeneration of liver cells, promote functions of liver, and improve blood flow from the liver. It helps in the treatment of fatty liver, Liver cirrhosis, Hepatitis, hepatomegaly, and obstructive Jaundice.
Recommended dosage: take 2 tablespoon morning and evening after meal