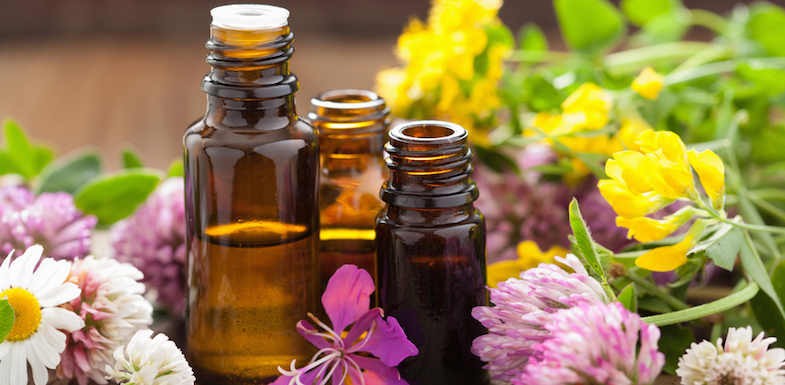 FIVE ESSENTIAL OILS FOR HEADACHE
13 Sep, 2021
Posted by admin
In Ayurveda, Head or Shira is considered as the Uttamanga because it is the seat of prana and indriyas. In Ayurveda "Headache" is termed as "Shiroshoola".
HEADACHE– It is a painful sensation in any part of the head; the pain ranges from sharp to dull and may be present with other symptoms.
COMMON CAUSES-
The most common causes of Shiroshoola or headache are-
Lack of sleep
An incorrect eyeglass prescription
Stress
Loud noise exposure
Wearing a tight head wear.
Poor posture
Skipping of meals
Changes in sleep
Excessive Intake of alcohol particularly red wine.
Hunger
Weather Changes etc.
Essential oils for headache-
The following oils have proved to be beneficial for relieving Headache.
1. LAVENDER OIL
BOTANICAL NAME OF LAVANDER- Lavandula angustifolia
This oil is mostly used for getting sleep in case of Insomnia, reduces stress, anxiety or depression.
It is believed that it can help in relieving headaches and migraines associated with stress.
Inhalation of lavender essential oil that can be a safe and effective treatment to manage migraine headaches.
2. ROSEMARY OIL
BOTANICAL NAME OF ROSEMARY- Rosmarinus officinalis
FAMILY- Lamiaceae
This oil is traditionally used to treat headaches and improves circulation.
This oil has an anti-inflammatory and pain-killing property.
It is found that rosemary oil helped to reduce pain and insomnia in people going through opium withdrawal treatment.
It may reduce the pain associated with a headache.
3. PEPPERMINT OIL
BOTANICAL NAME OF PEPPERMINT- Mentha piperita
FAMILY- LAMIACEAE- "The mint family"
This oil has been used in alternative medicines from ancient period of time. It is one of the most popular essential oils for treating headaches.
Apply peppermint oil to the temporal region and forehead provides relief from tension headaches.
The active ingredient present in peppermint oil is menthol. It may be effective in treating migraines when applied to the head as a gel.
4. CHAMOMILE OIL
BOTANICAL NAME OF CHAMOMILE- Matricaria chamomilla
Family- Asteraceae
The Shiroshoola is often caused by stress and anxiety; the chamomile oil may help to treat headaches.
Drink chamomile tea to relax and unwind. The oil of Chamomile is commonly believed to have a similar effect.
This Oil might improve some of the symptoms of Anxiety, stress and depression.
There are anti-inflammatory properties in chamomile that may reduce a headache.
5. EUCALYPTUS OIL
BOTANICAL NAME OF EUCALYPTUS- EUCALYPTUS GLOBULUS
FAMILY- Myrtaceae (Myrtle Family)
It is used traditionally to clear sinuses and reduces the inflammation. Some headache may be due to blocked sinuses, Inhalation eucalyptus oil may help to reduce these symptoms.
According to some studies, eucalyptus oil was effective for relieving pain and lowering the Blood pressure when it was inhaled.
HOW TO USE THESE ESSENTIAL OILS??
As per Ayurveda, The oils possesses Vata balancing properties, it pacifies the vata dosha and provide relief against Shiroshoola which is caused mainly by the Vata Dosha.
Mode of Application- Apply oil to the temples or forehead region. These oils need to be diluted with carrier oil, such as coconut oil, before the application to the skin. After diluting, the oil can be massaged into the temples and across the forehead.
Inhalation of oil– These oils can be inhaled by adding a few drops to a tissue, holding the tissue under the nose and breathing deeply.
Using a compress- You can make a compress by soaking the towel in cold water with a few drops of essential oil. Apply this compress to the forehead or neck.
Add on for Bath- Add a few drops of essential oil to a hot bath make you feel relaxes and it is an amazing way to treat a headache.