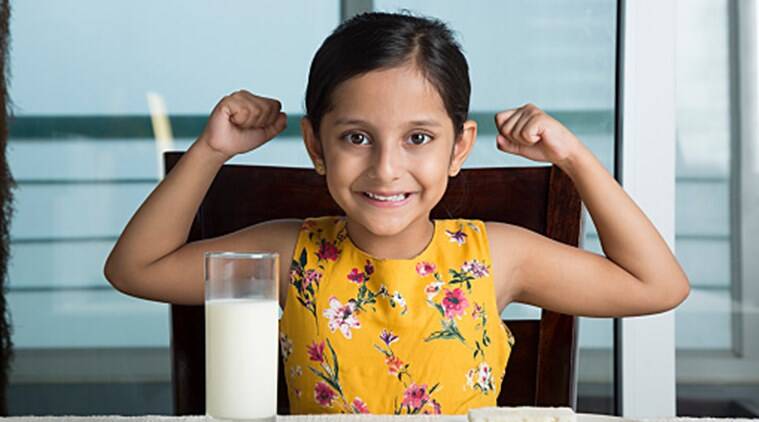 Foods to boost Kids Immunity
06 Oct, 2021
Posted by admin
Children have less immunity than adults, so they are more prone to get sick soon. At the same time, children are often reluctant to bring food and drink, due to which many times the body lacks essential nutrients, which directly affects the immunity of the body. In such a situation, increasing the weak immunity of children can be a serious matter. We are going to tell the reasons for low immunity in children and effective ways to increase it along with the symptoms. For complete details read the article till the end.
What is immunity?
The immune system is considered to be the body's defense mechanism. Actually, it is a network of cells and tissues along with the organs of the body, which together help to protect the body from infection and diseases. When a bacteria or virus enters the body, the body's immune system becomes active and works to fight them . Therefore, doctors or experts recommend more consumption of those foods, which work to boost immunity.
Symptoms of low immunity
Immunodeficiency is a serious medical problem that cannot be completely cured with food and home remedies. This may require special medical treatment. Weakness of immunity can be recognized through the following symptoms :
Infection caused by bacteria or other germs
Not responding well after treatment to an infection
Failure to fully recover from infection or disease.
Pneumonia
Fever
Ear infections such as otitis media
Frequent diarrhea
Skin problems such as dermatitis (skin rash with itching)
Central nervous system infection
Complications associated with vaccination, such as diarrhea after rotavirus.
Delay in wound healing .
The third wave of Covid-19 in India is expected to hit India in July-August and this wave is said to be very contagious for children. In such a situation, making children's immune system strong is the easiest and most important way to protect them from infection.
Foods to boost Kids Immunity
Tips to increase immunity of children
The corona virus pandemic has affected the lives of children in a big way. Due to restrictions related to open air play and play, where children are finding it difficult to stay physically active. At the same time, due to lack of sunlight in children, the risk of problems like vitamin D deficiency in kids, obesity and lethargy or fatigue is also increasing in them. At the same time, due to weak immunity of kids, the fear of getting infected by these children also remains constant. Significantly, health experts have announced that the third wave of Kovid-19 will come in India in July-August and this wave will be very deadly and contagious for children and young people. In such a situation, making children's immune system strong is the easiest and most important way to protect them from infection.
Children's diet should be like this to protect them from diseases
ways to boost children's immunity with the help of diet increase the immunity power of children.
Pickle-chutney and marmalade
In summer, pickles, chutneys and murabbas are made from seasonal fruits and vegetables like mango, lemon, amla and gooseberry. These delicious things have always been consumed to increase immunity. Introduce your kids to the sour-sweet taste of pickles and traditional chutneys. Serve them sweet or sour pickles, chutneys and murabbas as per their choice. Being rich in probiotics, they increase the balance of gut bacteria.
Fruits
Seasonal fruits found in India in the season like mango, jackfruit, amla, guava and gooseberry are rich in vitamin C. All these fruits help children grow better, children's immunity increases and bones become strong.
Be like this evening snack
Between 4-6 pm, give children hot roti with jaggery and healthy and tasty things like ghee, rajgira laddoos, gram flour ladoos, halwa. The time of 4-6 pm is when the level of cortisol hormones in the body is low. Serve healthy homemade recipes to kids to give them some energy and boost their mood during this time. This takes away their boredom.
Consumption of rice is beneficial for children
Rice is an ideal food for kids as it is easy to digest and tasty. Children love to eat rice. In such a situation, encourage children to eat rice with lentils and ghee. Rich in amino acids, rice is also a good source of B vitamins. It also reduces problems like irritability and constipation in children.
Cashew is a healthy snack
Give a handful of cashews to the children daily to eat. Try feeding cashews to babies at any time of the day. Enriched with micro-nutrients and healthy fats, cashews will nourish kids, boost immunity and boost their mood.
Coconut oil
Coconut oil is considered very good for health. It contains lauric acid and caprylic acid. Which helps in strengthening the immunity of children. Therefore, use coconut oil while cooking. Apart from this, give half a teaspoon of coconut virgin oil to children on an empty stomach in the morning.
Citrus fruits
Vitamin C is found in high amounts in citrus fruits. Which strengthens your immune system. Therefore, you can make your children consume orange, lemon, kiwi etc.
Berries
Make children consume berries like Jamun, Strawberry, Blackberry, Mulberry etc. Because it is rich in antioxidant properties.
Lentils
Vitamins and minerals are found in abundance in pulses, which boost the immunity of children and protect them from many diseases. Therefore, feed children beans, gram, rajma or other pulses daily.
Curd
In addition to calcium, protein, lactose, iron, phosphorus are also found in it. Along with this, there are good bacteria present in it which can improve the immune system. Therefore, give some curd to the children daily.