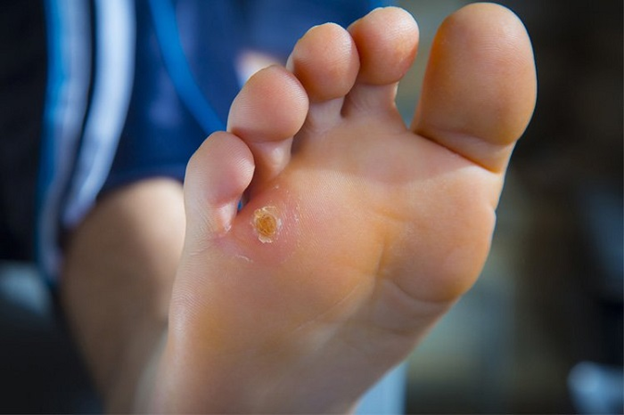 Foot Corns: These 5 Ayurvedic Home Remedies Will Help In Treating Nails or Foot Corns
15 Jan, 2022
Posted by admin
It is not common to have foot corns or bunions. These can badly affect your life. Here are some effective Ayurvedic remedies for the same.
Do you take proper care of your hands and feet like you take care of other body parts?
If not, it could be a problem for your feet. Foot corn means nail in the foot, which is also called bunion, it can give you a lot of pain. This is hard skin tissue, which can happen for a variety of reasons, including poor foot care.
In rare cases, corns can also occur on the hands. If they are painless and small in size, you can leave them untreated. But it is always better to treat them than to address any underlying problem. In the long run, these corns can develop in the feet and then affect your walking.
What are the causes of foot corns?
Poor foot care
Poor walking habit
Wearing high-heeled sandals or shoes for a long time
Standing job
Uncomfortable shoes
Obesity
Ayurvedic Home Remedies for Corns
In Ayurveda It is mentioned that foot corns occur due to an imbalance of Vata and Kapha doshas in the human body. Here are some Ayurvedic home remedies, which can help in treating foot corns. But if the problem persists, see a doctor.
Foot Corns: These 5 Ayurvedic Home Remedies Will Help In Treating Nails or Foot Corns
1.Epsom Salt Water Bath
To deal with your foot corns, give your feet an Epsom salt water bath.
For this, you put some Epsom salt in a tub with warm water and dip your feet in it.
You soak them for 10-15 minutes and then do this two or three time a week.
Alternatively, you can infuse chamomile tea and soak the feet in water for added benefits.
After taking the feet out of the water, wipe them with a clean towel and moisturize the feet with coconut oil.
2. Garlic Cloves
Peel a few garlic cloves.
In a pan, add 2-3 drops of ghee and fry the garlic.
Place a clove on each foot corn and cover it with a bandage.
Do this every day until you get relief.
3. Baking Soda
Baking soda helps to remove the dead skin cells that surround the foot corn.
In addition, the antifungal and antibacterial properties of baking soda help in faster healing.
4. Baking Soda for Foot Corns
In a bowl, add 3 tablespoons of baking soda.
Now add 1 tbsp of water to it and mix well to make a paste.
Apply this paste on the foot corns and leave it for 15-20 minutes.
You can also dip your feet in that water by adding baking soda to the water.
5. Turmeric Paste
In mustard oil, add turmeric powder and fry.
Now apply paste on the foot corns and cover it with a bandage.
Leave it for overnight.
Doing this daily will help in healing your foot corns faster.
Turmeric Paste For Foot Corns
6. Vinegar
Add a cup of vinegar to warm water.
Soak your feet in that water for 15 minutes.
Now after taking out the feet from the water, wipe the feet and then massage with olive oil or castor oil.
Then you dip a cloth in vinegar and cover the corns with it.
Vinegar helps in removing the dead skin easily.
Note – These remedies may provide immediate results. They need to be used regularly for effective treatment.
AYURVEDA THERAPY FOR FOOT CORN
   AGNIKARMA FOR FOOT CORN
Agnikarma is the age-old technique of providing relief by giving special energy (heat) on the painful part of the body.
It is done with the help of a fire rod i.e. made of iron, copper, silver, vang, bronze or mixed metals.
It is useful to remove various muscles of the body and their disorders. The patient does not feel any pain on treatment with this. If the patient is sitting with his eyes closed, then he does not even know that his treatment has also been done by Agnikarma.
Advised for-
It is effective for the treatment of diseases like-
Knee pain
Back pain
Pain in heels
Sprain
Headache
Sciatica
Early stages of Hernia
Removal of warts
Excision on fistula tract
Plantar Fascitis
Tennis elbow
Disc prolapse etc.
It usually takes only 2 to 5 minutes to treat at a time and the patient feels immediate benefits.
Corn in Ayurveda is named as Kadar i.e. kind of Kshudra Roga. Corn is cured instantly with the help of Agnikarma.
It is considered the best instant corn cure because it is the most suitable in treating any local Vata and Kapha vyadhi.
It gives instant relief to the patients and diseases treated by Agni karma do not reoccur.
You can get rid of corns naturally and by the best method instantly.
Since we are talking about something to get rid of corns naturally, it has no side effects, complications and there are no chances of recurrence.
It is completely different from all other surgeries. Within a few minutes of Agni karma procedure the patient can do the daily routine activities. But, for this, one needs to get it done precisely in the presence of experts.
The therapy is not only instant corn cure, but is also cost effective as compared to surgical excision.
During any other surgical procedure, the money you spend on post excision dressing, buying antibiotics, analgesic and other drugs effect on your health and also put a burden on your pocket. Also, the people are exposed to side effects of many drugs.