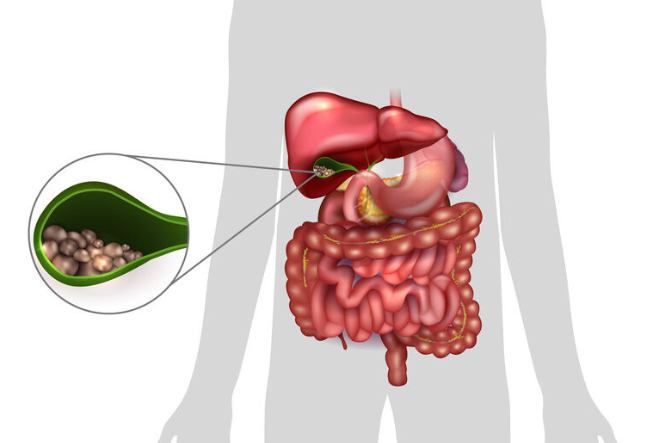 GALLSTONES AND ITS AYURVEDIC MANAGEMENT
26 Apr, 2023
Posted by admin
Gallbladder is a small, pear-shaped organ that stores the bile and it lies beneath the surface of liver. The liver produces bile, which is then stored in the gallbladder. Bile is than discharged into the gut as a result of the gall bladder contracting. Cholesterol, bile salt, bilirubin and lecithin are the components of bile fluid. Gallstones are often composed of bilirubin or cholesterol that accumulate at the base of gall-bladder and solidify into "stones". Gallstones can range in size from a grain of sand to a golf ball. As the bile keeps washing over them and they continue to gather extra materials, they eventually grow.
A condition of having gallstones is known as Cholelithiasis. If stone becomes lodged in one of the ducts that transport bile from the liver  to small intestine, it may prevent  normal flow of bile and lead to development of symptoms associated with this condition.
CAUSES :
Some of the common causes that leads to development of the gallstones includes:
Bile contains too much Cholesterol : Generally, the Chemicals in bile are sufficient to break down the cholesterol the liver excretes. However, if the liver excretes excessive cholesterol that the bile can break down, it may crystallize and eventually turn into stones.
Bile contains too much Bilirubin: The chemical Bilirubin is produced after body breaks down the red blood cells. Some condition, like certain blood disorder, biliary tract infections, liver cirrhosis etc leads to excessive production of bilirubin by the liver. There is formation of gallstones due to excess bilirubin.
Gallbladder doesn't empty correctly : Bile may become extremely concentrated if gallbladder doesn't drain fully or frequently enough, which can lead to the development of gallstones.
TYPES OF GALLSTONES :
Gallstones formed in gallbladder are categorized into following types :
Cholesterol Gallstones : They are the most common types of gallstone and usually appears yellow in color. These stones are mainly made up of un-dissolved cholesterol, however they could also include other substances.
Pigment Stones : These stones are made up of calcium salts, bilirubin and other substances. Gallstones often have a dark brown or black color.
Mixed Stones : Cholesterol or pigment stones may accumulate a calcium, thus producing mixed gallstones.
SYMPTOMS :
Gallstones in some individuals may not show any symptoms at all. The following symptoms might appear as a result of a gallstone blocking a duct :
Immediately below the breastbone, in the middle of the belly, there is a sharp, there is a sharp swiftly escalating ache.
Upper right abdominal region discomfort that develops suddenly and quickly.
Pain in right shoulder
Nausea or vomiting
Back pain between shoulder blades.
COMPLICATIONS :
Blockage of common bile duct
Gallbladder cancer
Inflammation of gallbladder
Blockage of pancreatic duct
AYURVED APPROACH :
In Ayurved Gall stones can be correlated with Pittashmari. Due to Kaphaprakopaka Nidansevan there is vitiation of the kapha dosha.  Quantatively accumulated Kapha interacts with the Pitta that is already present in the Pittashaya (Gall bladder). Pittashaya, where kapha and pitta are combined, results in creation of viscous substance, which obstructs the Vayu's flow. Because of its Rukshadi gunas, the vayu becomes tainted and transforms the liquid substance into dry, solid form known as Pittashmari.
HERBS :
Gokshura
Haridra
Kumari
Bhringraj
Kutki
PANCHKARMA :
Vaman
Parisheka
Virechana
Avagahan sweda
CHANDIGARH AYURVED CENTRE MEDICATION FOR GALLSTONES :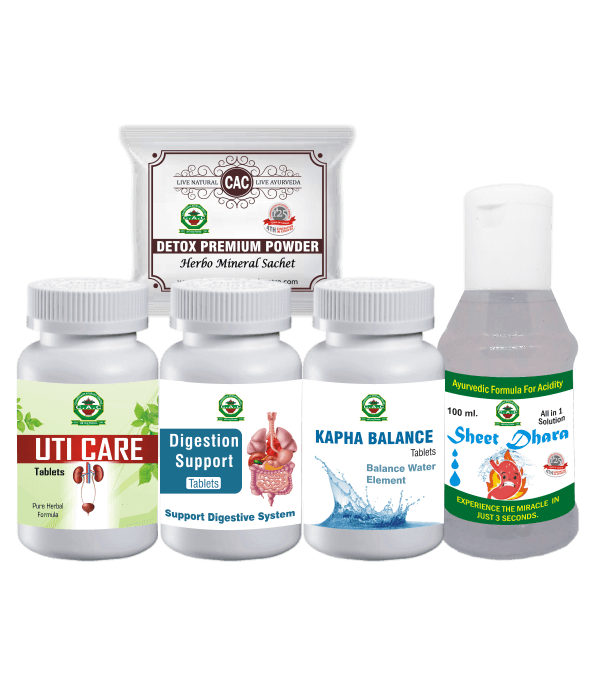 1. Detox Premium Powder:
These herbal sachets mainly detox the body and helps in proper metabolism of all the functions. These sachets have anti-inflammatory, antioxidant, and anti-bacterial, anti-fungal, and immune-modulator. The ingredients present in it are moti pishti, parwal pishti, shukta pishti, Giloy satv, kamdudha ras, Jahar Mohra, akik pishti, gandhak rasayan, sutshekhar ras, etc. These ingredients helps in blood purification, reduces burning sensation, weakness, and hot flashes in ulcerative colitis patients. It reduces the level of high uric acid in the body. The powder is very beneficial in relieving discomfort, numbness, muscle ache, and reduces swelling of the pelvic region.
Recommended Dosage: Take 1 tablet twice a day with normal water.
2. Digestion Support tablets:
This tablet is unique blend of best digestive herbs like kutaz chal, bilav, dhania, mustak, shankh bhasm, piper mint, and dadim that maintain natural Ph balance in the stomach and aid digestion of all types of food. The herbs present in this control acidity, gas, flatulence and constipation. These all complex problems are root cause of all diseases. If digestive system is proper it leads to proper assimilation of the nutrients in the body.
Recommended Dosage: Take 1 tablet twice a day.
3. Sheet Dhara Syrup:
Sheet Dhara Syrup is an herbal preparatory which neutralizes the excess stomach acid to relieve heartburn, burping, loss of appetite, indigestion, an upset stomach, etc. This syrup works differently from other acid reducers as it prevents the secretion of stomach acid in a natural way and helps to overcome nausea, vomiting, abdominal pain, heaviness, etc.
Recommended Dosage: Mix 1 teaspoonful in 30 ml of water and take early in the morning on an empty stomach
4. UTI Care Tablet:
UTI Care Tablets helps to treat Urinary tract infections along with the diseases related to kidney, ureters, urinary bladder, and urethra. This tablet contains pure herbal ingredients which are Yavakshar (Hordeum vulgare), kalmi Shora (Pottasium nitrate), Naushadar (Ammonium chloride), Swarna Gairik (Red ochre), etc. UTI Care Tablets are also beneficial in kidney stones, chronic kidney disease, renal colic, burning sensation or pain during micturition, Hypertension. This herbal tablet detoxifies the gallbladder & maintain natural functioning.
Recommended Dosage:Take 1 tablet twice a day with normal water.
5. Kidney Care Tablet:
CAC Kidney Care Tablet shows Antioxidant, Anti-inflammatory, Analgesic, Diuretic properties. It is very beneficial in reducing the Creatinine level, rejuvenation of the kidneys and promotes the filtering process of kidneys, and maintains the healthy urinary tract. This Tablet deal with the signs and symptoms related to kidney diseases and helps in pacifying Kapha and Pitta Dosha, and also helps in painless expulsion of stones. It naturally increases the life-span of the kidneys. This herbal churna contains ingredients like Punarnava (Boerhavia diffusa), Manjistha (Rubia cordifolia), and Bhumiamla (Phyllanthus niruri), etc. It is beneficial for diseases like chronic kidney disease, Renal colic, Urinary tract infection, kidney stones and Gallstones.
Recommended dosage: Take 1 tablet twice daily.