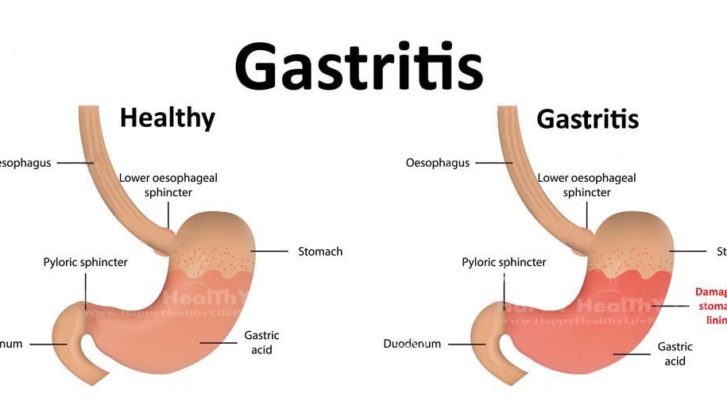 GASTRITIS
27 Apr, 2023
Posted by admin
INTRODUCTION
Gastritis is characterized by the inflammation of the wall of stomach. It involves a group of conditions and can occur suddenly or gradually. The main reason of gastritis is the infection of the stomach lining with the bacterium which leads to formation of ulcers in stomach. Pain in belly, indigestion of food, nausea, bloating and dyspepsia are some of the most common symptoms of gastritis. Excessive intake of painkillers and alcohol consumption can lead to gastritis.
Gastritis can be managed with good eating habits and regular physical exercise. There are various types of medications which are helpful in curing it. But if not dealt at time or properly, then it can lead to stomach cancer.
WHAT ARE THE CAUSES OF GASTRITIS?
Gastritis occurs due to inflammation of the lining of stomach. The innermost lining of stomach is known as mucosa. It is covered by a thick covering of mucus for providing protection against digestive juices and hydrochloric acids. When some break occurs in this mucus barrier, then digestive juices and hydrochloric acid causes inflammation of the stomach wall. This leads to gastritis.
WHAT ARE THE RISK FACTORS OF GASTRITIS?
Some factors increase the risk of a person developing gastritis. Following are the risk factors of gastritis:
Infection by Helicobacter pylori bacteria
Alcohol intake
Cigarette smoking
Prolonged use of painkillers and steroids
Any physical trauma like injury to the brain
Autoimmune disorders
Increasing age
Excessive stress
Bile reflux
AIDS
Crohn's disease
Celiac disease
Sarcoidosis
Chemotherapy
Radiation therapy
WHAT ARE THE SIGNS AND SYMPTOMS OF GASTRITIS?
The common signs and symptoms of gastritis are:
Pain in abdomen
Abdominal bloating
Nausea and vomiting
Loss of appetite
Feeling of fullness
Burning sensation in stomach
Ulcers in stomach
Rapid weight loss
Presence of blood in vomiting
Black stools
WHAT ARE THE COMPLICATIONS WHICH ARE ASSOCIATED WITH GASTRITIS?
Gastritis, when not treated can lead to various health complications. Following are the complications associated with gastritis:
Anemia
Sepsis
Inflammation of the peritoneum known as peritonitis
Pernicious anemia
Cancer of stomach
HOW ONE CAN PREVENT GASTRITIS?
Gastritis can be prevented by taking some of the following steps:
Doing handwash before eating anything
Eating small meals throughout the day
Say no to alcohol
Avoid spicy and fried foods
Less consumption of caffeine
Stress management
Regular physical exercise
Quit smoking
WHAT IS THE AYURVEDIC APPROACH TO GASTRITIS?
In Ayurveda, gastritis is known as Urdhvaga amlapitta. There are three doshas present in body – vata, pitta and kapha. When pitta dosha aggravates, this leads to manifestation of gastritis. Bad eating habits and lack of physical exercise are the main reasons responsible for gastritis according to Ayurveda. There occurs accumulation of toxins which leads to excessive secretion of gastric juices causing gastritis.
Different ayurvedic herbs, panchkarma and yoga are very beneficial for treatment of gastritis. Some of the herbs useful for gastritis are:
Bilwa
Yashtimadhu
Amalaki
Shatavari
Bhringraj
Several yogasanas which are helpful in management of gastritis are:
Naukasana
Ardhmatsyaendrasana
Pavanmuktasana
Dhanurasana
Pranayama
CHANDIGARH AYURVED CENTRE'S MEDICATIONS FOR THE TREATMENT OF GASTRITIS
Here are some of the medications of Chandigarh Ayurved centre which are used for the treatment of gastritis:
1. Agnimukha Churna
This herbal churna is prepared from ingredients like Vacha (Acorus calamus), Pippali (Piper longum), Sonth (Zingiber officinale), Ajwain (Trachyspermum ammi), Haritaki (Terminalia chebula), etc that balances vata & kapha doshas in the body. It gives effective results in indigestion, anorexia, abdominal pain, constipation, loss of appetite, flatulence, bloating, intestinal gas, intestinal gas, etc.
Recommended Dosage:Take a half teaspoon of this churna twice daily with normal water.
2. Digestion Support Tablet
This tablet is unique blend of best digestive herbs like kutaz chal, bilav, dhania, mustak, shankh bhasm, piper mint, and dadim that maintain natural Ph balance in the stomach and aid digestion of all types of food. The herbs present in this control acidity, gas, flatulence and constipation. These all complex problems are root cause of all diseases. If digestive system is proper it leads to proper assimilation of the nutrients in the body.
Recommended Dosage: Take tablet twice daily.
3. Sheet Dhara Syrup
This herbal syrup is prepared from ingredients such as ajwain satav, mushak kapoor, peppermint, etc that naturally relieve the symptoms like bloating, blenching, nausea, vomiting, feeling of discomfort, etc. The regular use of this herbal syrup neutralizes the high acid content, reduces
abdominal pain, & cramps.
Recommended dosage: Take half teaspoonful of this syrup in half a cup of water. Drink this mixture twice daily on an empty stomach.
4. Pitta Balance Tablet
Pitta doshas is responsible for digestion, metabolism, blood quality, thirst, appetite, eyesight, skin color and quality, body temperature, and mental abilities of intelligence and courage. Pitta doshas is composed of a fire element that digests almost everything that a person eats or drink. The eaten food is transformed into energy for the body to use in various functions of the body.
Recommended Dosage: Take 1 tablet twice daily with normal water.
5. Trikatu Syrup
Trikatu combines the goodness of Black pepper, Ginger and, Long pepper to create an herbal remedy for digestive ailments, sluggish metabolism, obesity, and high cholesterol. This syrup has best results in anti-inflammatory, pain-relieving, and expectorant. It also help to tackle the weight problems or obesity. It can modulate your body's immune response while cutting the characteristic inflammation associated with the back pain.
Recommended Dosage–Take 2 teaspoonful twice a day before meal with normal water.