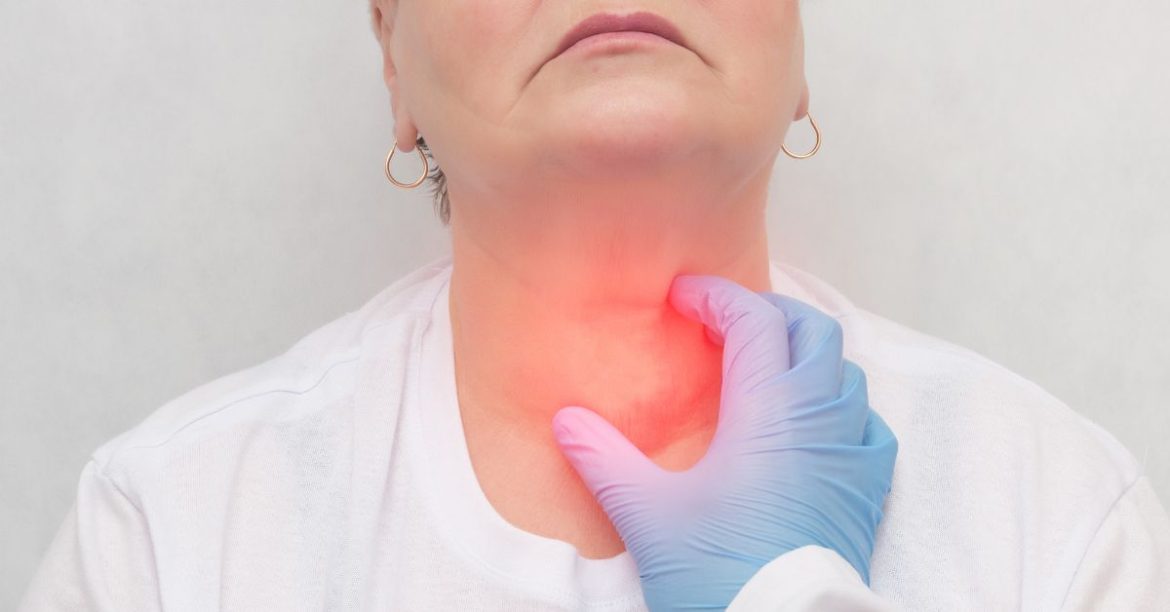 GOITER
01 May, 2023
Posted by admin
INTRODUCTION
Goiter is a condition in which there occurs enlargement of the thyroid gland. Thyroid gland is a butterfly-shaped gland which is present at the base of the neck below the Adam's apple. The thyroid gland enlarges because of the uncontrollable multiplication of the cells. This leads to formation of lumps or nodules in the thyroid gland. The abnormal cell growth occurs because of the irregular growth of thyroid hormones. There are two main hormones which are produced by thyroid gland – Thyroxine (T4) and triiodothyronine (T3). These hormones are responsible for maintaining metabolism of body, regulates body temperature, etc.
The goiters which are smaller in size are not noticeable and can be easily managed. The treatment depends on the underlying cause of the disease. However, good eating habits and healthy lifestyle can help in management and prevention of goiter.
WHAT ARE THE UNDERLYING CAUSES OF GOITER?
There are various factors which are responsible for the occurrence of goiter. Following are the underlying causes of the disease:
Having iodine deficiency
Multiple nodules in thyroid gland
Inflammation of the thyroid gland known as thyroiditis
Pregnancy
Hashimoto's disease – an autoimmune disorder
Graves' disease
Cancer of the thyroid gland
WHAT ARE THE RISK FACTORS OF GOITER?
Some factors make a person more prone to goiter. Following are the risk factors of goiter:
Females are at more risk in comparison to males
Hormonal fluctuations
Lack of physical exercise
Being overweight
Menopause
Insulin resistance
Having a genetic predisposition to goiter
Exposure to radiation
Certain medications like antipsychotic drug, high blood pressure drugs, etc
WHAT ARE THE SIGNS AND SYMPTOMS OF GOITER? 
The size of goiter ranges from not being noticeable to very large. It is usually painless but when there is thyroiditis, it is very painful. Following are the main signs and symptoms of goiter:
Presence of a lump in front part of the neck
Feeling of tightness in throat
Hoarseness in voice
Light-headedness
Difficulty in swallowing
Shortness of breath
Increased heart rate
Rapid loss of weight
Feeling tired
Dryness in skin
Irregular periods
Muscle weakness
Lack of concentration
Memory problems
Tremors
Excessive sweating
Irritability
Anxiety
High blood pressure
Increase in appetite
Snoring
HOW THE DIAGNOSIS OF GOITER CAN BE DONE?
The doctor will do a proper physical examination of the patient. He will check the size of the lump. He will take his family history to know the genetic predisposition of the disease. He will suggest some of the following tests to the patient:
Thyroid function tests
Antibody test
Ultrasound of thyroid gland
Biopsy
Radioactive iodine uptake
CT scan
MRI scan
WHAT IS THE AYURVEDIC CONCEPT OF GOITER?
Goiter is called Galaganda in Ayurveda. It is caused due to vitiation of the kapha dosha. Kapha dosha later on involves vata dosha and medo dhatu. When kapha dosha mixes with medo dhatu, it leads to formation of a nodule in the front part of throat. Depending on the involvement of different doshas, it is of three types – vataj, kaphaj and medoj galaganda.
There are various ayurvedic herbs which are found to be beneficial in goiter:
Kanchnar
Ashwagandha
Haldi
Garlic
Vacha
Devdaru
CHANDIGARH AYURVED CENTRE'S MEDICATIONS FOR THE TREATMENT OF GOITER
Here are some of the medicines of Chandigarh Ayurved centre which are used for the treatment of goiter: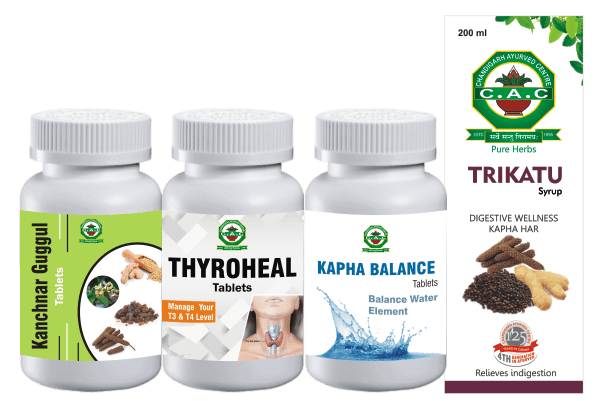 1. Thyroheal Tablets
As the name suggests these tablets are herbal and proper solutions for your hyperthyroidism condition. These herbal tablets are prepared from the herbs like Brahmi (Bacopa monnieri), Kachnar (Bauhinia variegate), Gandir (Coleus forskohlii), & Shud Guggul (Commiphora mukul). All the herbs in combination maintain the functioning of the thyroid gland.
Recommended Dosage:Take 1 tablet twice daily with normal water.
2. Kanchnaar Guggulu
Kanchnaar guggulu is considered as the best medicine for skin problems such as wounds, pimples, boils, etc. The tablet is composed of Kanchnaar (Bauhinia variegata), Pippali (Piper longum), Shunthi (Zingiber officinale), Guggulu (Commiphora mukul), Twak (Cinnamomum zeylanicum), etc. These tablets pacifies all the three doshas and helps in reducing the symptoms of pimples. This medicine checks and treats any kind of abnormal growth in the body, healing of ulcers, thyroid disorders, hernia, lesions and cancer. All kind of unwanted growth and fluid retentions in the body is treated by Kanchnar Guggul and it reduces all kinds of lumps in the body.
Recommended Dosage:Take 1 tablet twice daily with normal water.
3. Trikatu Syrup
The main herbs used for the formation of this syrup are Marich (Piper nigrum), Pippali (Piper longum), & Shunthi (Zingiber officinale). This herbal syrup deals with the signs & symptoms related to hyperthyroid patients. It is very effective syrup for different diseases.
Recommended Dosage:Take 2 teaspoonfuls twice daily.
4. Kapha balance tablet
Kapha tablet is a healthy blend of herbs formulated to balance Kapha doshas without aggravating Pitta and Vata doshas. It can also be used to alleviate any temporary Kapha imbalance. It is very effective in Kapha season that is late winter and spring. It consists of warming and astringent herbs that help to balance the system throughout the cold season. The main use of Kapha tablets is to remove excess Kapha doshas from the system and helps in the management of weight, healthy lungs, and the immune system
Recommended Dosage:Take 1 tablet twice a day with normal water.