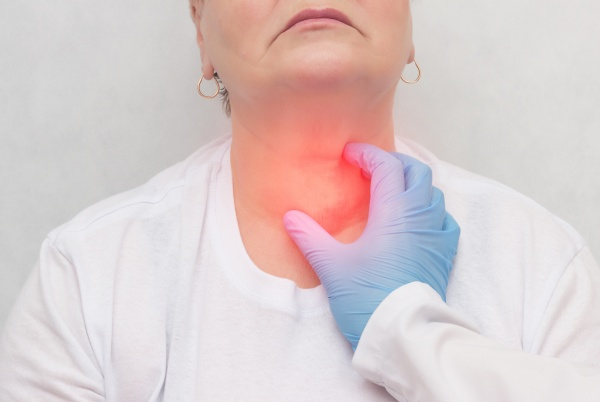 HASHIMOTO'S DISEASE AND ITS AYURVEDIC MANAGEMENT
09 May, 2023
Posted by admin
An auto-immune disease, that impacts the Thyroid gland is known as Hashimoto's disease. This disorder is also known as chronic lymphocytic thyroiditis, Hashimoto's thyoiditis and auto-immune thyroiditis. Thyroid gland produces the hormones that essentially control all the body's metabolic processes and maintain appropriate functioning. However, when a person has Hashimoto's disease, their immune system begins to attack their thyroid gland, thus  causing a gradual decrease in thyroid hormone production that results in Hypothyroidism.
WHAT ARE THE CAUSES OF HASHIMOTO'S DISEASE?
It is an auto-immune condition in which the thyroid cells are attacked by anti-bodies that the immune system produces because it perceives them as alien objects. Cells are harmed as a result, which ultimately results in cell death.
It is unclear what triggers the immune system to target own thyroid cells. Possible causes of the disease onset may include :
Environmental triggers, like stress, radiation exposure, infection etc.
Genetic factors
Interactions between genetic and environmental factors.
WHAT ARE THE RISK FACTORS FOR HASHIMOTO'S DISEASE?
There are certain factors that might increase the risk of developing Hashimoto's disease. The factors includes :
Age : This condition can develop in any age but middle aged individuals are more at risk than others.
Excessive iodine intake : Individuals who are already at risk for Hashimoto's disease may be triggered by too much iodine intake.
Gender : Females are more at risk of developing Hashimoto's disease than males.
Other auto-immune disease : Individual with other auto-immune conditions like type1 diabetes, lupus, rheumatoid arthritis etc are at greater risk of developing Hashimoto's disease.
WHAT ARE THE SYMPTOMS OF HASHIMOTO'S DISEASE?
Over time, Hashimoto's disease advances gradually. There's a chance individual won't see any symptoms or indicators. When thyroid hormone production eventually declines, any of the following outcomes may happen :
Increased sensitivity to cold
Dry skin
Muscle weakness
Joint pain and stiffness
Brittle nails
Hair loss
Swelling of thyroid
Fatigue and sluggishness
Increased sleepiness
Depression
Constipation
Muscle tenderness, aches and stiffness
Excessive or irregular menstrual bleeding
Memory problem
Face puffiness
Enlargement of tongue
WHAT ARE THE COMPLICATION OF HASHIMOTO'S DISEASE?
If not managed properly this condition might lead to development of other health complications like :
Heart Problems
Goiter
Reproductive dysfunction
Myxoedema
Mental health issues
WHAT AYURVED SAYS ABOUT HASHIMOTO'S DISEASE?
According to Ayurveda, this disease is brought on by the vata and pitta doshas becoming vitiated, that leads to an imbalance of the body's agni (digestive fire). The vitiation of the dhatvagni caused by the unbalanced agni might result in the development of the illness and its accompanying symptoms. The disorder can be managed in a person by treating the underlying cause.
HERBS :
Chitrak
Guggulu
Varuna
Kanchanara
Ashwagandha
Shigru
Nirgundi
Apamarga
Jalkkumbhi
Brahmi
PANCHAKARMA :
Virechan
Vaman
Nasyam
Udvartan
Takradhara
CHANDIGARH AYURVED CENTRE MEDICATION FOR HASHIMOTO'S DISEASE :
1. Panchasakar churan
Panchsakar churna is a herbo mineral and purely ayurvedic formulation. It mainly works on your vata and pitta dosha of your body. It can cure chronic constipation and help relieve symptoms of acidity, indigestion, belching and colic pain. It acts as a mild laxative and reduces bloating. It works very efficiently on a disease named ibs (irritable bowel syndrome) which is very common nowadays that affects your day to day activities.
Recommended dosage: take 1 teaspoonful at bedtime with lukewarm water.
2. Thyroheal tablet
Thyroheal tablet is a herbo-mineral tablet of size 800 mg and a purely ayurvedic formulation. Cac thyroheal tablets help in balancing the kapha dosha. These tablets help mainly in balancing thyroid hormones and also helps in weight management, lowers cholesterol levels, improves brain functions, lowers blood pressure. The tablets are prepared from the extract of various herbs such as brahmi (bacopa monnieri), kanchnar (bauhinia variegate), shudh guggul (commiphora mukul), & gandhir (coelus forskohlii). These ingredients help in maintaining an irregular heartbeat, rapid heartbeat. These herbal tablets maintain the proper function of thyroid glands and treat hyperthyroidism.
Recommended dosage: take one tablet twice daily.
3. Detox tablets
Cac detox tablets are 100% natural & safe containing 1gm herbs extract. The herbs used for formulation of these tablets show antioxidant, anti-inflammatory, anti-stress, & immuno-modulator properties. The herbs & minerals used for preparation of this churna shows antioxidant, anti-inflammatory, immuno-modulator properties.
Recommended dosage: take one tablet twice daily.
4. Trikatu syrup
Cac trikatu syrup is purely ayurvedic formulation made up of three herbs. Cac trikatu syrup helps to eliminate excess kapha or mucous from the body, supports respiratory system, manages weight, helps to take out impurities or ama from the body, supports healthy detoxification, reduces swelling. It shows anti-inflammatory, analgesic, expectorant, antioxidant properties.
Recommended dosage: take 2 tablespoon daily.