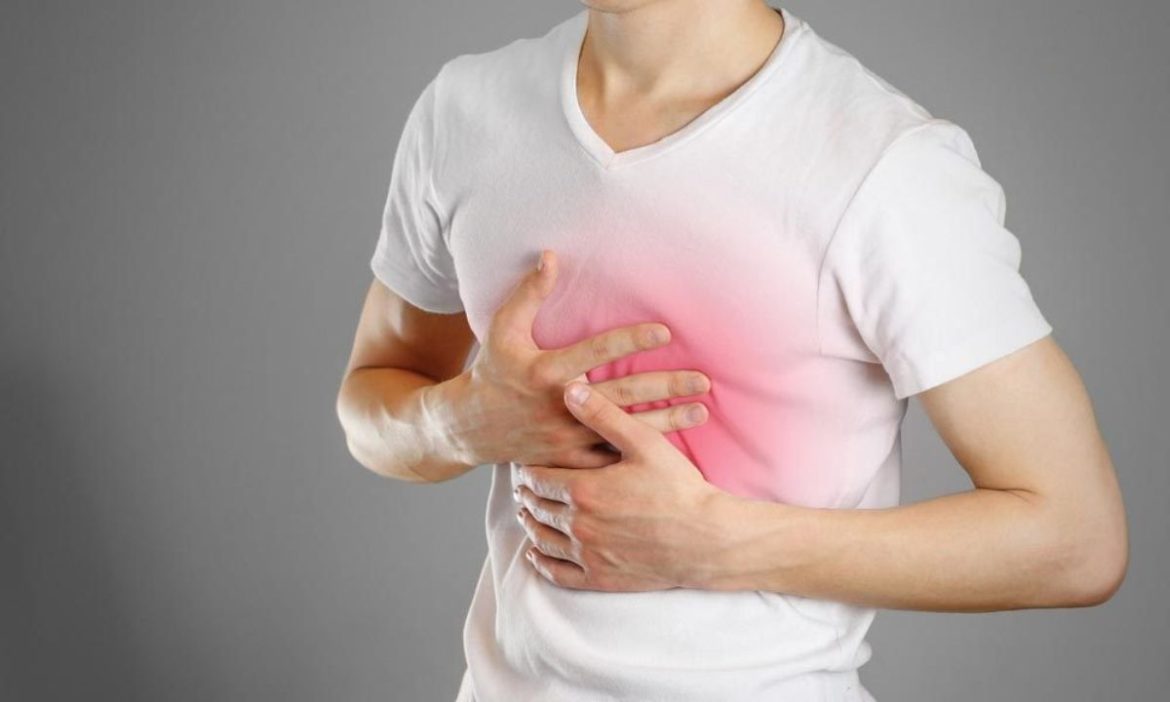 Heart Burn, Causes, Symptoms and Herbal Treatment
20 Oct, 2021
Posted by admin
The problem of chest irritation is not related to the heart but is related to the stomach. Due to unbalanced eating or any disease, there is a gas or acidity in the stomach due to which there is a problem of burning sensation in the chest. Heart burn problem is associated with stomach dyspepsia when food enters the mouth, then saliva starts breaking down the starch present in the food into small molecules. The food then travels through the esophagus (food pipe) to the stomach, where the inner lining of the stomach makes digestive juices and acid to digest food. One of it is Stomach Acid.
What is Heart Burn?
In many people of chest irritation or heartburn, the Lower Esophageal Sphincter (LES) does not close properly and is often left open. Due to which the stomach acid flows back into the esophagus. This causes chest pain and burning sensation. This is called GERD or acid reflux. According to Ayurveda, heartburn is caused by an imbalance of bile.
Symptoms of heart burn
In addition to burning sensation in heartburn, there are other problems, such as-
Throat infection– Perhaps you would think that the problems of the digestive system have nothing to do with a sore throat, then the answer is that if you have no problem like a cold cold but have a sore throat, then it may be due to heart burn.
Dizziness– The reason for dizziness is usually we consider weakness, but it is not necessary that every time this happens, dizziness can also be a cause of heart burn or acid flux.
Excessive saliva secretion– The formation or secretion of saliva in the mouth is a natural process, if it is formed normally then there is no problem, but if the secretion of saliva in the mouth suddenly increases then this acid can reflux.
Non-Cardiac Chest Pain– Chest pain after heart attack, which is called cardiac chest pain, has its symptoms- sweating, shortness of breath, etc. But when there is chest pain without these symptoms, this pain can occur many times. It can also be caused by a pipe, it is called a non-cardiac chest pen, although it is difficult to differentiate between the two so it is better to see a doctor.
Apart from this, there are other symptoms, which are-
– Usually, there is pain like burning sensation in the chest after eating food or at night.
– Pain is aggravated by rolling or bending.
– Pain of burning sensation may remain in the lower part of the chest, or may even be felt till the throat.
– If the acid backflow is near the larynx, then it may cause problems like cough or sore throat.
Causes of heart burn
Although there is a problem of heartburn due to food and drink disturbances, but there are other reasons which are due to heartburn-
Diet-
Food – Spicy, acidic, and fatty food is associated with GERD, drinking too much carbonated drinks, tea, or coffee causes chest irritation.
Alcohol – alcohol intake causes more acidity problems, especially those who have a habit of drinking regularly.
Smoking – Like the heart and lungs, smoking poses a major threat to the digestive system. As seen in alcoholic nicotine, LES also relaxes by increasing the risk of GERD, smoking bile salts from the small intestine to the stomach. And bicarbonate which helps to flush out the acid.
Increase in body weight – Excess body fat can put pressure in the stomach, chemical / hormonal changes also make acid overgrowth or susceptible to the phenomenon.
Wearing tight fitting clothes – Skin tight pants, belts, waist bands, wearing very tight clothes under clothes also cause dissatisfaction inside the body as these tight fitting clothes can put pressure in the stomach causing acidity problems is.
Medications – Regular intake of medicines for blood pressure such as aspirin, ibuprofen, muscle relaxants and medications can cause GERD.
Disease – In those who already have asthma, the medicine increases the acidity of asthma, due to which you start feeling heartburn.
Heart Burn Complications
Perhaps you will be surprised to know that if the problem of chest irritation persists for a long time, then due to many diseases, it also becomes. like-
Anemia – Due to prolonged acidity and chest irritation, there is a lack of nutrients, vitamins and minerals in the body. Apart from this, it also reduces iron levels, which can lead to anemia.
Weak bones- You use many medicines to remove acidity and chest irritation, but this makes you weak bones. Therefore, to overcome these problems, adopt home remedies.
Esophageal Cancer and Pneumonia– If food is not digested due to gas or acidity problem and it has been ignored for a long time, then you can also get esophageal cancer and pneumonia. Due to lack of timely treatment, the amount of bacteria in the body increases, which increases the risk of infection and pneumonia in the lungs.
Stomach Cancer– If you have heartburn more than 3 weeks
Ayurvedic medicines for heart burn
Description
Heartburn is becoming a common problem nowadays. This is due to wrong eating habits & sedentary lifestyle of an individual. When the gastric glands in our body produce a large amount of acid it disturbs the digestion process. The people that are more prone to acidity are obese; overindulge in alcohol, excessive consumption of spicy & non-vegetarian food items, intake of non-steroidal anti-inflammatory drugs, pregnant women, menopause, asthma, diabetes, hiatal hernia, peptic ulcers patients, etc. heartburn can lead to belching, burning sensation in the throat, stomach, bloating, heartburn, chest pain, etc. Instead of allopathic treatment for acidity, you should always take natural and herbal products. Ayurveda provides the best and effective treatment for hyperacidity patients.
ALL PRODUCTS DESCRIPTION IN DETAIL:
Agnimukha Churna
This herbal churna is prepared from ingredients like Vacha (Acorus calamus), Pippali (Piper longum), Sonth (Zingiber officinale), Ajwain (Trachyspermum ammi), Haritaki (Terminalia chebula), etc that balances vata & kapha doshas in the body. It gives effective results in indigestion, anorexia, abdominal pain, constipation, loss of appetite, flatulence, bloating, intestinal gas, intestinal gas, etc.
Recommended Dosage: Take a half teaspoon of this churna twice daily with normal water.
Detox Premium Powder
These herbal sachets are prepared from ingredients such as Shankh bhasma, Sutshekhar ras, Parvalpishti, Shukta, Giloy, Kamdudha ras, Shvetparpati that gives calming effect on the stomach.
Shankh bhasma: This ayurvedic bhasma is prepared from conch shell. The bhasma shows antispasmodic, anti-inflammatory, antioxidant, antacid, digestive stimulant properties. The problems like indigestion, heartburn, acid reflux, abdominal pain, loss of appetite, etc are easily treated with it.
Sutshekhar ras: It is an ayurvedic preparation that maintains pitta dosha in the body. This ras provides effective results in abdominal pain, heartburn, nausea, fever, headache, epigastric tenderness, etc.
Parval pishti: This pishti is prepared from coral calcium processed in rose water. It provides effective results in acidity, burning sensation, headache, etc.
Shukta pishti: This pishti balances the pitta dosha in the body and removes all toxins from the body.
Giloy satv: Giloy satv possesses antioxidant, anti-inflammatory, carminative, immunomodulator, etc properties. It eliminates the ama from body hence provide good results in acidity problem.
Kamdudha ras: This ras reduces heat, burning sensation, epigastrium tenderness, irritability, heartburn, and acidity.
Shwet parpati: It is also effective in acidity.
Recommended Dosage: Take one sachet twice daily.
Amlapitta Mishran
This is an ayurvedic preparation that contains ingredients like Vasa (Justicia Adhatoda), Guduchi (Tinospora cordifolia), Nimba (Azadirachta indica), Triphala (three myrobalans), Patol (Trichosanthes dioica), Yashtimadhu (Glycyrrhiza glabra), Chirayta (Swertia chirayita), etc that regularizes Pitta dosha in the body. This syrup strengthens metabolic activities and enhances the action of agni. It provides effective results in heartburn, abdominal pain, nausea, bloating, belching, etc.
Recommended Dosage: Take 2 teaspoonful twice daily.
Sheet Dhara Syrup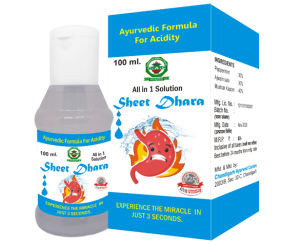 This herbal syrup is prepared from ingredients such as ajwain satav, mushak kapoor, peppermint, etc that naturally relieve the symptoms like bloating, blenching, nausea, vomiting, feeling of discomfort, etc. The regular use of this herbal syrup neutralizes the high acid content, reduces
abdominal pain, & cramps.
Recommended dosage: Take half teaspoonful of this syrup in half a cup of water. Drink this mixture twice daily on an empty stomach.
Liver Care Tablet
These tablet are 100% safe and purely ayurvedic formulation. It maintains the proper functioning of the liver and stimulate the growth of new liver cells. Liver Care Tablets contains Ingredients like Kalmegh (Andrographis paniculata), Kutaki(Picrorhiza kurroa), Bhumi amla( phyllanthus niruri), Giloy(Tinopora Cordifolia), Yavakshar( Hordeum vulgare), Imli Kshar( Tamarindus indica), Mukta Shukta pisti etc. These herbs balances excess Pitta Dosha and helps in problems like abdominal bloating,flatulence, abdominal pain, loss of appetite and indigestion.
Recommended Dosage: Take 1 tablet twice daily with normal water.
Digestion Support Tablet
This tablet is unique blend of best digestive herbs like kutaz chal, bilav, dhania, mustak, shankh bhasm, piper mint, and dadim that maintain natural Ph balance in the stomach and aid digestion of all types of food. The herbs present in this control acidity, gas, flatulence and constipation. These all complex problems are root cause of all diseases. If digestive system is proper it leads to proper assimilation of the nutrients in the body.
Recommended Dosage: Take 1 tablet twice daily with normal water.