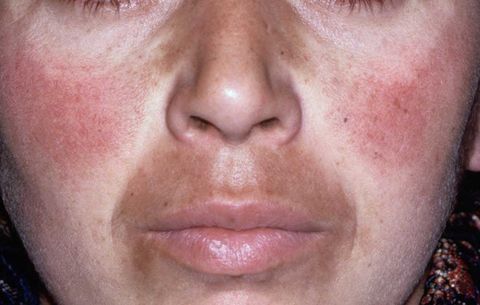 Herbal and Natural Treatment for Melasma
10 Sep, 2021
Posted by admin
Melasma is a common pigmentation disorder also called chloasma or mask of pregnancy.
Skin condition characterized by brown, blue-gray, flat patches or freckle-like spots.
It occur because of the overproduction of the cells that make the color of skin.
It is harmless and usually fades after a few months.
Melasma is much more common in women than men and affect any part of skin that is exposed to sunlight.
Commonly affected areas include face, cheeks, upper lip, forehead as well as the forearms.
Melasma are typically darkens and lightens over time often getting worse in the summer and better in the winter.
CAUSES
Melasma causes is not clear.
It occurs when the color-making cells in the skin called melanocytes produce too much color.
People with skin colour are more prone to melasma than people with light skin because they have more active melanocytes.
Family history — 60% report affected family members.
Sun exposure – Ultraviolet light from the sun stimulates the melanocytes.
A change in hormones – Pregnant women often get melisma and in pregnant women it is called chloasma or the mask of pregnancy. Birth control pills and hormone replacement medicine also trigger melasma in women.
Skin care products – If any skin product irritates skin, melasma can worsen.
CLINICAL FEATURE OF MELASMA
It is presents as bilateral, light-to-dark brown macules or patches with irregular borders or asymptomatic in shape.
Distinct patterns include:
Centro facial — forehead, cheeks, nose, upper lip 50-80% of presentations
Malar — cheeks, nose
Mandibular — jawline, chin
Erythosis pigmentosa faciei — reddened or inflamed
Extrafacial — forearms, upper arms, shoulders in a sun-exposed distribution.
TYPES OF MELASMA
Epidermal
Dermal
mixed type
Epidermal melasma
Epidermal melasma is defined as
Border: well-defined
Colour: dark brown
Wood lamp: appears more obvious
Dermoscopy: brown reticular network with dark fine granules
Treatment: usually has a good response.
Dermal melasma
Dermal melasma is defined as:
Border: ill-defined
Colour: Light brown to blue-grey
Wood lamp: no accentuation
Dermoscopy: reticuloglobular pattern, telangiectasia, arciform structures
Treatment: usually has a poor response.
Mixed melasma
Mixed melasma is the most common type, and is defined as:
Combination of blue-grey, light and dark brown colours
Mixed patterns seen with Wood lamp and dermatoscope
Treatment usually shows a partial improvement.
HOW IS MELASMA DIAGNOSED?
Melasma is usually diagnosis on the basis of clinical appearance, examination with a Wood lamp and dermatoscope.
Skin biopsy may be taken occasionally.
Histology varies with the type of melasma, but typically following features are seen:
Melanin deposited in basal and suprabasal keratinocytes
Highly dendritic intensely pigmented melanocytes
Melanin within dermal melanophages
Solar elastosis and elastic fibre fragmentation
An increase in blood vessels.
HERBAL TREATMENT FOR MELASMA
Detox Premium Powder – Detox premium powder is a very effective ayurvedic medicine to cure blemishes as it purifies the whole body by removing excess toxins from the body. The powder is composed of shukta pishti, giloy satv, gandhak rasayan, moti pishti, akik pishti, shankh bhasma, etc. The ingredient reduces all the signs and symptoms associated with the blemishes.
Recommended Dosage – Take 1 sachet twice daily with normal water.
Skin Glow Kadha – Skin glow kadha is an Ayurvedic proprietary that gives the best result in the treatment of acne, blemishes, rashes, and other common skin problems. The decoction is composed of dalchini, giloy, tulsi, chirata, haldi, mahaguni, bahera, etc. The ingredients have anti-aging properties and act as natural astringent that provides freshness to the skin, helps in improving the skin texture, restores the skin balance and naturally improves the quality of the skin.
Recommended Dosage – Take 20 ml twice daily with an equal amount of water.
Blood Purifier Syrup –It is ayurvedic syrup that consists of various natural ingredients such as Khadir Chall (Acacia catechu), Manjistha (Rubia cordifolia), Neem (Azadirachta indica), Giloy (Tinospora cordifolia), Harad (Terminalia bellirica), Baheda (Terminalia chebula), Amla (Emblica officinalis), etc. As
the syrup purifies the blood by removing excess toxins it is very beneficial in maintaining proper circulation and improves the skin naturally.
Recommended Dosage – Take 2 teaspoonful twice daily.
Aloe Vera Gel – Aloe Vera herb is well known for its medicinal properties and has multiple benefits in case of skin problems. The gel is made up of pure extract of aloe vera that has a mixture of rose petals in it. The gel has anti-inflammatory, anti-oxidant, anti-fungal, anti-bacterial properties and also provides a
coolant effect to the skin.
Method of Application – Gently apply over the affected area of the skin.
Twak Tailam – Twak tailam is very effective for the skin as it deeply nourishes the tissues and improves the skin luster. The tailam is composed of yashtimadhu (Glycyrrhiza glabra), manjistha (Rubia cordifolia), etc. The tailam supports skin health, helps in reducing uneven pigments, improves complexion, and helps in deep detoxification and blood purification without any side effects.
Method of Application – Apply over the affected area of the skin.
Skin care tablet – Skin care tablet is a pure ayurvedic formulation. It help to maintain the texture of your skin depending on the type of skin you have. It contains various herbs like Haridra khand, Panchnimb churna, Khadir chahal, Chirayta, Mulethi, Chopchini, Gandhak, Ajmoda that work very effectively on all
skin types. Skin care is a blood purifying tablet. It cools and detoxifies the blood, increase blood circulation of the skin. It minimizes the blemishes, lighten sun tan, delay ageing of skin and heal skin problems.
Recommended Dosage – Take 1 tablet twice daily.
Panchatikta ghrita guggulu – This tablet contains pure herbal ingredients such as Nimba(Azadirachta indica), Patola(Cucumis acutangulus), Guduchi(Tinospora cordifolia), Vasa(Adhatoda vasica), etc. these herbs shows Antioxidant, Anti-rheumatic, Anti-inflammatory, Analgesic, antipruritic, neuro-protective
properties. This tablet is effective in Indigestion, blood purification, blemishes, scars, asthma, and gout.
Recommended Dosage – Take 1 tablet twice daily.