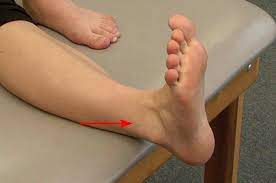 Home Remedies For Ankle Sprain
03 Feb, 2022
Posted by admin
Heel pain is very common and it can happen to anyone. In medical terms, the condition of pain in the ankles is called ankle pain. Due to any medical condition, arthritis, sprains, and twisting of the feet can cause pain in the heels. According to the National University of Health Science, in most cases, sprains cause pain in the ankles and about 80% of ankle injuries are also due to sprains. A sprain occurs when a ligament (the tissue that connects bones) is stretched or overstretched. However, many times there is a sprain in the heel due to many other reasons as well. Today, apart from telling you the main reasons for heel pain, we are also telling you some home remedies to deal with it.
Ankle Pain Causes
Arthritis especially osteoarthritis
Gout (When uric acid increases in the blood, the problem of gout starts. It is a type of arthritis.)
Have nerve damage
Heel sprain
Blockage of blood vessels
Joint infection, etc.
Follow These Home Remedies For Ankle Pain
Never do this work after sprain, otherwise problems may increase
Legs twisted while walking, there is no sprain, do these measures immediately
Take care of ankle sprain like this
Turmeric has been given the title of a medicine in Ayurveda. Turmeric is so powerful that it can eliminate many diseases. Turmeric, rich in antioxidants, also provides relief from heel pain. When you have pain in your heels, drink a glass of milk mixed with half a teaspoon of turmeric and honey. Drinking 2 glasses of milk in a day will give a lot of relief.
Rock salt and water also have a great effect in relieving heel pain. For this, mix two teaspoons of rock salt in a little more hot water than lukewarm water and mix it. Now keep your feet in it for about half an hour. After this, after washing the feet with normal water, wear socks for a while. This will give you instant relief.
Applying ice to the heel also provides relief from pain. For this, keep ice in a plastic foil and apply it on the painful area of ​​the heel. Applying ice to the heel for 10-15 minutes will give you relief from the pain.
Follow these tips to avoid pain
Try to walk for at least 15 minutes in the green grass in the morning and evening.
Whenever you have the onset of pain, consult a doctor without delay.
Follow a balanced diet and exercise regularly.
As a permanent treatment, physiotherapists use a variety of exercises, wax heat, TENS, ultrasonic waves. Apart from this, methods like alternating bath (hot and cold compress in a sequential manner), exercise of rotating the ball under the feet etc. are adopted.
When there is a sprain or strain in the feet, there is a lot of swelling and pain. It can happen at any time, whether you are involved in sports or you can bend your legs while walking. Ankle sprains are very painful. If you cannot go to the doctor immediately after sprain, then there is a solution for that too. You can cure your foot sprain with some special home remedies.
Try these remedies when sprained and take lots of rest, so that you can recover soon. After this, if you walk well, then do not forget to go to the doctor at all.
If you walk a lot every day, then do not do this for a few days. Do not do activities that require the muscles and tissues of the ankle.
Ice and if ice is applied immediately after the sprain, then there is no swelling at that place. Come on to get rid of the pain, every 1-2 hours should be done with ice for 20 minutes. Ice should always be wrapped in a cloth.
Bandages, sprains get relief by tying bandages or bandages. Tie plastic bandages on the feet so that the blood circulation in the feet is also fine. The sprain should not be tied tightly, otherwise it slows down the flow of blood. If the bandage is tied tightly then the pain will increase.
Elevate the feet place a pillow under the feet so that your feet can elevate slightly. Due to this, the blood will not be able to collect at one place and it will circulate throughout the body. This will reduce the swelling of the feet.
use of turmeric: applying turmeric reduces swelling of the feet. Turmeric is a spice with anti-septic properties that has been used for a long time. By applying it, you can get a lot of relief in sprain. Make a paste by mixing a little water in 2 teaspoons of turmeric and heat it lightly and apply it on the sprain. Then after 2 hours wash the feet with warm water.
Take half a teaspoon of alum and mix it in a glass of warm milk and drink it, it will heal the injury quickly.
Honey and lime mix honey and lime on the sprained area and do a light massage. Do this for a few days, you will get relief.
aloe vera apply aloe vera gel on the sprained area, it will give relief. Apply mustard oil on betel leaf, heat that leaf lightly and tie it on the sprained part.
Salt and oil heat the salt and mustard oil and place it on the platform. Then tie it with a cloth and sleep at night, you will get relief.
Heat basil leaves, mix the juice of basil leaves and mustard oil together and keep it on the freckled part. Do this 4-5 times a day.