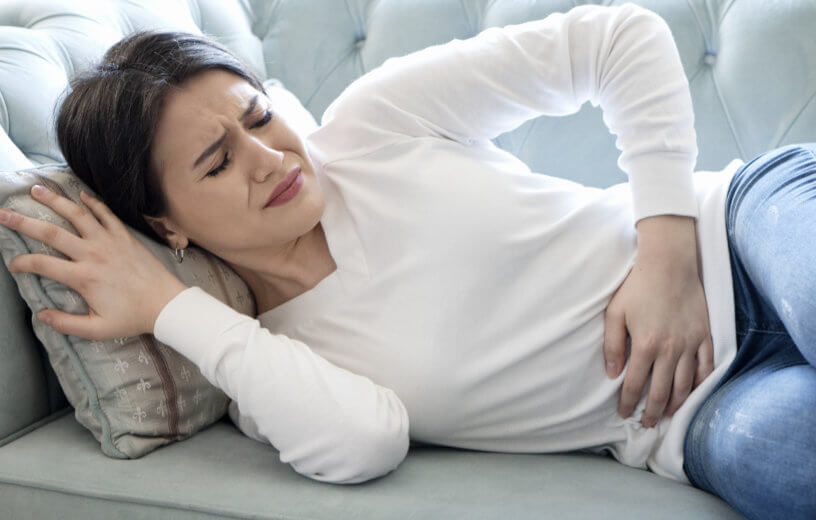 Home remedies for PMS (Premenstrual syndrome)
21 Sep, 2021
Posted by admin
Women face a variety of problems during menstruation. But women suffering from PMS have to face more difficulties. Symptoms such as stomach pain, stomach cramps, backache, pain in the breasts, swelling in the breasts, etc. before the menstruation affect you. These symptoms are called pre menstrual syndrome (PMS). This symptom completely affects the daily routine of women due to which she becomes unable to perform her work. However, PMS levels in women vary by age. Some women may feel as young as 20 to 25 years old. In addition, women who are over 30 years of age may have fewer symptoms of PMS as the problem may increase before they become menopausal. Due to lack of proper knowledge about these problems, women are unable to get treatment.
Premenstrual syndrome (PMS) shows physical and emotional symptoms. It is one to two weeks before the woman's period. All symptoms often vary between women and resolve around the onset of bleeding. But common symptoms include acne, tender breasts, swelling, tiredness, irritability and mood changes.
Why does PMS happen? (What are the Causes of PMS)
PMS causes hormonal changes that occur during the menstrual cycle. Symptoms of PMS are seen more in some women and less in some women. Perhaps this is why no exact cause has been found till date. Chikistak believes that there is a possibility of increasing PMS due to lack of nutrients in the diet. Therefore, women should include calcium, magnesium, vitamin B6 in their diet. Symptoms are aggravated by the use of caffeine so reduce it. The menstrual cycle of women is of normal 28 days, in which ovulation occurs at 14 days before menstruation, in which the eggs come out of the ovaries and the symptoms of PMS start to be felt within 14 days when the menstruation starts.
What are the symptoms of PMS?
Symptoms of PMS are common in many women, which they do not even know. There are some women in whom two weeks of menstruation start feeling symptoms before the first. This problem can also be caused by estrogen and progesterone hormones. Low levels of serotonin hormones cause loss of appetite, loss of sleep, reduced ability to remember. PMS has the following symptoms.
Acne
Stomach ache.
Constipation
Feeling tired (Read more – Why is tiredness)
Irritability.
Being tense
Stir in sadness
Start diarrhea.
Being in depression.
Breast pain. (Read more – symptoms of breast pain)
Nausea.
Having a headache.
To be attracted to sweets
Having trouble with breasts without reason.
To panic with a loud voice.
Being sensitive to light
Abdominal bloating.
Feeling of pity.
Go to the clinic for PMS?
If you are not able to fix the problems during PMS like physical pain, pain or mood changes. Then you should talk to a doctor. Because some women ignore these problems and get into trouble. Women should know the reason of PMS why it is not healing. Sometimes some disorders are also the cause. Which has been described below. You may have anemia or anemia.
The thyroid is small in the throat of a woman but can cause complex problems in the thyroid such as goiter and cancer.
Having problems with connective tissues. Add to it and muscle pain. Due to chronic disease, fatigue is always experienced.
A woman affected by Andromitis fails to become pregnant.
To know about the cause of PMS, take information about the medical history of the woman so that no earlier illness has occurred. Because the small problem of women gets bigger later. Therefore, the woman must get thyroid checked once a year.
What is the treatment of PMS?
Many women have PMS problems automatically. Problems persist in some women. Such women can give some following suggestions.
You should exercise or do yoga daily.
Reduce intake of caffeine beverages, alcohol and chocolate cheese.
Include a balanced diet in your diet. In which calcium, protein, green vegetables, dairy producers with low fat, vitamin rich fruits etc. can be consumed.
Aspirin can be used to relieve pain. Apart from this, there are some other medicines for pain relief
Why do stomachs swell during periods?
At the time of periods women change the hormones of the body quite rapidly. During this, the levels of progesterone and estrogen hormone increase significantly. Due to this change in the body, the movement of the intestines decreases. For this reason, water and salt begin to gather in the body. Due to increase in the level of water, the problem of water retention starts. For this reason, there is a problem of flatulence during periods. Some women also suffer from problems due to this reason.
Home remedies for stomach ache
Spices should be kept away from food during periods. Green leafy vegetables should be consumed to avoid pain.
At this time, one should eat food rich in potassium. Such as sweet potato, spinach, beet and banana.
Salt should be consumed less during periods.
Be careful to have a fondness of drinking bed tea, otherwise these 4 diseases can cause patients
During this time, drink as much water as possible. By doing this, your kidney works smoothly and the body remains moist.
Do not stop walking during periods. Rather than 3-4 days of onset, light exercise must be done.