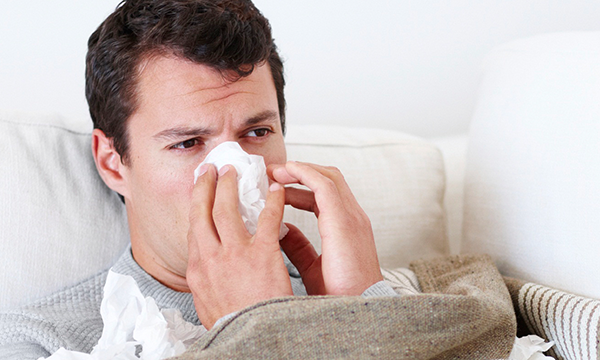 HOME REMEDIES FOR SEASONAL COLD
02 Feb, 2022
Posted by admin
INTRODUCTION:-
The common cold, involving chest cold and head cold, and seasonal flu are caused by viruses. Use over-the cold medications to relieve symptoms including runny nose,sore throat, congestion and cough.
A cold is a contagious upper respiratory infection that affects nose, throat, sinuses and trachea .
SYMPTOMS:– It may include:-
Runny nose.
Sore throat.
Nasal congestion.
Fever
Blocked nose
Muscle stiffness
Breathing difficulties
Body aches
Low-grade fever
Post-nasal drip
Watery eyes
Stuffy nose or nasal congestion
CAUSE:-
A cold is caused by any one of several viruses that causes inflammation of the membranes that line the nose and throat. It can result from the rhinoviruses causes most colds.
TRANSMISSION:-
Common cold transmitted via several ways. The common cold is very easily transmit to others. It is spread through airborne droplets that are sneezed and coughed  into the air by the ill person.
The droplets are inhaled by another person. Colds can also be transmit when a sick person touches you or a surface  that you touch.
RISK- FACTORS:- Risk factors can increase chances of getting a cold:-
Age:- Infants and young children are at highest risk of colds, specially if they spend time in child care settings.
 Weakened immune system:- Having a chronic illness or otherwise weakened immune system increases the risk of infection.
Time of year:-Both children and adults are more likely to prone colds in fall and winter, but you can get a cold anytime.
Smoking:- You're more likely to catch a cold and to have more-severe colds if you smoke or are around secondhand smoke.
Exposure:-If you around crowds, such as at school or on an airplane, you are possible to be exposed to viruses that cause colds.
AYURVEDIC VIEW FOR SEASONAL COLD:-
Ayurveda terms common cold as PRATISHYAYA . Vitiation of Vata and Kapha dosha individually or together, is generally involved in the illness.
 All the three doshas are responsible for common cold. In case of common colds due to vata dosha symptoms like dry cough, mucus discharge, and a runny nose are common symptoms.
People with pitta dosha symptoms having common cold are likely to experience a sore throat, fever, and nose blockage. People with kapha dosha, common colds are presented by thick mucus discharge, headaches, and head heaviness.
HOME REMEDIES FOR SEASONAL COLD:-
Leaves of Tulsi plant mixed with an equal quantity of dried ginger powder form an excellent tea during cold and flu. It may be taken by adding milk and sugar three times a day.
Juice of ginger and Tulsi one-one tea spoon mixed with one tea spoon  honey, to be taken two-three times a day.
Powder of black pepper half tea spoon mixed with jaggery two times a day.
Small piece of Ginger fried in ghee and add some salt, to be taken two times a day.
One teaspoonful of the powder or paste of turmeric to a cup of milk or fried turmeric powder taken with ghee mixed with hot milk thrice a day. This gives fast relief and help in fast recovery.
Gargle with warm haldi powder 2-3 times a day to relieve sore throat.
Drink a glass of hot water mixed with the juice of two lemons and sugar to taste. Take the same at bedtime as it gives fast relief from nasal catarrh.
Two to three tea spoon of fresh juice of Amla or half to one tea spoon powder of the same is ideal to control cold.
PREVENTION:-
There are several ways in which you can keep the intensity of condition levels low.
Inhale steam to relieve a congested nose. Add a few drops of eucalyptus oil in a bowl of warm water. Cover head and the bowl with a towel for few minutes at a time. Be careful water is not too hot.
Strengthen immune system and keep yourself healthy. Two herbs that will help you strengthen your immune system are Amla and Tulsi which may be used.
Do not over heat the room. Let the body lose heat naturally.
Keep away from others who are infected with cold.
Eat a balanced diet and get enough rest. Take plenty of hot beverage
YOGA FOR SEASONAL COLD:-
SIRSASANA
SARVANGASANA
UTTANASANA
PASCHIMOTTANASANA
KURMASANA
YOGANIDRASANA
SETUBANDHASANA
UJJAYI PRANAYAM
AYURVEDIC HERBS USED IN SEASONAL FLU:-
PIPPALI
MARICH
MULETHI
LASHUN
SONTH
GILOY
ELA
DALCHINI
AJMODA
HALDI
DIET FOR SEASONAL COLD:-It may include:-
HERBAL TEA:- Herbal teas are refreshing, and breathing in their steam can help to clear mucus from the sinus. Adding some turmeric to a cup of hot water may help to relieve a sore throat.
HONEY:- A sore throat can be caused by a bacterial infection. Honey is loaded in antimicrobials that help to clear these types of infection. Honey also give very effective results.
CITRUS FRUIT:- Citrus fruits, such as oranges, lemons, and grapefruits, contain high levels of flavonoids and vitamin C. These fruits decrease swelling and boost immunity, which may help to fight a fever.
FOODS TO AVOID:-
DAIRY PRODUCTS:- Dairy products may increase mucus production. It may make mucus thicker, however, which can worsen sinus congestion.
CAFFINE:- Caffeine can cause dehydration, which makes congestion worse. However, some caffeinated drinks, such as tea and coffee, contain immune-boosting antioxidants, and they may be helpful in moderation.
ALCOHOL:- Alcohol can dehydrate and trigger an inflammatory response, which may aggravate cold and flu symptoms.
AYURVEDIC MEDICINE FOR SEASONAL COLD:-
SITOPLADI CHURNA
TALISADI CHURNA
KANTHSUDHARAK VATI
CHAVAYANPRASH
VASAVLEH
SHWASH KAS CHINTAMANI RAS
CAC SPECIAL MEDICATION FOR SEASONAL COLD:-
KAPHA BALANCE TABLET
COUGH GO TABLETS
ANU TAIL
AMRIT TULSI RAS
KAS SWAS HARI RAS