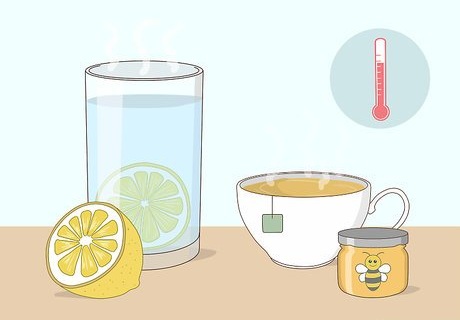 HOME REMEDIES TO GET RID OF COUGH FAST
28 Sep, 2021
Posted by admin
Persistent coughing can be annoying but a Cough plays an important role in clearing irritants and infections out from the body.
It's important to rule out the cause of cough, it may be due to allergies, infections, and acid reflux etc.
Some natural remedies might help you get rid of cough-
HONEY
1.It is a natural cough suppressant; it is used from centuries to relieve cough and sore throat.
2.It has antibacterial properties and anti-fungal properties that's why it can also help to coat the throat, alleviating irritation.
3.According to one study it is found that success rate of honey was high than dextromethorphan (a cough suppressant medicine).
COUGH RELIEVING LOZENGES
1.The consumption of herbal lozenges or herbal sucking tablet like Kanthsudharak vati helps a lot in relieving cough faster.
2.The candy or lozenges helps to stimulate saliva and increase secretion in the mouth, especially works well for dry cough remedy.
3.The ingredients present in the herbal lozenges helps to reduce cough bouts by soothing the mucous membrane.
4.It also soothes oropharyngeal mucosa and relieves spasms of the bronchial smooth muscles.
5.It reduces virulence of pathogenic bacteria and also reduces throat pain.
HERBAL DRINKS OR HERBAL TEA
6.One should drink warm drinks like hot soups, herbal tea and warm water for relieving your cough fast.
7.It provide calming effects, relieves stress and anxiety.
8.The herbal tea and warm drink not only soothes your throat but also good for your skin health.
GARGLING
1.Gargling with salt makes your cough go faster and even prevent the infections.
2.It benefits for improving cold symptoms and reduced the symptoms of cough and cold.
3.It soothes inflammation and infection and decreases harmful bacteria in the mouth.
HUMIDIFIER OR STEAM INHALATION
1.If you are having cough and cold congestion it helps to ease you with those symptoms fast.
2.It also helps to improve skin health and provides relaxation.
3.It helps in easing Bronchitis symptoms.
4.It is essential to seek medical advice if a cough is severe or persists for more than a few weeks.
CAC SPECIAL TREATMENT FOR COUGH AND COLD
Nowadays, people use steroids to get relief from cough and cold, so that they can cure and continue their normal lifestyle. But a heavy intake of steroids can cause some of the problems like changes in blood sugar levels, difficulty in sleeping, indigestion, swollen hands and feet, etc.
Chandigarh Ayurved Centre provided 'Cough and Cold Kit', which is made from natural herbs and plant extract, giving the best result in a quick way with no side effects. There are a total of 5 products in this kit – Cough and Cold sachet, Kas Shwas Hari Rasa, Kaphaketu Rasa, Kuka Fighter Syrup, Anu tailam.
ALL PRODUCTS DESCRIPTION IN DETAIL:
1.Kapha Balance Tablet:
Kapha tablet is a healthy blend of herbs formulated to balance Kapha doshas without aggravating Pitta and Vata doshas. It can also be used to alleviate any temporary Kapha imbalance. It is very effective in Kapha season that is late winter and spring. It consists of warming and astringent herbs that help to balance the system throughout the cold season. The main use of Kapha tablets is to remove excess Kapha doshas from the system and helps in the management of weight, healthy lungs, and the immune system.
Recommended Dosage – Take 1 tablet twice daily with normal water.
2.Kas Shwas Hari Rasa:
Kas Shwas Hari Rasa is an Ayurvedic potent medicine for Respiratory system related problems. It includes – Shwas kasa chintamani rasa, Laxmivilas nardiya rasa, Sutashekhar rasa, Talisadi churna processed in Bhawana Vasa Kwath. It is mainly used in recurrent cough and cold. This tablet is very beneficial for upper respiratory congestion and bronchial asthma. Kas Shwas Hari Rasa has wonderful effects in both acute as well as chronic diseases of respiratory problems.
Recommended Dosage – Take 1 tablet twice daily with normal water.
3.Cough Go Tablets:
These herbal tablets are beneficial in cough, cold, bronchitis, & other respiratory disorders. Cough Go Tablets are ayurvedic formulation containing Sonth (Zingiber officinale), Mulethi (Glycyrrhiza glabra), Pippali (Piper longum), Kali mirch (Piper nigrum), etc. All these ingredients show antioxidant, anti-inflammatory, bronchodilator, & expectorant properties. This is very beneficial in fever due to phlegm and treats the chronic cough. It helps in reducing cough, headache, rhinitis, etc.
Recommended Dosage – Take 1 tablet twice daily with normal water.
4.Broncho care syrup:
Broncho care is ayurvedic syrup containing ingredients such as Vasa patra (Adhatoda vasica), Kantkari (Solanum surattense), Mulethi (Glycyrrhiza glabra), Bharangi (Clerodendrum serratum), Chitrakmool (Plumbago zeylanica), Sonth (Zingiber officinale), Pippali (Piper longum), etc. It is mainly used in chronic cough, bronchitis, whooping cough, chronic laryngitis, common cold, etc.
Recommended Dosage – Take 2 teaspoonful twice a day.
5. Anu Tailam:
In classical terms, the nose is the gateway to the brain, mind, and consciousness. Anu Tailam is administrated through the nasal passage to lubricate, protect, and calm the mind. It includes – Sesame oil, bael tree root, solanum root, cinnamon stem bark, cardamom fruit, desmodium root, etc. It is an excellent medicine for Kapha imbalance that relieves tension from the neck, head, and shoulder area. This oil gives more mental clarity and calms down the nervous system. It is also beneficial for headache, earache, sore throat.
Method of application – Put 2-3 drops of anu tailam in each nostril.