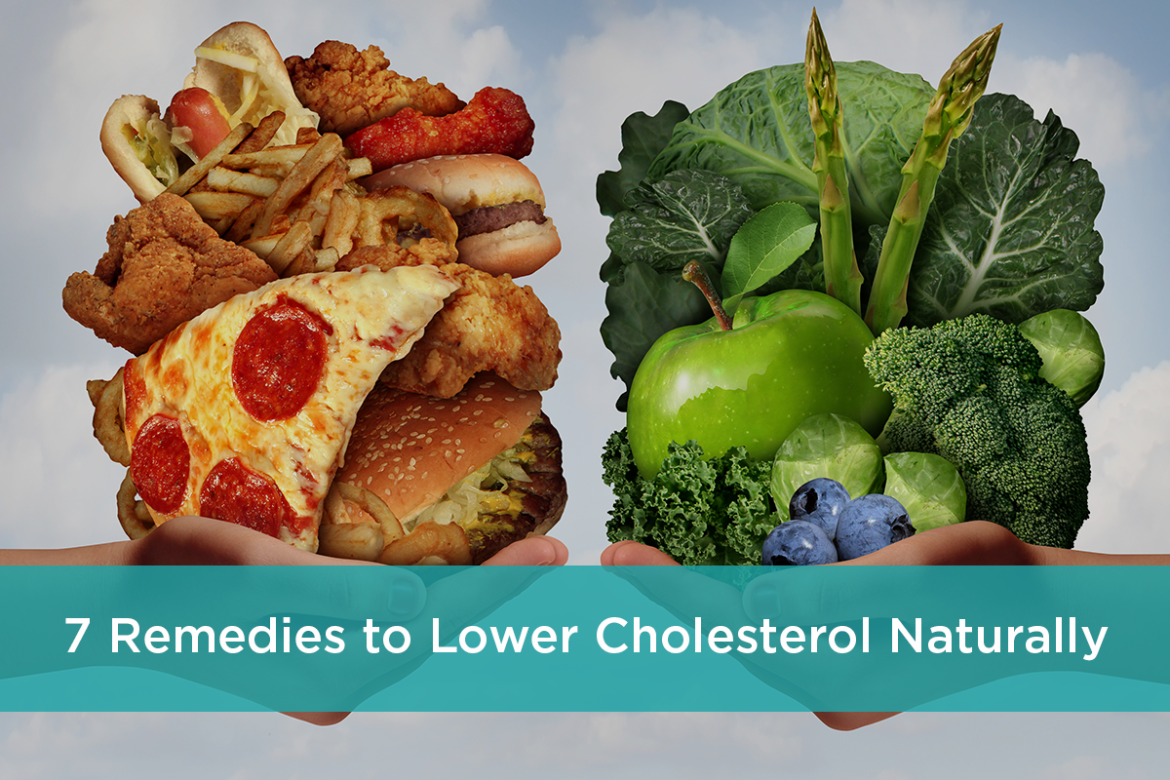 HOME REMEDIES TO LOW CHOLESTROL
26 Aug, 2021
Posted by admin
DESCRIPTION
Cholesterol is a waxy substance found in blood.
Body needs cholesterol to build healthy cells, but high levels of cholesterol can increase the risk of heart disease.
High cholesterol develop fat deposits in blood vessels.
These deposits grow, making it difficult for enough blood to flow through arteries.
Sometimes these deposits can break suddenly and form a clot that causes a heart attack or heart stroke.
IMPORTANCE OF CHOLESTEROL IN HUMAN BODY
Every cell in the body needs cholesterol which helps cell membranes form the layers.
These layers protect the contents of cell by acting as the gatekeeper to allow what things can enter or leave the cell.
It is made by the liver and is also used by the liver to make bile which helps in digest the foods.
Cholesterol is needed to make certain hormones and to produce vitamin D.
TYPES OF CHOLESTEROL
Cholesterol moves throughout the body and carried by lipoproteins in the blood. These lipoproteins include:
Low-density lipoprotein (LDL) – It is called "bad" cholesterol because a high LDL level leads to the buildup of plaque in your arteries.
High-density lipoprotein (HDL) – it is the other main lipoprotein often called "the good cholesterol." because it carries cholesterol from other parts of body back to the liver and then liver removes the cholesterol from body.
Very-low-density lipoproteins (VLDL) – these are the particles in the blood that carry triglycerides. Some people call VLDL is a "bad" cholesterol because it contributes to plaque buildup in the arteries. VLDL mainly carries triglycerides and LDL carries cholesterol.
CAUSES
Unhealthy eating habits – eating lots of bad fats such as saturated fat it is found in some meats, dairy products, chocolate, deep-fried and processed foods. Tran's fat present in some fried and processed foods. Eating these fats can raise bad cholesterol.
Lack of physical activity – lots of sitting with little exercise can lowers HDL cholesterol.
Smoking – Smoking lowers HDL cholesterol and raises LDL cholesterol.
Genetics – Genetics play important role to increase cholesterol level.
HOME REMEDIES TO LOW CHOLESTEROL
Turmeric – Turmeric helps to cut down the plaque or cholesterol formation on the arteries walls. Add turmeric in daily food or drink turmeric milk before sleeping help in reducing bad cholesterol.
Garlic – Garlic contains allicin a sulfur containing compound which help to reducing total and LDL cholesterol. Chew 2-3 cloves of garlic in the morning and at bed time reduce cholesterol level. Raw garlic is better than cooked garlic to reduced cholesterol.
Flaxseeds – this seed contain alpha-linolenic acid an essential omega-3 fatty acids which lower LDL cholesterol as well as triglycerides levels. Take a tbsp. of flaxseeds powder to a glass of warm water or milk help to lower cholesterol.
Fish oil – it is an excellent source of omega-3 fatty acids. Regular intake of these fatty acids in the form of fish helps in lowering the cholesterol levels and the risk of developing cardiovascular disease.
Coriander (dhaniya) – dhaniya is loaded with high levels of antioxidants that help bring down cholesterol levels. It may contain vitamins like folic acid, vitamin C, vitamin A and beta-carotene. Boil one tsp. of dhaniya seeds in water for 5-7 minutes then strain the water and drink. This remedy helps in keeping cholesterol levels under control.
Amla – it is rich in essential amino acids and antioxidants which are good for lowering cholesterol levels. Eat fresh amla or drink a glass of lukewarm water with 1 teaspoon of dried amla every day balance cholesterol level.
Apple cider vinegar – it acts as an effective remedy for decreasing the levels of bad cholesterol in body. Add one tbsp. of apple cider vinegar to a glass of warm water drink this solution in daily routine for best results.
Green Tea – green tea is a rich source of polyphenols. These compounds provide many health benefits to the human body. Green tea contain highest concentration of polyphenols associated with lowering LDL Cholesterol and increasing HDL Cholesterol. A study revealed that men who take green tea had lower cholesterol levels as compared to those who did not take it. Polyphenols present in green tea may block cholesterol absorption in the intestines.
Fenugreek seeds (Methi seeds) – Methi seeds are rich in Vitamin E and exhibits anti-diabetic, anti-inflammatory, and anti-oxidant properties. It remove cholesterol from the body and its fiber helps reduce the synthesis in the liver.
Lose excess weight – Losing excess weight is beneficial for improving cholesterol level. It also preventing epidemic diseases in industrialized societies including type 2 diabetes, high blood pressure, heart attacks, strokes, and gout etc.
Fiber: daily intake of fiber can help to lower overall cholesterol level and LDL cholesterol. Fiber supplements include psyllium, methylcellulose, wheat dextrin, and calcium polycarbophil.
Red yeast rice – this type rice helping to reduce the cholesterol level.