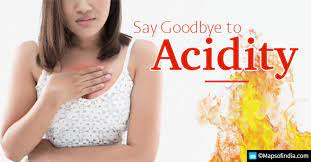 HOW CAN YOU REDUCE ACIDITY AT HOME WITHOUT MEDICINES
18 Jun, 2022
Posted by admin
INTRODUCTION


Due to the inability to take care of their health and wrong eating habits in a busy life, many people are troubled by the problem of acidity. According to health experts, whenever the acidic substances found in the stomach enter the food pipe, then there is a problem of acidity. It not only creates discomfort in the body, but also causes pain in the stomach. Due to acidity, people complain of sour belching, flatulence, burning in the chest and stomach. In such a situation, you can get rid of this problem by adopting some home remedies.

HOME REMEDIES FOR ACIDITY
Ajwain Water

Ajwain is considered very beneficial for acidity. ajwain water relief from the problem of acidity. You have to boil two spoons of carom seeds well in a cup of water, when this water becomes half, then turn off the gas, and when it cools down, filter it after adding black salt and then drink this water. This can get rid of the problem of acidity and constipation.

Roasted Cumin and Black Salt


Cumin is one such spice that is used every day for tempering in vegetables, lentils and raita. Cumin is considered very effective in the treatment of stomach ache, constipation and acidity. Roasting cumin seeds and eating it with black salt can get relief from the problem of acidity.

Include Amla In Diet


Amla is considered to be a good source of Vitamin C, which along with boosting immunity can help the body get rid of many health problems. If you often complain of acidity, then include amla in your diet, you can use it in the form of pickle, marmalade, juice.

Ginger Tea Or Water


Ginger is considered very beneficial for health. Drinking ginger tea or water can provide relief from acidity. Elements found in ginger can provide relief from stomach gas and acidity.

Lemon water

lemon neutralizes the excess acid secreted in our stomach due to their alkaline property and quickly removes the problem of indigestion. It reduces stomach and throat irritation. Drink a glass of lukewarm water mixed with a teaspoon of lemon juice daily.

Basil
tulsi leaves relieve from the burning sensation caused by acidity and relax the stomach muscles. People should chew 4 to 5 basil leaves and eat it for instant relief from irritation or boil basil leaves in some water and then drink that water lukewarm.
Fennel
Often people like to consume fennel after eating because fennel is helpful in digestion. It helpful in stomach and throat burning sensation, cools the stomach and relieves burning sensation.
Jaggery
This is considered to be a very beneficial home remedy. It stimulate the process of digestion and protects body from acidity and burning sensation in the throat and stomach. Eat a piece of jaggery after meals will end the burning sensation.
Aloe Vera Juice
Due to its anti-inflammatory properties, it also gives us relief in irritation caused by acidity. Consume aloe vera juice 2 to 3 times a day to get relief from acidity.
Cardamom

Boil 2 spoon of cardamom powder in a glass of water and drink it after cooling. It has many properties that prevent the formation of excess acid and improve the process of digestion of food also working the spasm in the stomach.

Water

Drink water in early morning protect body from acidity due to alkaline property of water neutralize acidity. Excess acid made in the stomach overnight and other non-essential and harmful things are removed from the body through this water. So it is good to take water on an empty stomach rather than tea in the morning.

Fruits

we are all aware of the benefits of fruits, so we all should make a habit of eating fruits daily. And if you are a victim of acidity, then include banana, watermelon, papaya and cucumber in your daily diet. Watermelon juice is also very effective in the treatment of acidity.

Coconut water

if someone has a complaint of acidity, then drinking coconut water provides great relief.

Ginger

Include ginger in your diet. This improves digestion and will also give relief from irritation.

Cold milk

Drink cold milk without sugar 2-3 times a day. Durslak milk contains a lot of calcium which prevents acid formation and milk absorbs the acid which is already present in it. Which gets rid of acid in the stomach. And the burning sensation also gives relief. For better results, mix one teaspoon of desi ghee in milk.

Vegetables

eat more and more vegetables like beans, beans, pumpkin, cabbage and carrots. This will give long relief from acidity.

Cloves
If a clove is kept in the mouth for some time, it provides relief in acidity. When clove juice mixes with the saliva of the mouth reaches the stomach, it provides great relief.
HOW TO PREVENT ACIDITY


usually acidity problem occurs due to unbalanced diet and lifestyle. For this, the problem of acidity can be brought under control to some extent by making some changes in your lifestyle and diet.

Tomato may be sour but it increases the amount of alkali in the body and its regular consumption does not cause acidity.
Consume a cup of pineapple juice regularly after meals.
Stay away from oily and chili-spicy food, eat simple and less spicy food as much as possible.
Do not sleep immediately after a full meal. Have food about two hours before bedtime.
Make it a habit to take a walk after having a meal.
Do not consume junk food, food containing preservatives at all.
Minimize the consumption of tea and coffee.
Instead of eating a lot of food in one go, eat small amounts 2-3 times.
Have papaya fruit in breakfast.
Do yoga and pranayama.
Do not allow body weight to increase.
Excessive smoking and consumption of any kind of alcohol increases acidity, so avoid them.
Do not consume soda containing cold drinks and caffeine etc. Instead, it is better to use herbal tea.
Eat only home cooked food.
As much as possible, avoid outside food.
Keeping a long gap in two meals can also lead to acidity.
Keep eating small amounts of food at short intervals.
Do not use pickles, spicy chutneys and even vinegar.