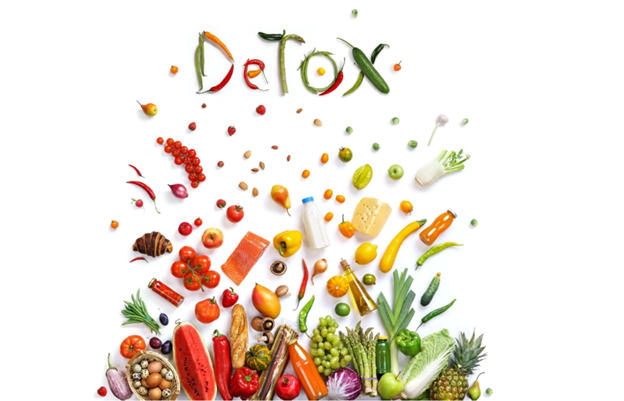 HOW DETOXIFICATION CAN SUPPORT A HEALTHY IMMUNE SYSTEM?
22 Mar, 2022
Posted by admin
In today's life, one gets exposed to a variety of toxins. Toxins are of two types : external and internal toxins. Pollutants, synthetic chemicals, processed food and heavy metals are the external toxins. Metabolic wastes and excessive hormones are internal body wastes.
Our body has a natural tendency to eliminate toxins from the body. The detoxification makes our immune system stronger. The better the detoxification process, the less toxins a body has and healthier a person becomes.
Kidneys, liver, skin, lungs and digestive system remove toxins from the body. If they are in a good condition, then they do their work properly. If they are deceased, the toxins will accumulate in a person's body and this compromises his immune system.
TYPES OF TOXINS ONE GETS EXPOSED ON A DAILY BASIS
Toxins are present everywhere from household chemicals which are used for cleaning, environmental pollution, exhaust from vehicles to food and drinks we consume. It is not possible for a person to avoid them.
Lead, chlorine, fluoride, polychlorinated biphenyls, formaldehyde, steroids, pesticides, copper, mercury, etc. are a few toxins to which a person gets exposed to.
Our bodies are burdened by the daily exposure of toxins. Unfortunately, most of the people don't have good eating habits and a healthy lifestyle. This leads to weakening of the immune system and body finds it hard to fight off infections. A mild infection can become a serious illness.
HOW INCREASED AMOUNT OF TOXINS AFFECT OUR BODY
Excessive accumulation of toxins can lead to toxicity. A high level of toxicity can affect our immune system in a variety of ways:
Due to weak immune system, inflammation occurs in the body.
There is less absorption of nutrients from the digestive system.
Immune system gets over-responsive. It reacts to wrong things and thus causes allergic reactions.
SYMPTOMS OF TOXICITY IN OUR BODY
The increased toxins in our body can result in a variety of symptoms. These symptoms can come or go or they can remain persistent also.
Following are the symptoms which arise due to toxicity:
Feeling tired all the time
Headache on a regular basis
Bloating
Pain in joints
Skin issues like rashes, hives, etc.
Digestive problems
Hormonal imbalance
Puffy eyes
Menstrual problems
Mental confusion
WHAT IS DETOXIFICATION?
Detoxification means removing toxins from the blood. This is a cleansing process which is done by removing impurities from blood in liver, kidneys, intestines, lungs, lymphatic system and skin.
It is essential for preventing illness and maintaining good health and longevity. Patient's immune system gets boost up and he will be from illness. He will enjoy his life to the fullest.
HOW TO DETOX THE BODY?      
The steps which are helpful in detoxification of body are:
Good sleep- a good night sleep is very important. One should sleep for 7-8hrs at night for the normal functioning of body. It relaxes mind and body.
No alcohol- alcohol damages the liver. Liver is the most important organ for removing toxins from the body. So one should not drink alcohol.
Drink more water- water flushes out toxins from the body. It regulates body temperature, helps in digestion and increases nutrient absorption. It removes waste products through urine.
Reduce sugar intake
Eat anti-oxidant rich foods- one should eat foods which are rich in vitamin A, vitamin C, vitamin E, etc. Anti-oxidants strengthens immune system and thus improves overall health.
Avoid processed foods
Reduce salt intake- excessive salt intake leads to water accumulation in body. This causes accumulation of impurities.
Eat probiotics- foods like bananas, tomatoes, garlic, onions, oats, etc. are rich in probiotitcs. They are very good for digestive system. It detoxifies the body.
Exercise- regular physical exercise produces sweat. Sweat removes toxins from the body. It reduces inflammation and improves blood circulation.
DETOXIFICATION IN AYURVEDA     
Ayurveda believes that our body is made up of three doshas – vata, pitta and kapha doshas. Each dosha has its own function in the body. When impurities are accumulated in the body, it affects the proper functioning of the doshas.
Ayurveda says that healthy eating habits and healthy lifestyle is very important for the maintainence of good health. Besides this, panchkarma is performed for body detoxification.
Panchkarma consists of 5 procedures:
Vamana
Virechana
Basti
Raktamokshan
Nasya
CHANDIGARH AYURVEDA CENTRE'S MEDICATIONS FOR BODY DETOXIFICATION
Here are some of the medicines of Chandigarh Ayurveda Center which are used for detoxification:
1. DETOX PREMIUM POWDER
The powder contains all the Ayurvedic herbs which strengthen the immune system of the body and prevents the complication of dengue by potentiating immune system. It helps in controlling the disease within a period of 4 to 8 days. The powder includes.
Parwal Pishti– Parwal pishti is prepared from Coral calcium. It is mainly used in Pitta related disorders and helpful in bleeding disorders. This pishti relieves Ama dosha and improves the digestion power. It also improves the strength and immunity.
Shukta Pishti– It is prepared from Pearl oyster shell. Shukta pishti pacifies Pitta and Kapha dosha. It is the best ant-acid and relieves the abdominal distention. Shukta pishti reduces the rashes on the arms and legs.
Giloy Satva–Giloy satva includes water-soluble extract of Giloy/Guduchi (Tinospora Cordifolia). It balances the aggravated pitta and acts as a mild-antipyretic, antacid, and immuno-modulator. It also reduces burning sensation in the hands, feet, and body.
Kamdudha Ras–According to Ayurveda principles, Kamdudha Ras has Sheeta Virya thus it is beneficial in every Pitta Roga classified in Ayurveda. It is beneficial in the symptoms like burning sensation, restlessness, bleeding tendencies, excessive thirst, and hot flashes, vomiting with yellowish or sour water.
Akik Pishti– Akik bhasma contains Silicon Dioxide and some herbal extracts derived into in during processing with Aloe vera and Rose water. It is used in General debility, Restlessness. It works well in loss of appetite, weight loss, and feeling of excessive heat in the body.
Ghandak Rasayan– Ghandak Rasayan is a great antibacterial, antiviral ayurvedic medicine. It acts as an anti-pyretic, analgesic, & blood purifier.
Sutshekhar Ras–It is an important medicine used in Ayurveda, which acts on Pitta dosha and reduces the symptoms like nausea, vomiting, fever, headache, sour taste of mouth, restlessness, etc.
Recommended Dosage– Take 1 sachet twice a day with normal water
2. RASAYAN VATI
Rasayan vati is herbo-mineral ayurvedic formulation, which is 100% natural. Rasayan vati contains various herbs such as Aswagandha, Shilajeet, Amla, Kesar, Musali, Shatavar, Brahmi Abhrak Bhasam, Swarn Makshik Bhasam, Yashad Bhasam, Mukta pisti, Praval pisti, Jaiphal, Vang Bhasam, Dalchini, Javitri, Gokhru, Kaunch Beej, Saunth, Mirch, Pipli, Amla, Kesar, Manjith, Anant Mool, Brahmi, Musali, Swarn Vang, etc.
These ingredients show antioxidant, aphrodisiac, anti-inflammatory, antipyretic, analgesic, immuno-modulator properties.
Recommended Dosage: Take 2 tablets twice daily.
3. DETOX TABLETS
This Tablet is herbo-mineral pure Ayurvedic preparation. It contains ingredients like Parwal Pishti, Shukta Pishti, Giloy Satav, Kamdudha Ras, Jahar Mohra, Akik Pishti, Gandhak Rasayan, Shankh Bhasma, Sutshekhar Ras, Sudhyog Tab, Shwet Parpati, Yavakshaar, etc.
This tablet increases overall immunity, improves digestion, relieves acidity, helps in fever, nausea, vomiting, high blood pressure, mental diseases and eye diseases. It also helps in removing impurities and detoxifies the body.
Recommended Dosage: Take 1 tablet twice daily.
4. HERBAL TEA
Herbal tea is a herbo-mineral preparation and is purely Ayurvedic formulation. CAC Herbal Tea helps in detoxification of the body, helps in Weight loss, Improves brain functions, fights cold, reduces heavy cough, and lowers cholesterol.
Herbal Tea shows Anti-hypertensive, Anti-inflammatory, Antioxidant, Anti-ageing, Anti-depressant, and Immune-modulator properties.
Recommended Dosage: For 1 cup of herbal tea- boil 1 teaspoon of Herbal Tea in about 2 glasses of water and boil it until remaining half glass. For slimming purpose prefer this herbal tea with lemon on an empty stomach.