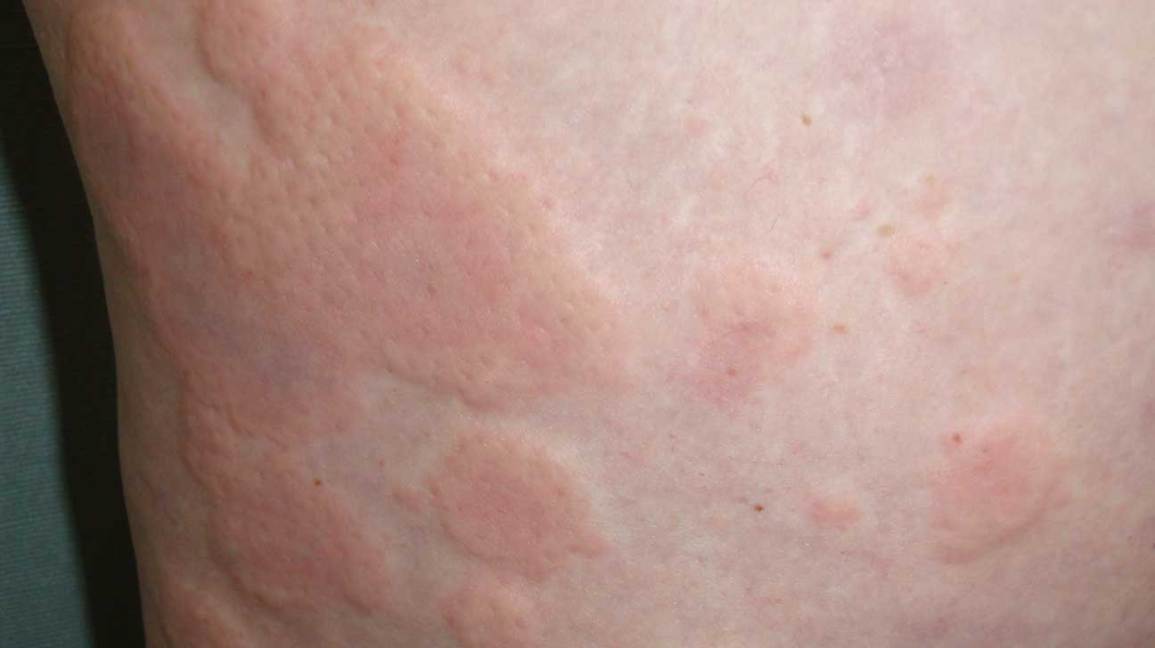 HOW TO CURE URTICARIA NATURALLY
25 Aug, 2021
Posted by admin
DESCRIPTION
In Urticaria the skin appears raised, well-circumscribed areas with redness and edema involving dermis and epidermis layer of skin that are very itchy.
Hives are very common can change size rapidly and move around, disappearing in one place and reappearing in other places within few hours.
Ordinary hives flare up suddenly and occasionally hives produced by direct physical stimulation by environmental forces like heat, cold, and sunlight.
TYPE
Acute Urticaria
Chronic Urticaria
Chronic urticaria may be spontaneous or inducible. Chronic inducible urticaria includes:
Dermographism
Cold urticarial
Cholinergic urticarial
Contact urticarial
Delayed pressure urticarial
CAUSES
Acute urticarial 
Last less than 6 weeks.
Foods, medications, and infections are most common cause.
Insect bites and diseases may be also cause urticarial.
Foods such as nuts, chocolate, fish, tomatoes, eggs, fresh berries, and milk cause hives.
Fresh foods cause urticaria more than cooked foods.
Certain food additives and preservatives may also cause hives.
Drugs that can cause hives include aspirin and nonsteroidal anti-inflammatory medications such as ibuprofen.
Chronic urticarial –
Last more than 6 weeks.
The cause of chronic urticaria in some people is impossible to find. In some cases the cause may be thyroid, hepatitis, infection and cancer.
Organs such as the lungs, muscles, and gastrointestinal tract affected in chronic urticaria.
Physical urticarial –
These hives are caused something stimulating the things such as cold, heat, sun exposure, vibration, pressure, sweating, or exercise.
Most of these hives appear within 1 hour of stimulation.
NATURAL TREATMENT FOR URTICARIA
Cold compress – Apply a cool, damp cloth to the affected area. This can provide relief from itchiness and reduce inflammation.
Bathing in anti-itch solution – Oatmeal and baking soda baths can soothe skin and reduce irritation.
Applying aloe vera – aloe vera have healing properties may soothe and reduce hives.
Avoiding irritants – This includes perfumes, fragranced soaps, moisturizers, and stay away from sun.
Cotton clothes – people should stay cool and wear loose, comfortable clothing.
Stay calm – Stress can trigger hives, reduce stress with exercising every day, meditating, and practicing mindfulness.
Oatmeal Scrub – oatmeal has anti-inflammatory properties makes it a superb moisturizing and soothing scrub for the skin.
Apple cider vinegar – Mix 1 teaspoon of vinegar with 1 tablespoon of lukewarm water and apply the mixture to hives with a cotton ball soothe the itching.
HERBS TO TREAT URTICARIA
Curcumin – Curcumin has its anti-inflammatory property that reduces chronic inflammation. It has ability to block the function of those enzymes that contributes in inflammatory pathway. Antioxidant property of curcumin neutralizing free radicals in skin that causes cell damage. It accelerates wound healing and collagen deposition in the skin.  Curcumin is effective in treating psoriasis, dermatitis and scabies.
Yashtimadhu – it is beneficial to treat eczema, skin rashes, psoriasis, itchy and dry skin. Studies revealed that the demulcent and anti-inflammatory agents in yashtimadhu decrease the sign of atopic dermatitis. Yashtimadhu root is extremely helpful for skin and protecting skin from various disorders such as rashes, eczema, psoriasis and dry skin. It helps to keeps the skin healthy.
Manjistha – Manjistha is beneficial for curing various skin diseases such as acne, infections, wounds etc., due to its anti-inflammatory, anti-bacterial and anti-oxidant properties. It also helps to improve skin complexion and reduce dark spots. Manjistha is one-step remedy for various skin conditions. Its blood purifying properties helps in removing toxins from the blood and treating a host of skin infections. It is also beneficial for treating allergic conditions like acne, pimples, zits, psoriasis, scabies, eczema etc. It is even useful in healing cracked heels.
TREATMENT
Detox Premium Powder – The sachet includes all the natural ingredients which help to detoxify the body and maintain the natural luster and glow in the skin.  This herbal sachet contain various ingredients such as Parwal Pishti –Shukta Pishti, Giloy Satva, Tal Sindoor, Gandhak Rasayana, Kamdudha Rasa, Sudh Yog Powder, Jahar Mohra Pishti.
Panchatikta Ghrita Guggulu – Panchatikta Ghrita Guggulu is an ayurvedic preparation mainly used for skin diseases. This tablet contains pure herbal ingredients such as Nimba(Azadirachta indica), Patola(Cucumis acutangulus), Guduchi(Tinospora cordifolia), Vasa(Adhatoda vasica), etc. This tablet promotes detoxification and rejuvenation. Panchatikta Ghrita Guggulu tablet is a natural source of anti –oxidant. It promotes engender vibrant and healthy skin.
Recommended Dosage – Take 1 tablets twice a day with normal water.
Twak Churana – This herbal powder is prepared from two herbs Manjistha (Rubia cordifolia) & Chopchini(Smilax malabarica) that in combination reduces uneven pigmentation. Manjistha mainly helps in deep detoxification and blood purification. It can also be used for hand lotion to treat dry, cracked hands, or feet. This herbal powder is good for dry skin, rashes, acne. It has been used in psoriasis. Skin Glow powder removes toxins and impurities of blood. This powder helps to rejuvenate and promote the longevity. It helps to open the blocked sweat pores. This powder is used in infectious conditions like, eczema, pimples, and chronic skin disorders.
Recommended Dosage – Take 1 teaspoonful twice a day with normal water.
Jatiyadi Ghrita Lepam – It is the best ayurvedic herbal remedy that can be used externally to get relief from the swelling, redness, discomfort, itchiness of the piles. It is very effective in calming the imbalance pitta. This lepam is formed from Patola, Nimba patra, Tuttha, Jati patra, etc. It possesses excellent antimicrobial activity and is very effective in controlling piles and fistula.
Method of Application – Apply the lepam on the affected area.
Curcumin capsules – Curcumin Capsules helps in pacifying all three doshas. Curcumin Capsule is beneficial for variety of skin conditions like Acne, Eczema, Psoriasis, Blemishes, and Dermatitis. This Capsule contains standardized extract of the herb Curcumin (Curcuma longa). Curcumin shows Anti-inflammatory, Antibacterial, Antifungal, Anti-microbial, Analgesic, Immune-modulator and Antioxidant properties. These Capsules lowers the risk of Heart Attack, prevents Cancer by reducing the growth of cancerous cells. These Capsules are very popular Anti-aging supplement.
Recommended Dosage – Take 2 capsules twice daily.
Neem soap – it is 100% Safe and purely Ayurvedic preparation. CAC NEEM SOAP is natural and herbal handmade soap prepared from the standard extract of herb Neem (Azadirachta indica). Neem herb is widely used to cure acute to chronic Skin problems such as Pimples, Itching, Dryness, Blemishes, Dark spots, Pigmentation, Scars etc. Neem leaves are rich in Vitamin-E, Fatty acids & emollients. It is such a wonderful herb that is easily available and shows Anti-bacterial, Anti-inflammatory, Antioxidant, Anti-microbial, Antifungal, Antiseptic properties. Neem cleanses the pores and protects the skin from various infections, Psoriasis, Eczema, Leprosy, Skin ulcers. It restores the health of damaged skin, tones skin complexion, prevents premature ageing, Wrinkles, Fine lines can protect against UV rays, and acts as a natural moisturizer for the skin.
Method of Application –Neem Soap can be regularly used on face and body, as a bath soap.