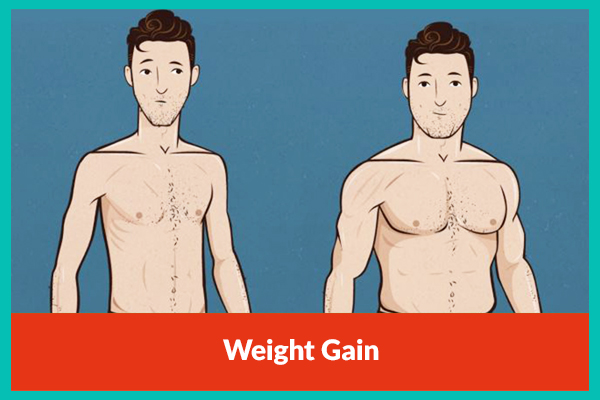 HOW TO GAIN WEIGHT IF YOU ARE UNDERWEIGHT?
26 Aug, 2021
Posted by admin
INTRODUCTION-
The digestive strength is directly realated to the Agni (digestive fire). If the digestive fire (Agni) is poor then it leads to inappropriate digestion. This affects the Dhatus and can lead to weakness and inability to gain weight.
When food is properly digested, the nutrients are absorbed into the Dhatus. If there is a problem in absorption of nutrients, then it affects metabolism and in the process, a person's weight as well.
For the body metabolism to function well, good digestion is important.
HERBAL SUPPLEMENTS FOR WEIGHT GAIN-
In Ayurveda there are numerous medicinal herbs for weight management and bodybuilding without any side effects. The amazing weight gainer Ayurvedic supplement is made from a combination of different types of herbs like ashwagandha, Turmeric, Shatavari, Harad, Binaksha, Stinging Nettle, Guggul, Mulethi, Arjuna, Adoosa, Carom Seeds, Saunf, Muesli, Majeeth, Sanai, Bala,Sarfoka, Bael Pata, Kaunch beej etc. For you to gain weight healthily, Chandigarh ayurvedic centre (CAC) prepared weight gain with natural herbs.
CAC Weight gain kit contains 4 products- Active Plus Tablet, Weight Gain Tablet, Ashwagandha Tablet and Re-Active Protein Powder etc.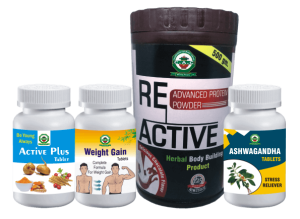 Weight Gain Kit
RE-ACTIVE PROTEIN POWDER:
Ingredients-
Ashwagandha Root (Withania somnifera)
Shatavari Root (Asparagus racemosus)
Safed musli Root (Asparagus abscendens)
Salam Panja Root (Orchis lalifolia)
Vadari Kand Root (Puerania tuberosa)
Shudh Shilajeet Stone (Asphaltum punjabianum)
Kaunch beej Seed (Mucuna prurita)
Soya + Milk powder
Lactose
Sucrose
Recommended Dosage: take 10 GM twice a day with lukewarm Milk or water.
WEIGHT GAIN TABLET:
Ashwagandha (Withania somnifera)
Shatawar (Asparagus racemosus)
Bala (Cida cordifolia)
Kalmegh (Andrographis paniculata)
Shuddh Shilajit (Asphaltum punjabinam)
Recommended Dosage: Take two tablets twice a day with normal water.
ASHWAGANDHA TABLET:
Ingredients-
Ashwagandha (Withania somnifera)
Recommended Dosage: Take 1 tablet twice daily
ACTIVE PLUS TABLET-
Ingredients-
Ashwagandha
Coffee bean extract
Curcumin
Catuba bark
Moringa oleifera
Wheat grass
BENEFITS
Immunity booster
Energy booster
Balance hormones
Antioxidant in nature
Refresh mind and body
Complete heath supplement
Helps in body detoxification
Recommended dosage: Take 1 tablet twice daily.
HERBS FOR WEIGH GAIN-
 Ashwagandha (Withania somnifera)-
Ashwagandha Is a natural nourishing herb known as Indian ginseng.
It nourishes body cells and is a good sleep inducer.
 It also helps in balancing the hormones in the body and excretes toxins from the body.
It strengthens your bones and muscles improve glucose metabolism and increase testosterone levels.
 It is a good antioxidant, anti-inflammatory, anti-diabetic, anti-cancer and anti-stress properties.
Ashwagandha boosts your brain, immune system and reduces stress level.
Mulethi (Glycyrrhiza glabra)-
Low immunity is a responsible factor behind weight loss.
Licorice has medicinal properties that boost your immune system.
Mulethi defends the lining of alimentary canals to improve digestion and absorption of nutrients.
Shatavari (Asparagus racemosus)-
It is a compatible and pure herb in nature to calm your mind and reduce anxiety and stress.
Shatavari nourishes body cells and provides better strength.
It keeps your entire body hydrated, improves digestion, and boosts the immune system.
Turmeric (Curcuma longa)-
Turmeric is excellent herbs in Ayurveda with its medicinal properties.
It helps in balancing the body doshas and protects you from further health complications.
Curcumin having powerful Antibacterial, Anti-inflammatory, Antifungal, Anti-microbial and Antioxidant properties.
Triphala-
It is very beneficial to improve digestion and also expelled out the toxins from the body.
Cumin (Cuminum cyminum)-
Cumin is a well-known spice that helps reduce bloating, indigestion excessive gas formatiomn and acidity problems.
Cardamom (Elettaria cardamomum)-
Cardamom is an effective digestive stimulant and diuretic herb that helps to balance Vata and pitta dosha domination.
Cardamom boosts metabolism
Alfalfa (Medicago sativa) –
This natural flowering plant consumption makes your body healthy and strong.
It improves healthy weight gain by enhancing your metabolism.
This plant is one of the best Ayurveda herbs for weight gain.
AYURVEDIC TREATMENT OF UNDERWEIGHT-
Weight gain through Ayurveda is possible by adopting all or some of these strategies-
RASAYANA THERAPY-
Rasayana in Ayurveda is the science of well being.
It is the concept of maintaining the body at its best as a preventive form of medicine.
It enhances the general feeling of well being, digestion, skin, and hair growth.
Rasayana therapy improves the formation of the Dhatus (tissues) and also maintains the Dhatus.
It enhances the tissues (dhatus) and the plasma in our body ridding it of digestive disorder.
Rasayana enhances the benefits of nutrition for all the tissues.
Rasayan therapy will rejuvenate your tissues and promote appetite.
GHEE (CLARIFIED BUTTER) FOR UNDERWEIGHT-
If you are underweight, then one of the key reasons could be related to vitiation in one or more of the Doshas. Any imbalance in the Doshas can affect body weight. Ghee is the most effective for vata , pita dosha balancing and supporting agni. It lubricates your skin and organs and brings the nutrients from food deeper into your tissues.
Taking Ghee with sugar is one of the simplest ways to boost body weight.
Mix 1 tbsp of sugar with 1 tbsp of ghee and consume this mixture on an empty stomach just 20 to 30 minute before lunch or dinner.
Follow this routine daily for 1 month if you wish to experience weight gain
AHAR FOR UNDERWEIGHT-
Dates
Bananas
Figs
Yams
Sweet potatoes
Turnips
Zucchini
Leafy greens
Nuts (particularly almonds)
Tofu
Mung beans
Whole grains
PRACTICE YOGA ASANAS FOR GAINING WEIGHT-
Chakrasana (Wheel Pose)
Dhanurasana (Bow Pose)
Bhujangasana (Cobra Pose)
Vajrasana (Diamond/ Thunderbolt Pose)
Sarvangasana (Shoulder Stand)
Matsyasana (Fish Pose)
Pavanamuktasana (Wind Relieving Pose)
Savasana (Corpse Pose)