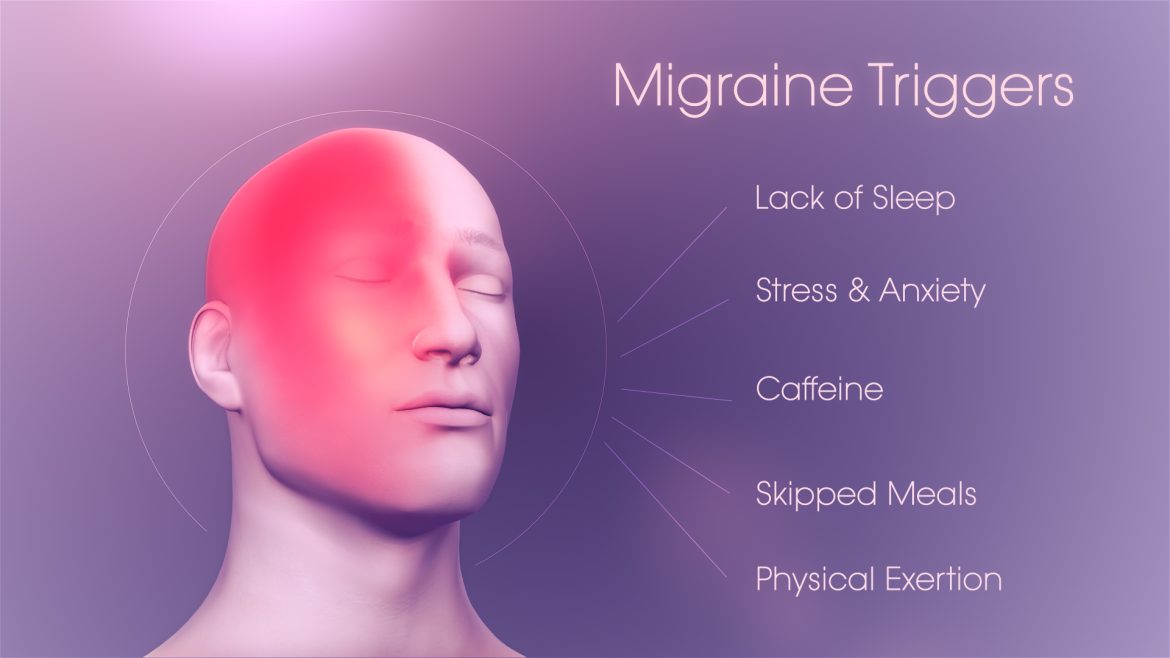 HOW TO GET RID OF MIGRAINE WITH EFFECTIVE HERBAL REMEDIES
09 Sep, 2021
Posted by admin
DESCRIPTION
Migraine is neurological disease where headache can cause severe throbbing pain or pulsing sensation
it affects half part of the head and lasts for long
Migraine is very painful condition and it is very common in individuals these days.
Due to heavy work pressure and over loaded schedule migraine gaining popularity these days.
Stress level increases day by day and also environmental changes which ultimately give rise different types of diseases.
Globally 15% of population suffering from this disease.
CAUSES
The major causes are still unknown.
Genetics
Smoking
Heredity and environmental factors
Stress level – people may get migraines more if they have high-stress. Stress can trigger migraine.
The condition further worsens on being exposed to sound and light.
SYMPTOMS
the symptoms of migraine can progress through four stages: Prodrome, Aura, Attack and Post-Drome. Not every people who has migraines goes through all stages.
Prodrome
Constipation
Mood changes, from depression to euphoria
Food cravings
Neck stiffness
Increased urination
Fluid retention
Frequent yawning
Aura
Numbness and tingling.
Visual disturbances.
Temporary loss of sight.
Weakness on one side of the body.
Speech changes.
Headache 
Neck pain, stiffness.
Depression, giddiness and/or anxiety.
Sensitivity to light, smell and sound.
Nasal congestion.
Insomnia.
Nausea and vomiting.
Post-drome
Inability to concentrate.
Depressed mood.
Fatigue.
Lack of comprehension.
Euphoric mood.

MIGRAINE TRIGGERS
Some common migraine triggers include:
Hormone changes – Many women observe that they have headaches around their period, while they are pregnant or when they are ovulating, menopause, birth control, or hormone replacement therapy.
Stress – during stressed brain releases chemicals that cause blood vessel changes and lead to migraine.
Foods – Some foods and drinks such as cheese, alcohol, and food additives may be responsible for migraine in some people.
Skipping meals

Caffeine – Getting too much or not getting as much use of caffeine may cause headaches.
Changes in weather – Storm fronts, changes in barometric pressure, strong winds, or changes in altitude all can trigger a migraine pain.
Senses – Loud noises, bright lights, and strong smells can trigger migraine.
Medications – Vasodilators, which dilate blood vessels can trigger migraine.
Physical activity – This includes exercise and sex.
Tobacco

Changes to sleep pattern – You might get headaches when you sleep too much or not enough.
FOOD ITEMS WHICH ARE KNOWN TO TRIGGER MIGRAINE ATTACK
Tea, coffee, soft drinks, packed juices junk food and processed food.
Fermented foods like bhatura dosa, vada and idli etc.
Fruits like grapes, lemon, bananas, and resins etc.
Vegetables like beans, onions & garlic etc.
Chinese food items. Nuts like peanuts, walnuts & cashew nuts etc.
AYURVEDIC OUTLOOK
Medication can help to reduce the frequency and severity of the migraine pain.
In Ayurveda this condition is known as "Sooryavarta".
Soorya means "Sun" and avarta means "blockage".
The headache which gets worsened on sunrise, peaks during noon hours and reduces after evening.
CAUSE OF MIGRAINE ACCORDING TO AYURVEDA (SOORYAVARTA)
Indigestion
intake of unhygienic food
exposure to sunlight for long time
Intake of dry, pungent, salty and spicy food.
Anger, Jealousy and stress etc.
Due to this the Pitta doshas aggravated and obstruct the vayu in brain and lead throbbing pain on the one side of the brain that is called Sooryavarta.
Chandigarh Ayurveda Center provides the herbal remedies for migraine.
CAC HERBAL TREATMENT FOR MIGRAINE
Nerve up tablet – CAC Nerve up tablet is a herbo-mineral tablet and is purely ayurvedic formulation.  CAC Nerve up tablets help in balancing the vata doshas. It reduces kapha dosha, and acts as nervine stimulant. It shows effective results in improving the central nervous system. It contains natural ingredients like shudha kuchala, shudha shilajeet, abhrak bhasma, praval pishti, shankh bhasma etc. These contains natural vatahar properties and helps in curing vata diseases.
Recommended Dosage – Take 1 tablet twice daily with normal water.
Panchasakar Churna – This churna is specially made to remove the toxins from the body on a regular basis. This herbal remedy is made up of ingredients such as Haritaki (Terminalia chebula), Swarna patri (Cassia angustifolia), Shatapushpa (Foeniculum vulgare), Shunthi (Zingiber officinale), and Saindhavan lavana (Rock salt). It balances all the doshas and reduces the symptoms of associated diseases.
Recommended Dosage – Take 1 tablespoon with Lukewarm water at bedtime.
Brain relaxant churna – CAC Brain relaxant churna is an herbal and purely ayurvedic formulation. It is 100% natural and pure. It is prepared from herbs that show calming effect on brain and gives you relaxation. It contains various herbs like Amla, Sonth, Pippali, Marich, Haldi, Bala, Suddha Gandhak, Lauh bhasma etc. that are Stress buster and provide you relief from anxiety. Herbs present in CAC Brain relaxant churna shows antioxidant, Neuroprotective, carminative and anti-inflammatory properties.
Recommended Dosage – Take 1 tablespoon with Lukewarm water at bedtime.
Digestion cure tablet – This tablet is unique blend of best digestive herbs like kutaz chal, bilav, dhania, mustak, shankh bhasm, piper mint, and dadim that maintain natural Ph balance in the stomach and aid digestion of all types of food. The herbs present in this control acidity, gas, flatulence and constipation. These all complex problems are root cause of all diseases. If digestive system is proper it leads to proper assimilation of the nutrients in the body.As per Ayurveda digestive disorders are due to imbalance of Pitta doshas. The Ama formation leads to digestive disorders.
Recommended Dosage – 1 tablet twice daily with plain water
Stress care tablet – It is an amazing combination of natural herbs like Sarpgandha, Brahmi, Tagar, jatamansi. It helps to relieve stress conditions. They help to pacify the nervous system and also helps to increase the mental and physical performance. In Ayurveda when there is an imbalance of three energies i.e. vata, pitta and Kapha, it leads to disease. Vata has a sub dosha named prana doshas which regulates the sensory perception, brain, and mind. Tarpak Kapha subtype of kapha, governs cerebrospinal fluid, sadhak pitta subtype of pitta doshas governs emotions and their impact on the heart. So any vitiation of these doshas leads to stress.   It helps for maintain stress level, Provide strength to the nervous system, good in neurological problems, works in anxiety, loneliness, insomnia, sleep, Negative emotions, Memory loss, Palpitations
Recommended Dosage– 1 tab twice daily with plain water.