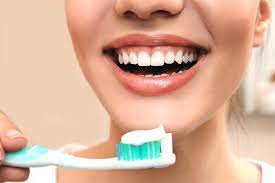 HOW TO KEEP YOUR TEETH HEALTHY
14 Jan, 2022
Posted by admin
To keep the body healthy, it is most important for the teeth to be healthy and strong. Everything we eat or drink first comes in contact with our teeth. To keep teeth healthy, it is necessary to take care of them throughout life. In today's era, due to lack of proper care and diet, many problems related to teeth are being seen in people. These problems can sometimes be extremely painful. Apart from this, if your teeth are not healthy and clean, then due to this your personality can also be negatively affected. If there is a problem related to teeth, then you are not able to consume everything in the right way.
All the problems related to teeth are only due to lack of proper care and unbalanced diet. If you clean and take care of your teeth properly (Tips to Care for Your Teeth), then you can get weak teeth, gum pain, swelling, tooth infection including serious dental disease like pyorrhea etc. can be avoided. Let us know in this article about some such home remedies, by adopting which you can make your teeth healthy and strong. These home remedies also protect your teeth from diseases.
6 Home Remedies to Keep Your Teeth Healthy and Strong
Home remedies used since time immemorial for the care of teeth are very beneficial and useful. They have also been used in Ayurveda and ancient medical systems. With the help of these home remedies, you can keep your teeth healthy and strong for a long time. Let us know about these useful home remedies to keep teeth healthy and strong.
1. Correct Way to Brush Your Teeth
To keep teeth healthy and strong, cleaning them regularly is very important. Brushing at least twice a day is considered good for the teeth. But the most important thing in this is that you brush your teeth in the right way. If you brush regularly but your brushing method is wrong then it will not help you. To keep teeth healthy, it is important to brush properly.
To brush the teeth properly, first of all, start the brush from the outer surfaces of your teeth.
After thoroughly brushing the outside surfaces, brush the insides.
Run the brush thoroughly around the teeth and at the gumline.
Clean the inner surface of the teeth thoroughly after taking enough time.
Thoroughly clean the teeth that you use the most to chew food.
After this do not forget to clean your tongue thoroughly.
2. How to Make Mouthwash at Home?
Maintaining oral hygiene benefits in keeping the body healthy. To keep the teeth strong and healthy, it is very important to keep the mouth clean in the right way. If you have bacteria and other harmful germs in your mouth, they can also damage your teeth. You must regularly clean your teeth with the help of mouthwash. You can also easily make mouthwash at home to keep the teeth and mouth clean and healthy. Let us know how to prepare mouthwash easily at home.
Necessary ingredients
1/2 cup clean water in a glass jar
2 tsp baking soda
2 drops tea tree oil
3 drops peppermint essential oil
Mix all these things well in a glass glass. And your mouthwash is ready. With its regular use, you can keep your teeth and mouth bacteria free. Baking soda helps alkalize the mouth, protects your teeth from acid damage, and kills cavity-causing bacteria. Tea tree oil and peppermint oil are also considered useful in getting rid of bacteria. You must make your teeth strong and bacteria free by gargling with this mouthwash regularly.
3. Oil Pulling
Oil pulling techniques have been used for a long time to keep teeth strong and healthy. It has been used continuously in Ayurveda also. You take the oil in your mouth and swirl it well, and after a few days you will see that your teeth have become stronger and healthier than before. For this you can use coconut or sesame oil, these oils have antibacterial properties which are extremely beneficial for teeth and gums.
oil pulling method
To do oil pulling, first you take 1 tablespoon of coconut or sesame oil.
Now keep this oil in the mouth and swirl it well for 15 to 20 minutes.
Spit out this oil after 20 minutes and rinse the mouth with lukewarm water.
You must brush your teeth after oil pulling.
Do this process every morning on an empty stomach.
4. Drink enough water from time to time
Hydration requirements vary from person to person, but drinking enough water is essential for teeth. The proper amount of water in the body protects you from dehydration and along with this, it also benefits in keeping the body away from many diseases. Drinking water cleans the bacteria present in your mouth and the food particles inside the teeth. Apart from this, the enamel of the teeth can become weak due to lack of water, therefore, from time to time, proper amount of water must be consumed. Along with this, after every meal, clean your mouth with the help of water. This will remove the pieces of food in your mouth and will not harm your teeth and gums.
5. Green Tea for Healthy Teeth
Regular consumption of green tea can help keep teeth and gums healthy. In a research conducted on green tea, it was found that the teeth and gums of people who consumed it regularly were stronger and healthier than other people. Green tea contains complex compounds called "catechins" that may be beneficial in treating inflammation and controlling bacterial infections. You can also use green tea regularly to keep teeth strong and healthy.
6. Floss the Teeth
Dentists nowadays recommend flossing to keep teeth clean and healthy. Flossing solves dental problems. A thread is used to floss, which helps to clean the gap and the inner part between the teeth. Flossing may not help prevent gum disease, but it does help with teeth whitening. Flossing is beneficial in places where the brush is unable to clean the teeth properly.
how to floss
To floss, take the thread and wrap it around your fingers.
Now move it up and down and between the teeth.
Floss below the gum line.