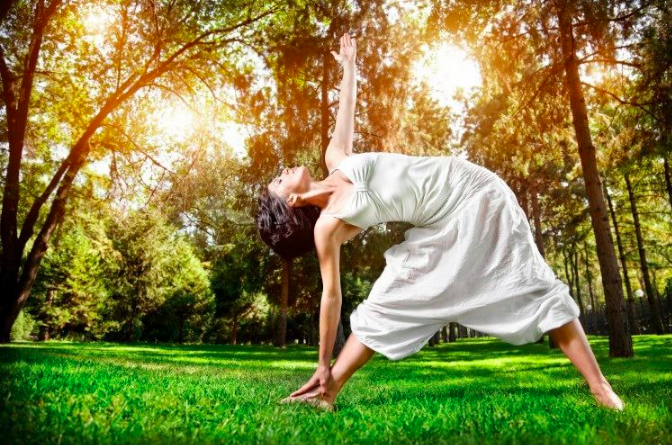 How To Live Healthy In Spring Season With Ayurveda
01 Feb, 2022
Posted by admin
With the onset of Basant Panchami, the spring season has arrived. Learn from Ayurvedic experts how your diet should be to stay healthy in this season.
What is the food like in the spring season? Know diet and health tips from Ayurveda experts
Spring season has started. Along with the beauty of nature, a different chirping in the air is infusing a different energy in the ears of all of us. The chirping of birds is trying to take us out of the chilly sun. Changes in weather are common with spring. These changes occur not only in the weather, but also in the surrounding environment as well as in fruits and vegetables. By including these changes in our daily routine, we have to move forward. So that our health remains healthy. By the way, with the onset of spring, new season fruits and vegetables start arriving in the market. Therefore it is also important for you to know why it is necessary to change the diet.
The food should be in the spring, that in fact, the effect of winter starts decreasing in this season while the temperature gradually starts heating up. Due to the strength of digestion, we often take heavy diet during the winter season. Which gets deposited in the body in the form of cough. When the spring season comes, this phlegm melts and gives rise to many diseases in the body. These diseases are cough, respiratory disease, throat infection, allergies, fever, breathlessness, digestive disorders etc.
Why is it important to consume seasonal fruits and vegetables in every season?
With the change of seasons, it is also necessary to change the eating habits. Consuming seasonal diet is beneficial for you, due to which the body gets proper nutrition, due to which the body remains healthy and development is good. Actually, the effect of seasonal food is according to the season. So if you consume seasonal fruits, vegetables and food, then you will be healthy. Consumption of seasonal fruits and vegetables not only keeps us physically fit but also keeps us mentally calm. Often off-season vegetables are forced through drugs and injections. Which can go into our body and cause many diseases.
What to eat in spring season?
There are many options of spring growing fruits and vegetables in the market, which can be beneficial for you.
 Fennel
Fennel has been used for many years in Indian food and after meals. This increases the amount of antioxidants in the body.
Mustard Greens
Greens have always been beneficial for the body, no matter what the season. It is rich in Vitamin E, C, K and A. Which protects against heart diseases. Mustard greens come in this season, as well as gram greens are also eaten with great fervor.
Radish
Radish is rich in antioxidants. You can eat radish in any form during this season.
Pea
As much as the dish made from peas is unmatched in taste, it is also rich in fiber. You must eat peas in spring.
Spinach
Spinach contains high amounts of iron and vitamin K. Also, with this you can keep your blood clean.
hyacinth
Many people like hyacinth very much. Along with vitamins, it is also high in iron and calcium.
Avocado
It is a packed fruit and is very much in trend these days. Make a smoothie and drink it. Would be very beneficial.
Grapes
Grapes are rich in vitamins C and A. It controls the blood flow.
Pear
Pear is rich in fiber. You can eat it in salad or just like that.
Strawberry
There is a lot of strawberries in the market right now. It is a good source of Vitamin C. Which is also beneficial for the skin.
Keep these rules of food in mind during the spring season
In the spring season, you should take special care of some things related to food. Since the winter starts decreasing in this season and the weather starts moving from cold to hot, the following precautions are necessary regarding the food during the spring season.
Eat only fresh, light and digestible food.
Reduce the intake of cough-enhancing oily foods (fried things) or products made from milk.
Avoid fast food and cold drinks, cold beverages, ice cream as far as possible.
Avoid the habit of sleeping during the day.
Drink lukewarm water mixed with dry ginger and honey.
Massage sesame oil regularly.
Make a powder of dry ginger, black pepper and pipli and consume it with honey.
Make a powder of basil, carom seeds, liquorice or make a decoction as needed.
So these are some such fruits and vegetables or food, from which you will not only get taste but will also be healthy. Apart from this, you should avoid eating unseasoned vegetables and fruits, it can be harmful for you.
Peach
This fruit contains antioxidants which are very good for the heart. In addition, it is also low in calories, due to which weight is reduced.
Carrot may be found throughout the year, but it can be tasted even in summer. Baby carets are easily available in the market. This bean is known to reduce heart disease and obesity. If you are on a diet then do not forget to include it in your diet.
Consumption of radish
radish prevents hair fall. The strong vitamin B and vitamin C in it also strengthens the nervous system.
New Potatoes These days new potatoes have started coming in the market. Eat them either by grilling or by steaming them.
By the way, different types of onions are available in the market for years. But the thing about Wadalia onions is different. They are sweet to eat, so you can eat them by cutting them in salads. It is very beneficial for asthma disease.
Avocado has many benefits on skin, hair and health. It contains carotenoids, folate and good fats which are very important for the body.
Green garlic is not only good for adding flavor and aroma to food, but it is also good for health. Green garlic benefits the heart, removes stomach problems and increases immunity, which does not cause any disease.
Lemon Lime you will start getting in winter and spring. Eating lemon leads to weight loss and the dirt comes out from the skin.
Cucumber contains 95 percent water, which fulfills the lack of water from the body in summer. Digestive system remains correct by eating this.
Fig. This fruit is present in summer, eating it keeps all diseases away and it also increases your love life.
Amla contains vitamin C, fiber, potassium and minerals which are good for overall health.
Pineapple This juicy fruit contains vitamins and minerals, which are used to increase bone strength. By drinking its juice, there is no cold, cold and gums become healthy.
Adding coriander leaves to coriander dal, salad or vegetables not only enhances the taste but also keeps the health good.