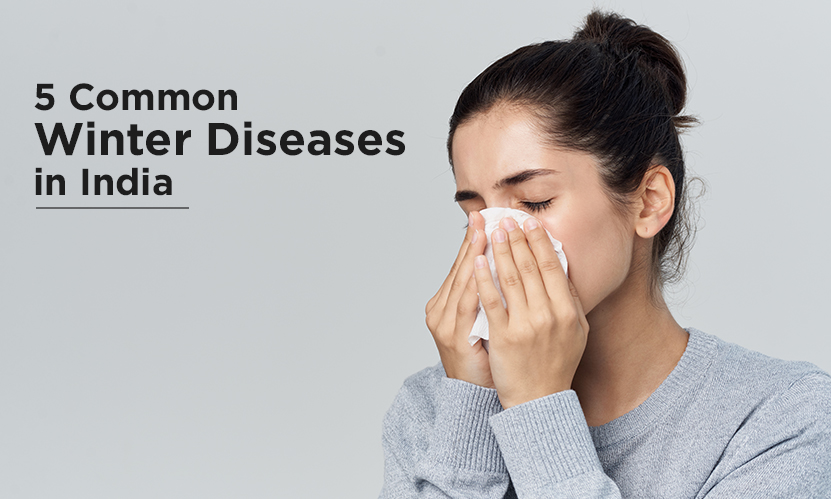 How to modify your life style in winters to remain Healthy?
30 Oct, 2021
Posted by admin
Every season comes with its own set health conditions. It doesn't matter if the weather is shifting from autumn to winter or from spring to summer; you will have to prepare for every kind of health condition like allergies, infections, skin problems, hair problems and many other problems.
One of the best ways to get ready for new season and to avoid health conditions is to modify your diet and life style according to the season. Life style should be season specific and this is known as ritucharya in Ayurveda. In ayurvedic texts various diet and life style regimens has been prescribed according to the ritu to sustain a healthy life.
Ritucharya for every season
As one of the main and foremost purpose of the Ayurveda is to maintain the health of the healthy person and for this various regimens has been prescribed in Dincharya (daily routine) and ritucharya ( seasonal routine). Some health conscious people may have strict daily routine , people most often forget about having seasonal routine.
The basis of ritucharya depends upon the dual regulation of the diet and the life stlye according to the season. This help your body to quickly adapt the season and prevents from seasonal infections or diseases that are affecting your body.
Diet and life style changes in winters
This year winters are a little different than the rest. The usual chills of the season combined with the threat of COVID-19 can throw anyone into relentless panic.  In this everyone is prone to many kind of infections or allergies like sneezing, cough & cold, flu etc. All influenza like illnesses are not COVID-19 but due to same symptoms everyone may get anxious about this.  So to prevent this situation and to protect your body from these ailments necessary precautions should be followed. Such as
Wearing a mask,
Maintaining social distance
Avoid crowded spaces.
Avoid frequent travelling.
Boost up your immunity.
Diet regiment in winters
Healthy Diet: Taking healthy and balanced  diet is the most important single factor for maintaining health  while unhealthy food is important factor for causing   disease.
Foods that are madhur (sweet), amla(sour),lavan (salty) in taste should be preferred in this season.
Intake of pulses, cereals , rice , grains, wheat flour , new rice , ginger , garlic , jaggery , milk and milk products are good for health.
Warm, nourishing and properly cooked meals are good for this season as they help to keep you warm and energetic.
Many spices like Pepper, Cardamom, Cinnamon, Clove and Turmeric are good to take.
Dry fruits and seeds should be taken. Sunflower seeds, Flaxseeds, Pumpkin seeds, Almonds, Pine nuts, Peanuts and Walnuts can be used.
Cow's Ghee should include in your diet as it will to balance the vitiated vata dosha and it also provide the required nourishment to the skin.
Taking Amla juice on empty stomach is recommended.
Dairy products like cow milk, butter, ghee and edible oils are should be taken.
Easily digestible foods should be taken in moderation.
Include honey in your diet.
Warm soups should be consumed regularly.
Healthy fruits and vegetables like apple, pumpkin, Amla, fig, lemon, raisins, spinach, carrots etc. should be taken.
Drink warm water throughout the season.
Consume sugar cane juice and sugar cane as these provide abundant energy and minerals.
Don'ts
Overeating should be avoided.
Packaged, Unhealthy foods like fried or junk foods, carbonated drinks, sprouts etc. should be avoided.
Avoid excess pungent, bitter and astringent food. These can increase vata dosha and appetite, which is not suitable for the season.
Avoid excessive sweet and cold foods, like ice creams, smoothies, and chilled cold drinks , milkshakes etc.
Lifestyle factors
Dos
Regular Oil massage
Daily Exercise and Yoga
Use of Woolen clothes
Footwear should be worn always
Don'ts
Avoid daytime sleeping
Going out in the cold
Other factors should kept in mind
Water: As in winters we don't feel thirsty so we tend to forget drinking water. But drinking water is very essential as water is the carrier of nutrients in our body and helps in detoxification of the body.  So it is important to drink 2-3 liters of water a day.
Hygiene: Regular bathing is important to keep the skin healthy and nourished. Proper hygiene should be maintained. Wash your hands after coming back from somewhere or before cooking or eating food.
Skin: In winters skin becomes dry, cracked even after applying lotions and oils throughout the day. So to protect your skin from this condition apply coconut oil or any other moisturizer. It can be applied after bathing as during this time your skin absorbs the oil. So skin care is must in winters application of moisturizer, sun-protection creams should be done.
Sleep: A proper, Good, restful, quality sleep is very important as it helps in boosting our immune system by repairing the wear and tear of the body and mind. A good sleep of 6-8 hours is required for everyone.
Vitamin D: It is very important to take Vitamin D. As Vitamin D not only helps in keeping the bones healthy but also regulates the mood. In seasonal affective disorder that is commonly seen in western countries reason is lack of sunlight and people would like to stay indoors. So always sit in sunshine for some time to avoid any deficiency.
Clothing: Always warm, woolen, comfortable clothes should be wearing to protect you from cold.