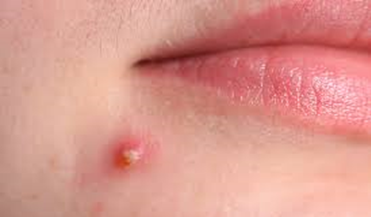 How to Remove Pimple Marks Naturally at Home
17 Mar, 2022
Posted by admin
Pimples really cause problems to a lot of people especially if they're very visible in the face. They are not only caused by bad hygiene but also by hormonal changes. The good news is they disappear over time (even without you doing anything) except that they usually leave a mark or a scar. This video is all about how to easily remove pimples marks naturally at home. I hope you like it!
Pimple is a very common problem nowadays especially amongst teenagers, many people lack confidence only due to this.
These are more common in teenagers as the endocrine glands that influence the function of sebaceous glands which are more active during these years.
This article is going to be all about pimple marks removal , home remedies for acne scars
HOW CAN I REMOVE PIMPLE MARKS AND PIMPLES DARK SPOTS NATURALLY FAST?
we can remove pimples by using different kinds of herbs like:
.Manjhishtha: Pimples basically occur when there are toxins present in your blood and this herb acts on purifying the blood and cleansing the body.
Yashtimadhu: It is also known as Glycyrrhiza glabra. It is used to treat many skin disorders including acnes.
Bakuchi: Another name of bakuchi is Psoralea corylifolia. It is a very good herb that is usually used to treat various skin conditions like itching , dermatitis etc. It acts on rakta dosha in our body which in turn purifies blood and reduces pimples.
Chopchini : Chopchini is also knaown as smilex china chopchini has anti- oxidants and anti- inflammatory properties. also, it reduces inflammation and itching on the skin.
Swheta chandan: It is also known as santalum album. This herb is useful in cough, cold bronchitis etc. because it has cold potency , therefore it is very beneficial in reducing itching caused due to pimples.
WILL PIMPLES GO AWAY?
One can avoid having pimple by taking a number of precautions and improving their lifestyle and diet.
people have two types of skin one dry and the other is oily. People with oily skin tend to have more pimple issues.
People who have dry skin should moisturize you skin properly to avoid breakouts and itching.
exfoliation
stress is nowadays a common cause for many diseases. it plays a role in the occurence of pimples too. so try doing meditation or exercises to reduce stress.
Many cosmetics and makeup products contains some chemicals that can cause inflammation of the skin and pimples so, avoid using too much cosmetic products.
Limit sun exposure. many people got sun burns or rashes after being in the sunlight
Avoid touching your face frequently, it will spread infection and increase chances of pimples.
Drink adequate coconut water. once you start adopting healthy lifestyle then you will know how easy it is to remove acnes.
HOW DO YOU GET CLEAR SKIN:
There are various home remedies that are well effective in removing acnes/pimples. Some of them are:
ALOE VERA GEL : Aloe vera is very good for skin conditions. it removes all the toxins from the body and heals it from inside. It shows its extra ordinary effects in removing pimples and is known to be one of the effective home remedies to remove pimple marks.
ADEQUATE HYDRATION : Drinking adequate amount of water can help in the reduction of pimple. the more water we take, the more toxins get out of our body and the more toxins removal means less clogged pores. drink atleast 3-4 litres of water every day.
ORANGE PEEL MASK:
High amounts of vitamin C is present in orange which helps in collagen formation and elastin which helps in keeping the skin moisturized.
Vitamin c also helps in skin exfoliation which dries out pimples. since oranges are easily available at homes so it can be used as a home remedy for pimple marks.
How to use:
1 tsp orange peel + 1 tsp honey
Mix it well and apply it the face or on the affected part.
HONEY AND CINNAMON MARKS: This mask helps to fight with pimple causing bacteria.
How to use:
2 tablespoons of honey + one tsp of cinnamon
Mix it to form a thin paste , then apply it on the face for ten to fifteen minutes
COCONUT OIL:
coconut oil is rich in vitamin E and vitamin K which makes it rich in anti
– oxidants. apply it on your face every night before sleep . it will help in acne marks removal at home.
WHICH IS THE BEST PIMPLES MARKS REMOVING AYURVEDIC  CREAM?
Chandigarh Ayurved Centre has one of the best ayuvedic medicines for pimple marks:
KIWI CREAM:
Anti- inflammatory properties of kiwi are well known and because of its properties , it can be the best solution to treat acne.
These properties not only help in acne and pimple marks removal at home but also work to reduce the effects of many other problems associated with it
Apart from kiwi it has wheat germ oil too, that is knowon for its ability to penetrate deep into skin.
CAC ORANGE FACE CREAMmakes your skin look beautiful, softer, and healthier for long duration.
Oranges are rich in calcium, fibre and vitamin C which aid in skin exfoliation and help to dry out acne, improving the overall look of your skin.
How to apply: Use a gentle face cleanser to wash your face properly. Apply small spots of Orange face cream all over your damp face and then smoothen it out all over your face and neck too.
CAC MANGO FACE CREAM is pure herbal formulation without any side effects.
Mangoes are loaded with beta-carotene and Vitamin A.
Mango face cream Helps to get rid of acne and acne scars. Beta-carotene in mangoes has a strong anti-aging effect.Vitamin C present in mangoes helps to reduce dark spots, freckles, acne scars and pigmentation.
This cream makes your skin free of blemishes, wrinkles, and scars. Alsohelps to exfoliate dead
HOW TO USE:
wash the face and apply the cream on the face where the skin is affected. massage it for 5 min.
AYURVEDIC MANAGEMENT
CAC's MEDICATION FOR REDUCING PIMPLES
CHANDIGARH AYURVED CENTRE has its own PIMPLE GO KIT for natural and ayurvedic removal of pimples and acnes. It has following medications:
ALOE VERA GEL 
Aloe Vera Gel is formed with the pure extract of herb Aloe Vera and the mixture of rose petals. Thus this wonderful composition provides a cooling effect on the skin that relieves from burning sensation, itchiness, etc.
The gel helps in maintaining healthy skin and repairing skin damage.
Recommended Dosage – Gently apply over the affected area of the skin.
PANCHATIKTA GHRITA GUGGULU 
INGREDIENTS : Shuddh guggulu (Commiphora mukul), Neem (Azadirachta indica), Amrita (Tinospora cordifolia), Gajapippali (Piper chaba), Shunthi (Zingiber officinalis), etc.
BENEFITS:
The tablets are very beneficial in curing skin diseases as it contains the Pitta pacifying drugs
The tablet is Tridoshahara, thus is very effective in maintaining the hormonal level in the body.
Recommended Dosage – Take 2 tablets twice daily with normal water.
BLOOD PURIFIER
INGREDIENTS: The syrup is made up of Neem (Azadirachta indica), Patola (Trichosanthes dioica), Guduchi (Tinospora cordifolia), Vasa (Adhatoda vasica), Patha (Cissampelos pariera), Vidanga (Embelia ribes), etc.
BENEFITS:
It is herbal syrup that deeply works to eliminate the toxins from the blood and maintains the proper circulation.
It corrects the digestive system, relieves constipation, prevents and cures boils, pimples, and skin eruptions.
Recommended Dosage – Take 2 teaspoonfuls twice daily.
TWAK DETOX POWDER
BENEFITS:
As skin problems occur due to accumulations of toxins in the body and as per Ayurveda occur due to aggravation of pitta dosha. Thus, twak detox powder is very beneficial in eliminating the toxins and improves the proper circulation of blood and other hormones.
Further, it provides glowing, healthy skin and prevents the formation of pimples, boils, acne, etc.
Recommended Dosage – Take 1 sachet twice daily with normal water.
SKIN CARE TABLET
INGREDIENTS: It contains various herbs like Haridra khand, Panchnimb churna, Khadir chahal, Chirayta, Mulethi, Chopchini, Gandhak, Ajmoda that work very effectively on all skin types.
v BENEFITS:
Skin care tablet is a pure ayurvedic formulation. It helps to maintain the texture of your skin depending on the type of skin you have.
Skin care is a blood purifying tablet. It cools and detoxifies the blood, increase blood circulation of the skin. It minimizes the blemishes, lighten sun tan, delay ageing of skin and heal skin problems.
These tablets also act as a skin moisturizer, Improves blood circulatio, reduce itching and burning sensation of skin, Prevent acne and pimples.
Recommended Dosage: Take 1 tablet twice daily with normal water.
TWAK CHURNA–
INGREDIENTS: Twak churna is a composition of two main ingredients – Yashtimadhu (Glycyrrhiza glabra) and Manjistha (Rubia cordifolia) that are considered as the best herbs for skin.
BENEFITS:
The churna has anti-inflammatory, antibacterial, and antiandrogenic abilities that treat acne and also prevent it from re-occurrence.
The herb Manjistha acts against bacteria such as Propionibacterium acne and Staphylococcus epidermidis which play a role in the development of pimples.
Recommended Dosage: Take 1 teaspoonful twice daily with normal water