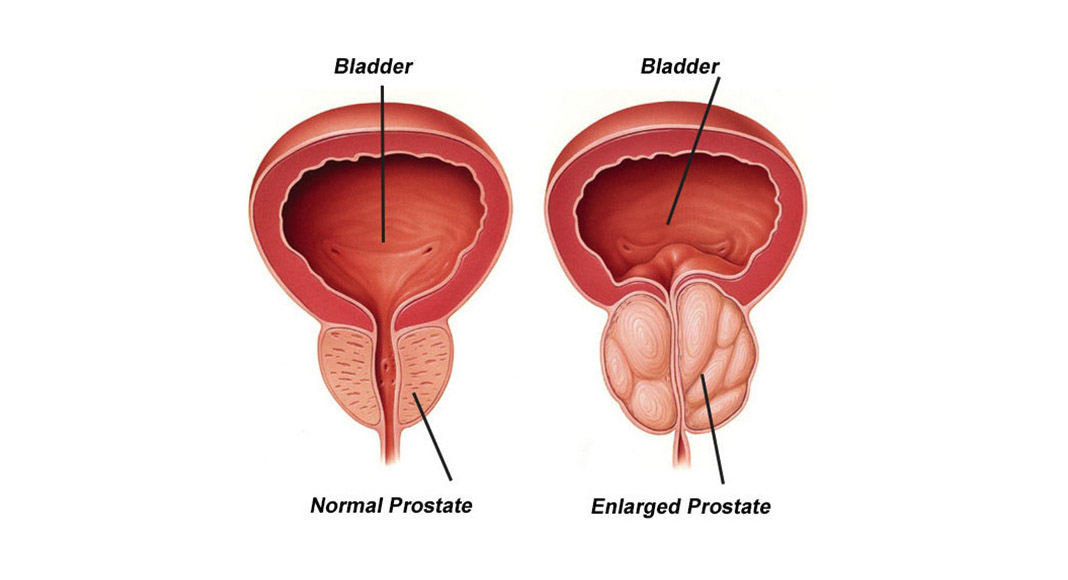 HOW TO TREAT BENIGN PROSTATIC HYPERPLASIA NATURALLY
24 Aug, 2021
Posted by admin
Benign prostatic hyperplasia also called prostate gland enlargement. It is a noncancerous enlargement of the prostate gland and most common benign tumor found in men. It occurs when the cells of the prostate gland begin to multiply. An enlarged prostate can cause uncomfortable urinary symptoms such as blocking the urine flow out of the bladder and also cause bladder, urinary tract or kidney problems.
SIGN AND SYMPTOMS
Typical obstructive symptoms are:
Difficulty starting to urinate despite pushing and straining
A weak stream of urine, several interruptions in the stream
Dribbling at the end of urination
Bladder changes cause:
A sudden strong desire to urinate
Frequent urination
People feel that the bladder is not empty after urination is completed
Frequent awakening at night to urinate
DIAGNOSIS
Checking for BPH doctor will usually begin by doing a physical exam and medical history. The physical exam includes a rectal examination that allows to estimate the size and shape of prostate. Other tests can include:
Urinalysis – urine is checked for blood and bacteria.
Urodynamic test – bladder is filled with liquid via catheter to measure your bladder pressure during urination.
Prostate-specific antigen test – This blood test checks prostate cancer.
Post-void residual – This tests estimate the amount of urine left in bladder after urination.
Cystoscopy – This is the examination of urethra and bladder with a tiny lighted scope that is inserted into urethra
NATURAL WAY TO TREAT BPH
1. Saw palmetto – it is an herbal remedy that comes from the fruit of palm tree. It is been used for centuries to relieve urinary symptoms including an enlarged prostate. According to the National Institutes of Health saw palmetto might be effective for relieving BPH symptoms. Some studies also found the anti-inflammatory and hormone-blocking properties of saw palmetto.
2. Beta-sitosterol – This herbal medication contain cholesterol-like substances called sitosterols or phytosterols this is plant-based fats. Studies found that beta-sitosterol can relieve urinary symptoms of BPH including the strength of urine flow.
3. Pygeum – it comes from the bark of the African plum tree and used as traditional medicine to treat urinary problems and BPH symptoms. Pygeum contain a wide range of fatty acids, alcohols, and sterols that have an antioxidant and anti-inflammatory effect on the urogenital tract.
4. Rye grass pollen extract – It is made from three types of grass rye, timothy, and corn. Studies show that men who were taking rye grass pollen extract show improvement in their nighttime symptoms of getting up to urinate as compared to those who were taking a placebo.
5. Pumpkin seed – Pumpkin seeds contain beta-sitosterol a compound similar to cholesterol and found in some plants. Studies shown that beta-sitosterol may improve urine flow and reduce the amount of urine left in the bladder after urination.
6. Foods to treat BPH – The diet play role in the prevention of BPH and in treating its symptoms. Study found that men with diet rich in fruits and vegetables especially leafy, dark vegetables and tomatoes had less chances of BPH, reduced BPH, less symptoms of BPH, and less likely to worsening their BPH.
7. Lycopene – lycopene naturally found pigment in many fruits and vegetables. Studies show it may help slow the progression of BPH. Tomatoes are the richest source of lycopene. Usually the deeper pink or red fruit or vegetable is in color contain the higher lycopene content. Other sources of lycopene include:
Papaya
Pink grapefruit
Watermelon
Guava
Carrots
Red bell peppers
Apricots
Red cabbage
8. Zinc – Chronic zinc deficiencies have been shown potentially increase the development of BPH. Taking zinc supplements or increase dietary intake of zinc may reduce urinary symptoms associated with an enlarged prostate. Zinc is found in poultry, seafood, and several types of seeds and nuts such as sesame and pumpkin.
9. Green tea – it has a lot of antioxidants called catechins that have been shown to enhance the immune system and potentially slow down the progression of prostate cancer
10. Sitz bath – A sitz bath is an old fashioned method that really works to soothing an enlarged prostate. The hot bath relaxes the pelvic muscles and promotes healing. The cold bath eases pain and reduces swelling. For this procedure people just fill the bathtub with the warm water and add half cup of Epsom salt to it and in another bathtub filled with cold water and add several drops of lavender essential oil to the bathtub. Now people can sit in the bathtub containing hot water for about 3 minutes. Then, move to cold water for 1 minute.
11. Stinging Nettle – Stinging nettle leaves cause intense pain but its extract beneficial for the prostate. The root contains essential bioactive phytochemicals that help to shrink prostate tissue. It is a natural diuretic encourages the elimination of inflammatory wastes through urination.
12. Apple cider vinegar – Apple cider vinegar beneficial for prostate. The unfiltered, raw apple cider vinegar have astringent properties, helping to shrink the swollen prostate glands. It also help in weight loss and helps prevent complications of enlarged prostate such as UTIs.