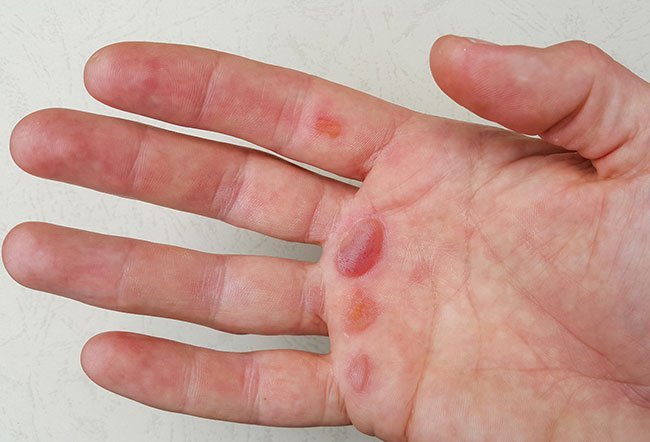 HOW TO TREAT BLISTERS ON BURNT SKIN AFTER INITIAL PERIOD?
21 Jan, 2022
Posted by admin
OVERVIEW:
BURN – burn are a result of the effects of the thermal injury on the skin and other tissues and burn is a type of injury that is caused by excessive heat, flame and chemical
it happens when het energy is transfer to ski and damage the layers, muscles and tissues of the skin
Human skin can tolerate temperatures upto 42- 44 degree C
IN AYURVEDA – burn compare with AGNIDGDHA
TYPES OF BURN:
First-degree burns –
first degree burns  are mild  (due to sunburn) and affects the top layer of skin (epidermis) turns red, swelled and painful
first degree burns are minor and not form blisters
this  burn easily cure at home and heal within a week
DEPTH – epidermis
THICKNESS – superficial
APPEARANCE – bright red
SYMPTOMS – redness, pain, mild swelling
Second-degree burns- 
in second stage burn are little deeper and reach in the second layer of skin and  affects the skin's top and lower layers (dermis). symptoms like pain, redness, swelling and blister formation
DEPTH – dermis : pepillary region
THICKNESS – superficial partial
APPEARANCE – cream colored
SYMPTOMS – pain, blisters, severe swelling
Third-degree burns –
In third stage affects all three skin layers: epidermis, dermis and fat.
and also destroys hair follicles, sweat glands and tissues because third-degree burns damage nerve endings
DEPTH – dermis : reticular region
THICKNESS – deep partial
APPEARANCE – grey and white
SYMPTOMS – relatively painless, white and leathery
FULL
these burns reaches to body fat, muscle, tendons, bone and joints also results in the loss of body parts
DEPTH – hypodermis (subcutaneous tissue)
APPEARANCE – white black and brown
Classification of Burn in Ayurveda (AGNIDGDHA classified in 4 stages) :
plushta is a simple burns only color of the skin is affected or changed
The burns in which small or large vesicles appear with redness, extreme burning in this burn pus formation occur
The burns are not deep
The burn which causes much injury leading to vein, nerve and bone
BLISTER:
Blisters are small pocket of fluid-filled bubble, that can form on the upper or outer layers of the skin.
TREATMENT OF BLISTERS :
Apply an antibiotic or an aloe -vera gel to affected areas to prevent infection
Sterile gauze applied for 24 hours will help in the healing
To change the bandage, soak it in warm water before removing to prevent the open blister from sticking to the gauze
HOME CARE TO TREAT BURN:
burn place under running cool water
It reduces the pain and also prevents from  burn before worsening and damaging deeper layers of skin.
Clean the burn
clean the burn with any anti bacterial soap and do not scrub the affected area
Bandages
bandage may provide a barrier against infection but wrap the bandage loosely.
Antibiotic creams
if burn has open blisters use antibiotic creams and ointments.
Antibiotic creams help prevent infection and help the burn heal faster.
medication
Ibuprofen ( pain reliever) It is a non steroidal inflammatory drug (NSAID) that can decrease inflammation
SIMPLE PREPARATIONS IN AYURVEDA TO CURE BLISTER: 
Fresh juice of  Svarasa obtained from Ghṛtakumārī (aloe vera)
Atasī Taila (linseed oil) and honey mixture
A lotion prepared by mixing a part of Cūrṇodaka (lime water) with Atasi taila
Mixture of Tila Taila (gingelly oil) and Nārikelā Taila (coconut oil).
Lepa prepared with finely powdered Vanśalocana (bamboo manna) or Śuddha Gairika (purified ochre) or stem of Guḍūcī, or bark of Plakṣa or wood of Rakta Candana (red sandal) in four parts of Ghṛita
Taila prepared with bark of Paṭali and tila Taila (gingelly oil) by Taila Paka method.
The Bhasma prepared from burning Yava (barley) and mixed with Tila Taila (gingelly oil).
Pathya
Vilepi prepared from Laghu articles, liquid diet and Ghṛita, of Agnidagdha.
Apathya
Guru, madhur Ras dravy,curd, acidic food, and chillies
HOW TO DRAIN BLISTER:
Wash hands with soap and warm water.
Use a sterilized needle to puncture the blister
Apply an ointment on the  blister and cover it with a gauze bandage.
If the fluid is white or yellow, thick or smelly, the blister is infected and cure with medically
Do not remove the skin over a broken blister because the new skin needs the protective cover
Then apply an antibiotic ointment
HOW TO COVER A BLISTER :
Cover the blister – Cover your blister with loose wrapped bandage also can use a regular adhesive bandage
cushion the blister – Cover blister with a cushioned adhesive bandage . It prevents from bacteria and reduce pain on the process of blister heals.
Pad the blister –  Be sure to cover the padding with a regular bandage to keep out bacteria.
AVOID THESE THINGS:
Do not pop up the blisters otherwise it could increase the risk of infection and cause slow process of healing because blister is natural barrier hat body forms to protect against the infection
Do not place ice directly on burn area because it reduce the blood circulation
Do not use any food on burn area like butter etc because it produces more heat on burn area
Do not use cotton wool on burn area  because they may cause infection on burn area
SOME PRECAUTIONS :
Avoid sun rays
Aloe vera – Aloe vera has anti -inflammatory and anti- bacterial proprties and aloe vera is a common ingredient in many creams, sunscreens, and moisturizers.
Honey- honey has antibacterial anti- inflammatory properties protected from infection honey also helps to soothing the burnt skin
Plastic wrap