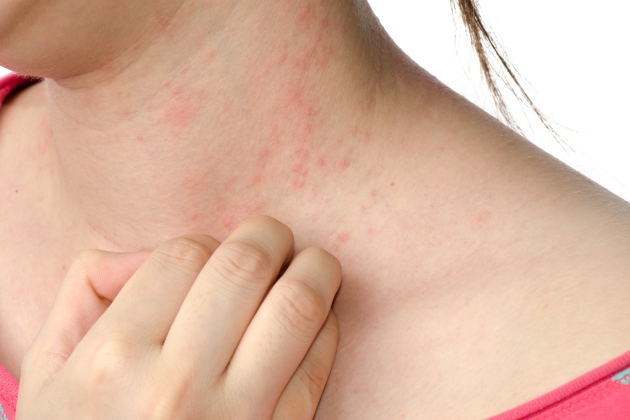 HOW TO TREAT ECZEMA NATURALLY?
27 Apr, 2023
Posted by admin
WHAT IS ECZEMA?
Eczema is a skin disorder characterised by itchy, dry areas of skin. Atopic dermatitis, which causes red skin rashes, is another name for this condition. It doesn't, however, pass from one individual to another.  Although it typically begins in childhood and persists throughout maturity, it can affect persons of any age. Eczema symptoms appear in flare-ups that begin with contact with an allergen or irritant. Eczema is a chronic condition that takes time to heal. Eczema is frequently experienced by those who are more prone to allergies, asthma, etc.
Medicated skin lotions and ointments are used to treat eczema. It can be controlled with a balanced diet and a healthy lifestyle.
WHAT ARE THE DIFFERENT TYPES OF ECZEMA?
Eczema is of the following different types:
Atopic dermatitis
Dyshidrotic eczema
Contact dermatitis
Neurodermatitis
Nummular eczema
Seborrheic dermatitis
WHAT ARE THE CAUSES OF ECZEMA?
The following factors contribute to eczema:
A weakened immune system
A family history of the condition
Some environmental pollutants
Depression
Excessive stress
Anxiety
WHAT ARE THE TRIGGERS OF ECZEMA?
The emergence of eczema symptoms is triggered by some causes. The following are eczema triggers:
Allergens such as pollen grains, dust, moulds, etc
Animal dander
Excessive sweating
Wool
Synthetic clothes
Chemicals in detergents or cleansers
Fabric
Dry weather
Emotional stress
Perfumes
Skin care products
WHAT ARE THE SIGNS AND SYMPTOMS OF ECZEMA?
Eczema is typically characterised by the following signs and symptoms:
Dry, cracked skin
Severe itching
Red skin rashes
Pain and swelling in the skin
Scaly skin
Existence of red, swollen pimples on the skin
Crust formation
Oozing sores
Increased skin sensitivity
WHAT IS THE AYURVEDIC APPROACH TO ECZEMA?
In Ayurveda, eczema is known as Vicharchika. It is caused by aggravation of all the three doshas – vata, pitta and kapha of body. Imbalance of pitta dosha causes rakta dhatu dushti leading to manifestation of symptoms. It is caused by bad eating habits and unhealthy lifestyle. However, there are various ayurvedic herbs which are helpful in treating eczema.
Following are the natural herbs for treating eczema:
Manjishtha
Chirayta
Ghritkumari
Neem
Bahera
Hartiki
CHANDIGARH AYURVED CENTRE'S MEDICATIONS FOR THE TREATMENT OF ECZEMA
Here are some of the medications of Chandigarh Ayurved centre which are used for the treatment of eczema:
1. Detox Premium Powder
The eczema sachet consists of various herbo-mineral preparations in it.
Parwal Pishti:This Pishti is prepared from natural coral calcium processed with rose water. It reduces the inflammation in the eczema patients.
Shukta Pishti:It contains pearl oyster shell calcium processed in different ways. This Pishti balances the pitta dosha in the body.
Giloy Satv:This satv is prepared from the herb Giloy (Tinospora cordifolia). The antioxidant nature of this herb removes all toxins out from the body.
Gandhak Rasayana:The main ingredient in this is purified sulphur that acts as a blood purifier. This rasayana deal with all signs and symptoms related to eczema.
Sudhyog Tab:These are herbal tablets that provide very effective result in eczema patients.
Moti Pishti:This is an ayurvedic preparation that shows anti-inflammatory properties. As it reduces inflammation in eczema patients.
Recommended Dosage: Take 1 sachet twice daily with plain water.
2. Blood Purifier Syrup
The herbal syrup is prepared from herbs like Khadir Chall (Acacia catechu), Manjistha (Rubia cordifolia), Neem (Azadirachta indica), Giloy (Tinospora cordifolia), Harad (Terminalia bellirica), Baheda (Terminalia chebula), & Amla (Emblica officinalis) that acts as a natural blood purifier. This herbal syrup reduces redness, itchiness, swelling on the skin.
Recommended Dosage: Take 2 teaspoonful twice daily.
3. Panchtikat Ghrit Guggul
This herbal preparation contain ingredients like Neem (Azadirachta indica), Patola (Trichosanthes dioica), Guduchi (Tinospora cordifolia), Vasa (Adhatoda vasica), Patha (Cissampelos pariera), Vidanga (Embelia ribes), etc that relieves all skin diseases. It balances Pitta & Kapha dosha in the body.
Recommended Dosage: Take 1 tablet twice daily with plain water.
4. Twak churna
Twak Churna balances all the three doshas of your body.  It help reduce symptoms of various skin diseases like ECZEMA, PSORIASIS, cure FRECKLES, and other skin allergies. It help reduce Pigmentation of skin, MELASMA over face and Acne along with Urticaria, Cellulites and all kinds of Dermatitis. It contain ingredients like Yashtimadhu and Manjishtha that possess antioxidant, anti-fungal, anti-bacterial and anti-inflammatory properties.
Recommended Dosage: Take 1 teaspoon twice daily with normal water.
5. Skin Care tablet
Skin care tablet is herbo mineral and purely ayurvedic formulation. It help to maintain the texture of your skin depending on the type of skin you have. It contains various herbs like Haridra khand, Panchnimb churna, Khadir chahal, Chirayta, Mulethi, Chopchini, Gandhak, Ajmoda that work very effectively on all skin types. Skin care is a blood purifying tablet. It cools and detoxifies the blood, removes stagnant blood and dissolves obstructions in the blood flow that further increase blood circulation of the skin.
Recommended Dosage:Take 1 tablet twice daily.
6. Twak Tailam
TWAK TAILAM is the herbal oil and is purely Ayurvedic preparation. CAC Twak Tailam provides relief from various skin problems such as pimples, blemishes, scars, ulcers, wounds, skin rashes, dry patches, itching, skin irritation, reduces redness, etc. It is composed of natural herbs that pacifies all three doshas and provides healthy skin. This oil is made up of pure herbs such as yashtimadhu (Glycyrrhiza glabra), manjistha (Rubia cordifolia). Twak tailam supports skin health, helps in reducing uneven pigments, delays the process of ageing, improves complexion, and helps in deep detoxification, blood purification without any side effects.
Recommended Dosage:Apply to affected area twice daily.