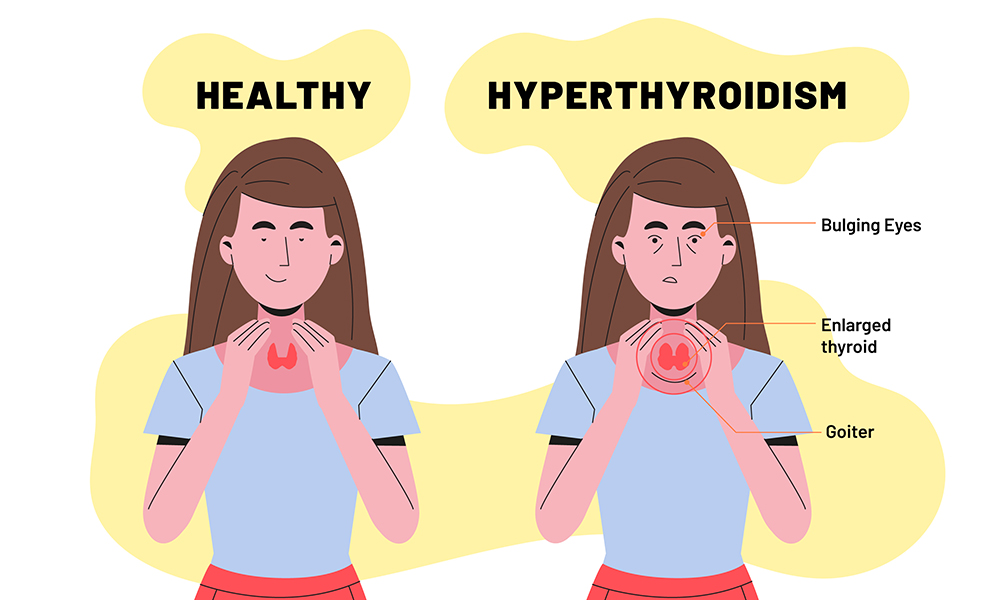 HYPERTHYROIDISM AND ITS HERBAL TREATMENT
10 Jul, 2023
Posted by admin
INTRODUCTION
Hyperthyroidism is a disease which is characterized by the hyperactivity of the thyroid gland. It is thus also known as overactive thyroid. There occurs excessive production of hormones produced by thyroid gland. There are two main thyroid hormones – triiodothyronine (T3) and thyroxine (T4). These hormones help in maintaining metabolism of body and thus help in digestion of food. Rapid weight loss, increased heart rate, anxiety and increased appetite are the common symptoms of hyperthyroidism.
With good eating habits and healthy lifestyle, hyperthyroidism can be managed. However, there are several medications like antithyroid drugs, beta blockers and iodine which are used for its treatment. Surgery is the last option.
WHAT ARE THE CAUSES OF HYPERTHYROIDISM?
Thyroid gland is a gland which is present in the neck. It is of butterfly shape and produces several types of hormones. Thyroxine (T4) and triiodothyronine (T3) are the main hormones which are produced by it. These two hormones play a very important role in the metabolism of each and every cell in the body. These hormones maintain the rate of fats and carbohydrates utilization by the body. They control body temperature also.
Increase in functioning of thyroid gland occurs because of several medical conditions. Following are the medical conditions which lead to hyperthyroidism:
Inflammation of thyroid gland known as thyroiditis
Graves' disease – an autoimmune disorder in which the cells of immune system start attacking the cells of thyroid gland
Tumor of thyroid gland
Formation of nodules in thyroid gland leading to increased secretion of thyroid hormones
WHAT ARE THE RISK FACTORS OF HYPERTHYROIDISM?
There are factors which increase the risk of a person developing hyperthyroidism. Following are some of the risk factors of hyperthyroidism:
Having a family history of hyperthyroidism
Pregnancy
Pernicious anemia
Adrenal insufficiency
Excessive consumption of iodine
WHAT ARE THE SIGNS AND SYMPTOMS OF HYPERTHYROIDISM?
The common signs and symptoms of hyperthyroidism are:
Increased heart rate
Swelling in neck
Getting nervous
Rapid weight loss
Irregularity in menstrual cycle
Tremors
Increased appetite
Frequent bowel movements
Excessive sweating
Lack of sleep
Blurred vision
Heat intolerance
Loss of hair
Thinning of hair
Bulging of eyes
Fatigue
Muscle ache
WHAT ARE THE POTENTIAL COMPLICATIONS OF HYPERTHYROIDISM?
Hyperthyroidism, when not treated properly, can lead to serious health implications. Following are the complications of hyperthyroidism:
Congestive heart failure
Atrial fibrillation
Stroke
Weak and brittle bones
Osteoporosis
Bulging eyes
Gritty sensation in eyes
Double vision
Discoloration of skin
Thyrotoxic crisis
Delirium
Mental confusion
HOW HYPERTHYROIDISM CAN BE PREVENTED?
Hyperthyroidism can be prevented by taking some of the steps. Following are the preventive measures of hyperthyroidism:
Eating fruits and vegetables
Doing regular physical exercise
Maintaining good body weight
Taking proper sleep
Say no to alcohol
Quit smoking
No drug abuse
HOW THE DIAGNOSIS OF HYPERTHYROIDISM CAN BE DONE?
The doctor will ask about the signs and symptoms of the disease to the patient. He will do a physical examination of the neck of patient. He will ask about his or her past medical history. He will recommend some of the following tests to the patient to evaluate the disease:
Blood tests
Ultrasound of thyroid gland
Radioactive scan
CHANDIGARH AYURVED CENTRE'S MEDICATIONS FOR THE TREATMENT OF HYPERTHYROIDISM
Here are some of the medications of Chandigarh Ayurved centre which are used for the treatment of hyperthyroidism:
1. Thyroheal Tablets
As the name suggests these tablets are herbal and proper solutions for your hyperthyroidism condition. These herbal tablets are prepared from the herbs like Brahmi (Bacopa monnieri), Kachnar (Bauhinia variegate), Gandir (Coleus forskohlii), & Shud Guggul (Commiphora mukul). All the herbs in combination maintain the functioning of the thyroid gland.
Recommended Dosage:Take 1 tablet twice daily with normal water.
2. Kanchnaar Guggulu
Kanchnaar guggulu is considered as the best medicine for skin problems such as wounds, pimples, boils, etc. The tablet is composed of Kanchnaar (Bauhinia variegata), Pippali (Piper longum), Shunthi (Zingiber officinale), Guggulu (Commiphora mukul), Twak (Cinnamomum zeylanicum), etc. These tablets pacifies all the three doshas and helps in reducing the symptoms of pimples. This medicine checks and treats any kind of abnormal growth in the body, healing of ulcers, thyroid disorders, hernia, lesions and cancer. All kind of unwanted growth and fluid retentions in the body is treated by Kanchnar Guggul and it reduces all kinds of lumps in the body.
Recommended Dosage:Take 1 tablet twice daily with normal water.
3. Detox Premium Powder
The powder consist a mixture of various natural herbs that help in overall detoxification of the body and normalize the function of all the system. Detox powder is made up of shankh bhasma, akik pishti, kamdudha rasa, giloy satv, gandhak rasayan, etc. that enhances the immunity and eliminates the toxins from the body.
Recommended Dosage –Take 1 sachet twice daily with normal water.
4. Trikatu Syrup
The main herbs used for the formation of this syrup are Marich (Piper nigrum), Pippali (Piper longum), & Shunthi (Zingiber officinale). This herbal syrup deals with the signs & symptoms related to hyperthyroid patients. It is very effective syrup for different diseases.
Recommended Dosage:Take 2 teaspoonfuls twice daily.