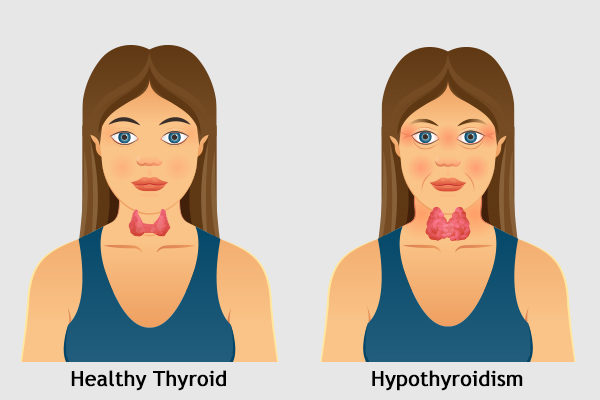 HYPOTHYROIDISM
09 May, 2023
Posted by admin
OVERVIEW
Hypothyroidism is a medical condition which is characterised by the low activity of thyroid gland. It is also known as underactive thyroid. The thyroid gland is a butterfly-shaped gland present at the base in the front of the neck. It produces two main hormones – thyroxine (T4) and triiodothyronine (T3). These hormones are responsible for maintaining metabolism of body. But in hypothyroidism, the thyroid hormones are produced in less quantity and this leads to disruption of the body metabolism. Increase in body weight, feeling tired, lethargy, etc are some of the common symptoms of hypothyroidism. The symptoms are not visible in the early stages but with time, the symptoms manifest leading to various other complications.
When the thyroid hormones are at a very low level, then the condition is known as myxedema. There are certain medicines which are effective in the management of hypothyroisidm. However, good eating habits and healthy lifestyle are very beneficial in the management of hypothyroidism.
WHAT ARE THE CAUSES OF HYPOTHYROIDISM?
Following are the causes which are responsible for hypothyroidism:
Inflammation of the thyroid gland known as thyroiditis
Hashimoto's disease – an autoimmune disease in which the cells of immune system start damaging the cells of thyroid gland
Radiation therapy
Surgery of the thyroid gland
Certain medicines like antipsychotic drugs, antihypertensives, etc
Any inherited disorder of thyroid gland
Disorder of the pituitary gland
Pregnancy
Very little intake of iodine
WHAT ARE THE RISK FACTORS OF HYPOTHYROIDISM?
There are some factors which make a person more prone to hypothyroidism. Following are the risk factors of hypothyroidism:
Women are at more risk as compared to men
Having a family history of hypothyroidism
Suffering from diabetes
Celiac disease
Injury of the neck
Radiation therapy
WHAT ARE THE SIGNS AND SYMPTOMS OF HYPOTHYROIDISM?
The common signs and symptoms of hypothyroidism are:
Rapid weight gain
Fatigue
Numbness and tingling sensation in hands
Muscle weakness
Bodyaches
Unable to tolerate cold temperatures
Dryness in skin
Coarse hair
Decrease in sexual desire
Irregular menstrual cycle
Feeling low
Puffy face
Stiffness in body
Decreased heart rate known as bradycardia
Thinning of hair
Mental confusion
WHAT ARE THE COMPLICATIONS WHICH ARE ASSOCIATED WITH HYPOTHYROIDISM?
Hypothyroidism is associated with the following complications:
Goiter
Peripheral neuropathy
Heart diseases
Difficulty in conception
Coma
Increased risks of birth defects
HOW THE DIAGNOSIS OF HYPOTHYROIDISM IS MADE?
The doctor will ask about the signs and symptoms of the disease to the patient. He will do a physical examination of the neck of patient. He will ask about his or her past medical history. He will recommend some of the following tests to the patient to evaluate the disease:
Blood tests
Ultrasound of thyroid gland
Radioactive scan
CHANDIGARH AYURVED CENTRE'S MEDICATIONS FOR THE TREATMENT OF HYPOTHYROIDISM
Here are some of the medications of Chandigarh Ayurved centre which are used for the treatment of hypothyroidism:
Panchasakar Churan
Panchsakar churna is a herbo mineral and purely ayurvedic formulation. It mainly works on your Vata and pitta dosha of your body. It can cure Chronic Constipation and help relieve symptoms of Acidity, indigestion, Belching and colic pain. It acts as a mild Laxative and reduces Bloating. It works very efficiently on a disease named IBS (Irritable bowel syndrome) which is very common nowadays that affects your day to day activities.
Recommended Dosage:Take 1 teaspoonful at bedtime with lukewarm water.
Thyroheal Tablet
Thyroheal Tablet is a herbo-mineral tablet of size 800 MG and a purely ayurvedic formulation. CAC Thyroheal tablets help in balancing the Kapha dosha. These tablets help mainly in balancing Thyroid Hormones and also helps in weight management, lowers Cholesterol levels, Improves brain functions, lowers blood pressure. The tablets are prepared from the extract of various herbs such as Brahmi (Bacopa monnieri), Kanchnar (Bauhinia variegate), Shudh Guggul (Commiphora mukul), & Gandhir (Coelus forskohlii). These Ingredients help in maintaining an irregular heartbeat, rapid heartbeat. These herbal tablets maintain the proper function of thyroid glands and treat Hyperthyroidism.
Recommended Dosage: Take one tablet twice daily.
Detox tablets
CAC Detox tablets are 100% natural & safe containing 1gm herbs extract. The herbs used for formulation of these tablets show antioxidant, anti-inflammatory, anti-stress, & immuno-modulator properties. The herbs & minerals used for preparation of this churna shows antioxidant, anti-inflammatory, immuno-modulator properties.
Recommended Dosage: Take one tablet twice daily.
Trikatu Syrup
CAC TRIKATU SYRUP is purely Ayurvedic formulation made up of three herbs. CAC Trikatu Syrup helps to eliminate excess Kapha or mucous from the body, supports respiratory system, manages weight, helps to take out impurities or ama from the body, supports healthy detoxification, reduces swelling. It shows anti-inflammatory, analgesic, expectorant, antioxidant properties.
Recommended Dosage: Take 2 tablespoon daily.