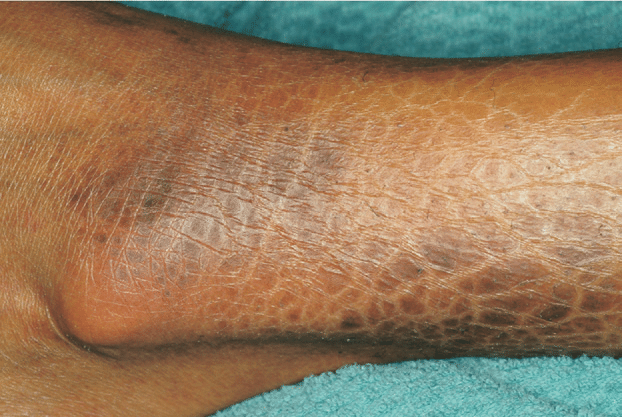 ICHTHYOSIS AYURVEDA MANAGEMENT
16 Oct, 2021
Posted by admin
The ichthyoses are a group of skin disorders in which the skin's ability to shed dead skin cells is impaired. They are a very heterogeneous group characterized by areas of dry, scaly, and thickened skin varying in severity. Redness and itching may also be present.
They can be inherited or acquired, and are further classified as syndromic vs non-syndromic. It can present on anybody location. Over 20 types of ichthyoses exist.
This rare group of skin disorders can affect any individual. Most forms of ichthyosis are Genetical i.e. acquired from the parents and appear at birth or during childhood, but some or less common forms develop in later life.
In rare cases, acquired ichthyosis can occur during childhood or adulthood and can be associated with drug adverse effects, HIV, malignancy, thyroid disease, nutritional disorders, sarcoidosis, autoimmune disease and lymphoproliferative disorders.
Causes of Itchthyosis
Genetically acquired types of ichthyosis results due to genetic mutations that alter the appearance and behavior of the keratinocytes in the stratum corneum i.e. skin cells present in the outer layer of the skin. This causes defects in the barrier function of the stratum corneum and results in inflammation and hyper proliferation which produce lichenified and scaly skin. The cause of acquired ichthyosis is currently unknown. This condition may result due to certain conditions such as kidney disease, hypothyroidism, HIV, certain cancers, and certain drugs.
What are the Symptoms of Itchthyosis?
1.Dry and cracked skin
2.Scaly skin (white, gray, brown)
3.Areas of thickened skin
4.Itchiness
5.Redness
6.Occasional pain
How much time does it persist?
Inherited ichthyosis will persist lifelong; however you can manage its symptoms by following a strict skincare routine. Acquired ichthyosis can improve and resolve with treatment of the underlying condition or discontinuation of the causative drug.
First-line Treatment-
1.Bathing: Long baths to facilitate scale removal are recommended.
2.Additives such as emollient oils and sodium bicarbonate can be used if desired.
3.Emollients and moisturizers: This will provide hydration and smooth the skin. Components include humectants (glycerin), occlusive (petroleum), emollients (cetyl alcohol), keratolytics (urea, salicylic acid, alpha-hydroxy acids) and other components.
4.Exfoliate skin using an exfoliating glove or sponge to remove scale
5.Use a humidifier to keep a moist atmosphere
6.Limit sun exposure, always apply sunscreen and wear sun-protective clothing & a hat.
Second-line therapy:
7.Oral retinoids: Vitamin A derivatives. They include etretinate (brand Tegison), isotretinoin (brands Accutane, Epuris, Clarus and others), and acitretin (brand Soriatane).
8.Vitamin D supplementation for severe forms of ichthyosis.
9.Antibiotics: These are only prescribed for secondary bacterial infections (when the skin has become infected due to multiple cracks and fissures).
10.Eye ointments or creams: Petrolatum ointment can be applied to the eyelid skin several times a day to help prevent tightening of the skin.
How is Ichthyosis diagnosed?
The diagnosis of ichthyosis is based on the review of the following:
1.Skin appearance: scale pattern, colour, quality and presence of a collodion membrane at birth, erythroderma and presence of erosions.
2.The time of onset and evolution over time
3.Family history
4.Histopathologic findings on skin biopsy
5.Associated cutaneous findings: blisters, hair abnormalities and photosensitivity
6.Presence or absence of extracutaneous findings
7.Genetic testing
Ichthyosis can be identified through visual examination of your skin. A biopsy of the affected area may be performed. Genetic testing and prenatal testing can be performed for X-linked ichthyosis (a type of inherited ichthyosis). If acquired ichthyosis is suspected your doctor may perform some blood tests and imaging (X-rays).
What else could this be?
1.Acrodermatitis enteropathica: A rare genetic disorder in which the person is unable to absorb zinc from the intestine.
2.Sarcoidosis: An inflammatory disease that affects multiple organs in any part of the body.
3.Atopic dermatitis: A condition that makes your skin red and itchy.
4.Erythrokeratoderma variabilis et progressiva: A group of inherited keratinization disorders which presents as fixed or migratory erythematous plaques and fixed hyperkeratotic plaques. Palmoplantar keratoderma is often present.
5.Netherton Syndrome: A rare autosomal recessive disorder of cornification. It is characterized by a triad of congenital ichthyosiform erythroderma, trichorrhexis invaginata (a hair shaft abnormality), and an atopic diathesis
AYURVEDIC MANAGEMENT OF ICHTHYOSIS
1.The main goal of treatment is to moisturize and exfoliate the skin. Proper moisturization helps to prevents dryness, scaling, cracking and buildup of the skin.
2.A person suffering from ichthyosis needs to bathe, moisturize and exfoliate their skin daily on regular bases.
3.Chandigarh Ayurveda Centre provide advanced Ayurveda Skin Treatment by the means of various creams, scrubs, Gels and oils which are very helpful to keep the skin moist, and it also prevent the dehydration of skin hence the dryness covers automatically.
4.Apply these herbal and ayurvedic creams and gels to the wet skin immediately after bathe within 3 minutes of showering.
5.The people who have acquired ichthyosis may need internal lubrication which is one form of Panchakarma "Snehan".
6.Oral herbal and ayurvedic medicines are not much role directly but indirectly it strengthens the skin and the tissues of the body by enhancing immune system and rejuvenates the skin.
CAC SPECIAL MEDICATION FOR ITCHTHYOSIS
Description
1.Detox Premium Powder:
This is a herbo-mineral preparation that contains ingredients like Parwal Pishti, Giloy satv, Shukta Pishti, Kamdudha Ras, Gandhak Rasayan, etc.
Parwal Pishti: This Pishti reduces inflammation, flaking, itching of the skin. The Pishti is composed of natural coral calcium processed with rose water.
Shukta Pishti: It helps to balance the Pitta dosha in the body. All signs and symptoms related to Psoriasis patients are managed with this article.
Giloy Satv: This satv is prepared from the herb Giloy (Tinospora cordifolia). The anti-inflammatory, antioxidant, and analgesic properties of this herb deal with psoriasis easily.
Kamdudha Ras: This herbal-mineral classical preparation balances Pitta dosha in the body.
Gandhak Rasayana: This herbal preparation is used since ancient times for all types of skin disorders.
Tal Sindoor: It contains ingredients like Shuddh parad, Aloe vera, Gandhak, etc that relieve redness in psoriasis patients.
Akik Pishti: This Pishti reduces all types of Pitta related disorder hence it gives good results in psoriasis.
Recommended Dosage: Take 1 sachet twice daily with plain water.
2.Skin Care Tablet: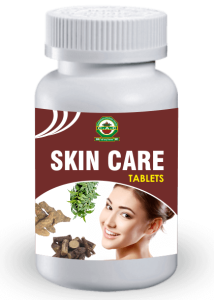 skin care tablet is a pure ayurvedic formulation. It help to maintain the texture of your skin depending on the type of skin you have. It contains various herbs like Haridra khand, Panchnimb churna, Khadir chahal, Chirayta, Mulethi, Chopchini, Gandhak, Ajmoda that work very effectively on all skin types. Skin care is a blood purifying tablet. It cools and detoxifies the blood, increase blood circulation of the skin. It minimizes the blemishes, lighten sun tan, delay ageing of skin and heal skin problems.
Recommended Dosage: Take 1 tablet twice daily.
3.Panchatikta Ghrita Guggulu:
Panchatikta Ghrita Guggulu is an ayurvedic preparation mainly used for skin diseases. This tablet contains pure herbal ingredients such as Nimba(Azadirachta indica), Patola(Cucumis acutangulus), Guduchi(Tinospora cordifolia), Vasa(Adhatoda vasica), etc. This tablet promotes detoxification and rejuvenation. Panchatikta Ghrita Guggulu tablet is a natural source of anti – oxidant. It promotes engender vibrant and healthy skin.
Recommended Dosage–Take 1 tablets twice a day with normal water.
4.Itch Cure Tablet:
It is pure herbal combination which is purely natural. Skin primarily protects our body from toxins present in environment. Itching is related to various skin problems like dermatitis or irritates such as nickel in jewelry, infected cut. Chronic skin conditions like psoriasis, acne and due to internal conditions like blood, lungs, and liver. Mainly toxin in skin arises due to excess rakta dhatu and rasa or plasma nourishes the skin. Itch cure tablet has cooling herbs which provide cooling effects to patients by pacifying pitta doshas. This tablet helps to purify blood as wells as cleanses and rejuvenates the body.
Recommended Dosage–Take 1 tablets twice a day with normal water.
5.Aloe Vera Gulab Gel:
Aloe Vera Gel is formed with the pure extract of herb Aloe Vera and the mixture of rose petals. Thus this wonderful composition provides a cooling effect on the skin that relieves from burning sensation, itchiness, etc. The gel helps in maintaining healthy skin and repairing skin damage.
Recommended Dosage – Gently apply over the affected area of the skin.