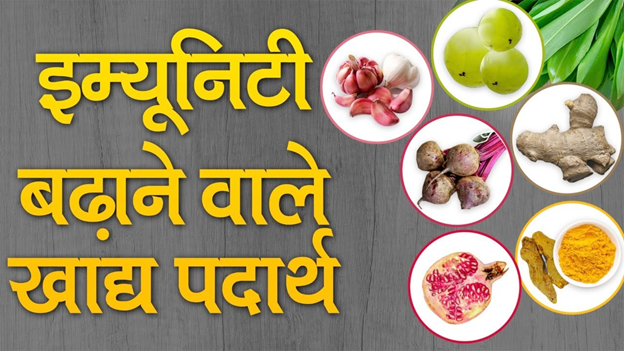 Immunity Badhane Ke Liye Kya Khayen
15 Jan, 2022
Posted by admin
We all want a good immune system. It is very important to have a strong immune system or immune system to fight infection. The coronavirus pandemic has made us realize how crucial it is to have a strong immunity to cops up common infections. Nothing can be better than Natural Ways to Increase Immunity to increase immunity. In this article we will tell you what you can eat to increase your immunity.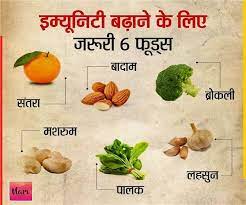 Foods to Increase Immunity
Following is a list of foods that will aid in boosting the immunity.
Herbal Decoction:
Drinking herbal decoction in Ayurveda considered being very effective to boost immunity.
People have started drinking herbal decoction to cope up corona and improve immunity.
In winter season, you can enjoy the herbal decoction once or twice a day.
But drinking excessive decoction can prove to be hurtful for you.
Ginger:
This traditional herb is high in medicinal properties.
Consuming ginger has many health benefits for the body.
It is considered very beneficial.
The body's immune system can be improved by its regular consumption.
Citrus fruits:
Lot of people turns straight to vitamin C after they've a seasonal infection. Because vitamin C is a key nutrient which aids build up the healthy immune system.
Citrus fruits like orange, grapefruit and lemon are rich in vitamin C, a nutrient known to help give your immune system a boost.
It encourages the immune system to generate white blood cells, which are essential to battle seasonal infections.
Fiber, Anti-oxidants, and vitamin C and all kinds of nutrients present in them are excellent for healthy immune system.
Anti-oxidants are found in citrus fruits like oranges, grapes and lemons.
The fiber, vitamin C and all kinds of nutrients present in it are very good for our brain.
Citrus fruits are also has been to found to be very beneficial in case of obesity and heart diseases.
Almond-Walnut:
With increasing age, every person should include almond-walnut in daily diet.
These nuts are rich in healthy fat, protein and fiber and very beneficial to build up strong immunity.
In addition, these nuts also help in managing weight.
Chia Seeds:
Rich in fiber, omega-3 fatty acids, magnesium, chia seeds not only strengthen bones, but also provide plant-based protein to the body.
Consuming chia seeds with morning diet or oatmeal increases its nutritional value which works to boost the immunity.
Capsicum:
Capsicum is not only full of taste but also full of health properties.
Vitamin C is found in good quantity in capsicum that is key nutrient for strong immune system.
Beta carotene is also found in it.
Which not only strengthens your immunity, but also helps in keeping the skin healthy
Egg
Eggs have high protein content and sufficient protein intake is significant to support immune response, and eggs are amazing way to do this since they also contain nutrients such as zinc, vitamin D, selenium and vitamin E that the body required for proper immune functioning.
Along with being rich in protein, it contains beneficial substances that lower cholesterol levels, lessen the risk of heart disease and control obesity.
Curd
Curd is considered the rich source of calcium and protein.
It is beneficial for boosting immunity.
Due to this the body gets nutrition.
It is also beneficial for skin health.
Apple
Eating an apple every morning keeps the human body away from all ailments.
Apple not only keeps hunger under control for a long time, but by adding it in the daily diet, the risk of heart diseases is also lowered.
This sweet fruit can work as effective immunity booster for us.
Healthy Drinks:
Turmeric milk (golden milk) works as an immune booster.
A compound found in turmeric is known to have anti-inflammatory properties that aid boost immunity.
This potent herb shows antiviral, anti-fungal and antibacterial properties.
Inflammation is a significant part of the immune system to cops up with infections and is a short term process.
When the inflammation becomes long lasting it leads to several health issues including cancers.
Turmeric is full of anti-inflammatory properties that could fend off chronic inflammation and therefore such diseases.
Green tea with any natural herb like ginger, cardamom, cinnamon, and clove work as a healthy drink to improve the immune system.
Jackfruit
Various types of nutrients are found in Jackfruit and it is beneficial in increasing immunity.
This fruit should also be used to increase immunity in the corona epidemic.
Eating jackfruit boosts the immunity of human body quickly, due to high Vitamin A and C.
Jackfruit is rich source of calcium and potassium because of this helps strengthen muscle of the body.
Jackfruit is also beneficial in heart disease and lowers high blood pressure.
People of urban areas consume more jackfruit pickle.
CAC Immune-Booster Kit