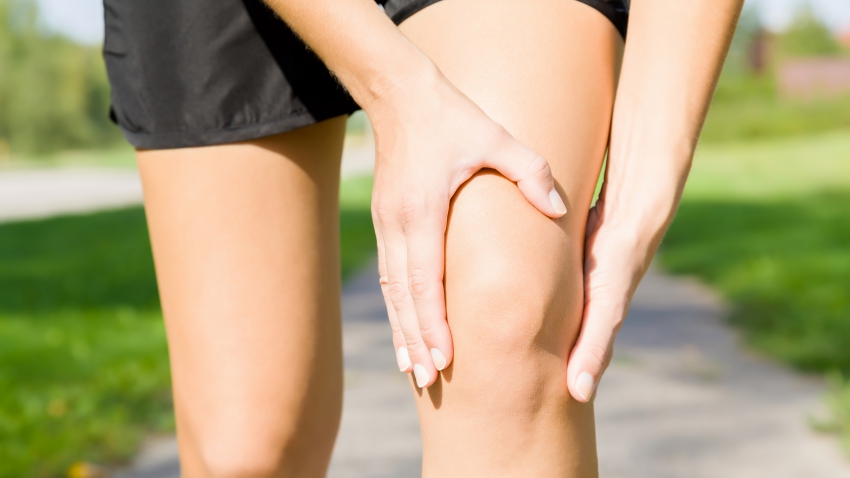 KNEE PAIN AND ITS AYURVEDIC MANAGEMENT
01 May, 2023
Posted by admin
Numerous conditions can cause Knee pain, but overuse, arthritis or injuries are the most frequent causes. Knee pain can affect anybody at any age, but older individuals are more prone to suffer it because of Osteoarthritis, a disorder that cause joint degradation.
Depending upon the cause of pain, individual feel better with rest, ice and anti-inflammatory medicines. A treatment or surgery may be required if injury is more severe. Knee pain is very common health concern in today's world due to our work culture, eating habits and lifestyle.
WHAT ARE THE CAUSES OF KNEE PAIN?
Knee may pain due to a variety of health condition and injuries. Overuse , arthritis and injuries are a few typical reasons of knee discomfort.
Overuse
Repetitive activities may lead to pain and some examples of repetitive movement are :
Patello-fermoral pain : Kneecap discomfort, which is frequently caused by mechanics or by the way knee cap is shaped.
Osgood-Schlatter disease : Swelling from overuse in shinbone below the kneecap in children.
Tendonitis which involves the quadriceps or petella tendon.
Injury
Knee joint might sustain injury from sudden stress. Knee injuries that are common includes :
Bursitis : Swelling of fluid filled sacs which cushion the knee joint is called Bursitis.
Kneecap Dislocation : Change in the position of your kneecap.
Anterior Cruciate Ligament injury : Damage to knee's primary stabilizing ligaments.
Meniscus Tear : Tear in the cartilage of the knee.
Arthritis
A condition which might impact many different joints in body is known as Arthritis. Individual with arthritis in knee have joint swelling and pain. Arthritis in knee develops over a period of time as individual age. There are various types of arthritis which may affect the knees like :
Osteoarthritis : This is often referred to as Degenerative arthritis and is most prevalent type of arthritis. It is a problem brought on by deterioration of knee cartilage with use and ageing.
Rheumatoid Arthritis : The most crippling type of arthritis, is an auto-immune disorder that might damage virtually every joint in body, including knees. Even though Rheumatoid arthritis is a chronic condition, its severity can fluctuate and it sometimes even flares up and goes away.
Gout : When uric acid crystals accumulate in joint, it leads to this kind of arthritis. Gout can affect knee in addition to big toe, which is where it most frequently occurs.
What are the symptoms of knee pain?
Depending on underlying source of the condition, the location and intensity of the knee pain may differ. Indicators and symptoms that can go together with knee discomfort includes :
Redness and warmth to touch
Weakness or instability
Swelling and stiffness
Crunching or popping sounds
Inability to fully straighten the knee
PREVENTIVE MEASURES :
Maintain healthy weight
Wear proper and sturdy shoes
Lead an active lifestyle
Maintain a healthy diet
WHAT AYURVED SAYS ABOUT KNEE PAIN?
All of our body and mind's movements are controlled by the vata dosha. Additionally, it is incharge of regulating respiration, bodily waste elimination, and blood flow. Knee discomfort results from the ama buildup in knee joint, which vitiated the vata dosha there.
HERBS :
Ashwagandha
Guduchi
Nirgundi
Shallaki
Shunthi
Guggul
Haridra
Panchakarma :
Patra potali pind sweda
Janu vasti
Janu lepam
Shastik shali pind sweda
CHANDIGARH AYURVED CENTRE MEDICATION FOR TREATMENT OF KNEE PAIN: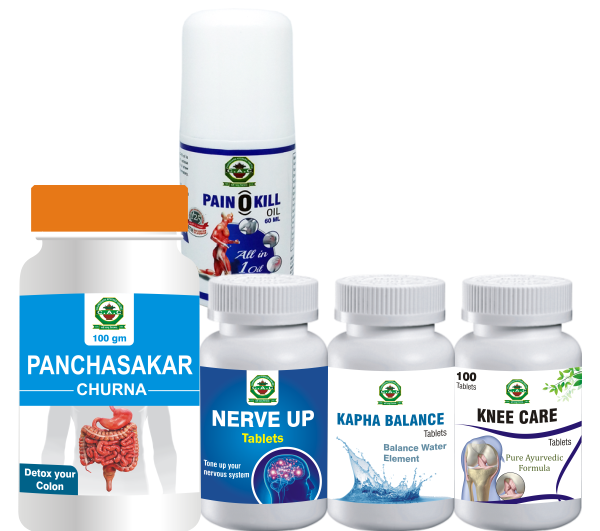 1. Nerve up tablet
Nerve up tablet is a herbo-mineral tablet and is purely ayurvedic formulation.  CAC Nerve up tablets help in balancing the vata doshas. It reduces kapha dosha, and acts as nervine stimulant. It shows effective results in improving the central nervous system. It contains natural ingredients like shudha kuchala, shudha shilajeet, praval pishti etc. These contains natural vatahar properties and helps in curing vata diseases.
Recommended Dosage: Take one tablet twice daily after meals.
2. Knee Care Tablets
CAC Knee care tablets are pure ayurvedic preparation, which are 100% safe. Knee pain is becoming a very common situation due to lack of exercise and wrong eating habits. Basically "ama" is formed in the body that blocks the channel and creates pain in the knee. This tablet is effective in Rheumatoid arthritis, Osteoarthritis, and Gout problem. The herbs present in this tablet provides good result in body pain, swelling, stiffness, & inflammation. This tablet also show anti-inflammatory, antioxidant, & analgesic properties. The antioxidant nature removes all toxins (ama) out from the body. Anti-inflammatory & analgesic properties reduce inflammation & pain in the Knee.
Recommended Dosage: Take 1 tablet twice daily with normal water.
3. Pain-O-Kill Oil
This herbal oil provides good results in body pain, swelling, stiffness, & inflammation. Massage with this oil relieves pain, stiffness, & swelling. Pain-O-Kill oil is prepared from herbal ingredients like Jyotishmati, Kustha, Devdaru, Vatsnabh, Rasna, etc. These all ingredients show anti-inflammatory, antioxidant, & analgesic properties. The antioxidant nature removes all toxins out from the body. Anti-inflammatory & analgesic properties reduce inflammation & pain in the Knee.
Method of Application:Take few drops of oil in your hands after that gently massage over the affected area of your body pain.
4. Panchsakar Churna
It is a pure and classical preparation known as Panchsakar churna. This churna is used since ancient time for the detoxification of the body. The churna contain five ingredients as the name suggests Haritaki, Shunthi, Krishna Pippali, Trivrit, and Sauvarchala lavana. As toxins are removed from the body knee pain will automatically subsides.
Recommended Dosage: Take one teaspoonful at bedtime with lukewarm water.
5. Kapha Balance Tablet
CAC Kapha tablet is a healthy blend of herbs formulated to balance Kapha doshas without aggravating Pitta and Vata doshas. It can also be used to alleviate any temporary Kapha imbalance. It is very effective in Kapha season that is late winter and spring. It consists of warming and astringent herbs that help to balance the system throughout the cold season. The main use of Kapha tablets is to remove excess Kapha doshas from the system and helps in the management of weight, healthy lungs, and the immune system.
Recommended Dosage: Take one tablet twice daily after meals.