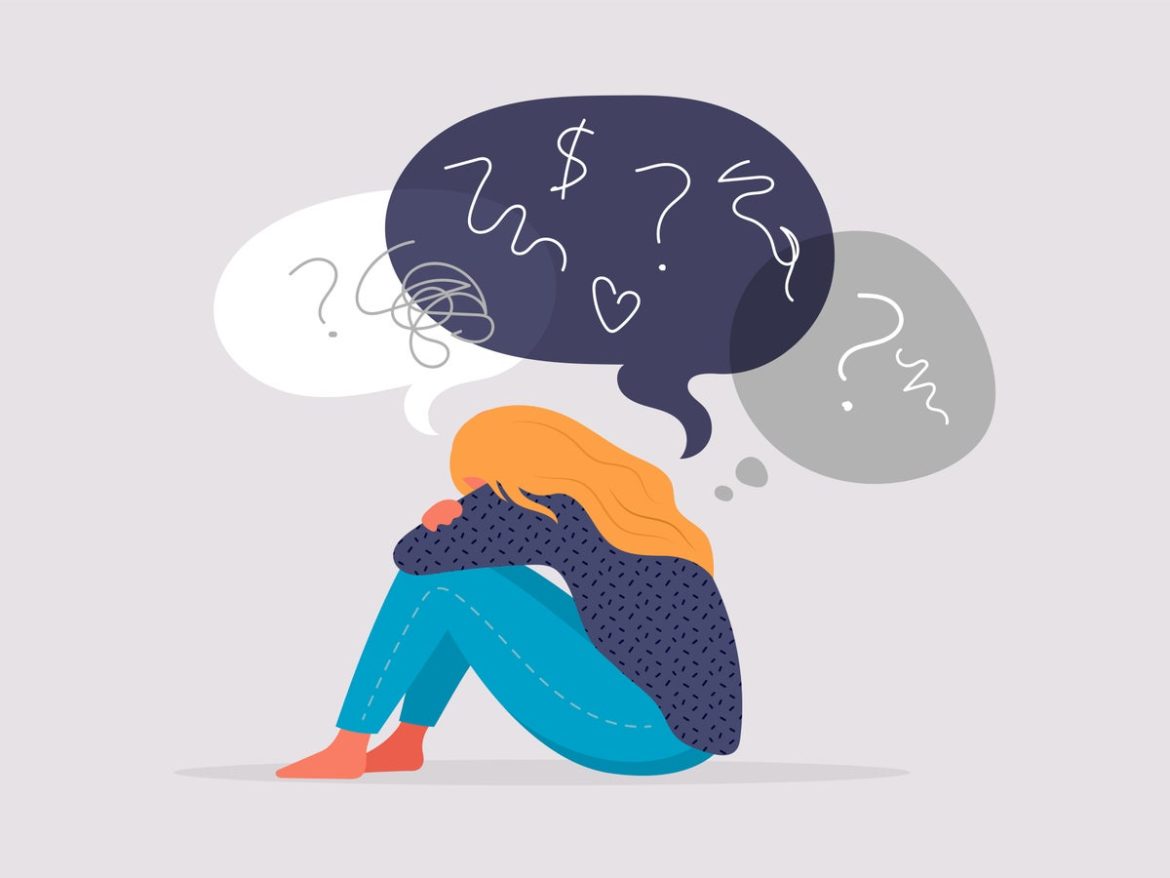 MANAGING ANXIETY DISORDERS WITH AYURVEDA
26 Apr, 2023
Posted by admin
The presence of some anxiousness is common. Many individuals experience anxiety or nervousness during attending an interview, making significant choice, taking an exam etc. and even good things can come from anxiety like anxiety can help individual to concentrate more and make them aware of potentially harmful circumstances, keeping them safe.
However, an anxiety disorder goes beyond normal uncertainty and mild panic individual can experience sometimes. There is an anxiety condition when :
Individuals ability to perform daily tasks is hampered by anxiety.
When anything sets off individuals emotions and they frequently over-react.
Individuals reactions to events are beyond their control.
It is tough for individual with anxiety disorder to make it through the day. Now a days due to hectic work style and sedentary lifestyle anxiety disorders are quit common conditions
WHAT ARE THE TYPES OF ANXIETY DISORDERS?
There are several types of anxiety disorders like :
Generalized Anxiety Disorder(GAD) : This is a most common type of anxiety disorder. It involves worrying excessively and persistently about everyday, routine problems as well as activities or occurrences. The worry is excessive compared to situation, difficult to manage and physically draining.
Agoraphobia : It is a type of anxiety disorder in which individual fear and frequently avoids locations or circumstances that might make individual feel powerless, confined or ashamed and lead to panic.
Panic Disorder : This type involves reoccurring episodes of sudden feelings of intense fear and anxiety which peaks within minutes. Individual may experience feeling of impending dome, chest pain, shortness of breath, pounding heart.
Social Anxiety Disorder : Due to emotions of self-consciousness, humiliation and worry about being evaluated or perceived adversely by others, it entails significant levels of dread, anxiety and avoidance of social setting.
Separation Anxiety Disorder : It is a condition which affects the children that is characterized by anxiety that is excessive for the child's developmental stage and connected to parental duties or separation from them.
WHAT ARE THE CAUSES OF ANXIETY DISORDER?
Anxiety disorders have several root causes. Many might happen simultaneously, some could trigger other and some could not even trigger an anxiety condition without another. The causes includes :
Genetics
Substance withdrawal
Environmental stressors like family issues, relationship issues etc.
Medical factors like symptoms of certain health condition or effect of certain medications.
WHAT ARE THE SYMPTOMS OF ANXIETY DISORDERS?
Depending on sort of anxiety condition individual have , symptoms will change. The following are general signs of an anxiety disorders are :
Physical symptoms includes :   
Heart palpitations
Numbness or tingling in feet or hands
Cold or Sweaty hands
Nausea
Shortness of Breath
Dry mouth
Muscle tension
Mental symptoms includes :
Nightmares
Uncontrollable, obsessive thoughts
Feeling fear, panic and uneasiness
Repeated thoughts or flashbacks of traumatic experiences
Behavioral symptoms includes:
Trouble sleeping
Inability to be calm and still
Ritualistic behaviors like washing hands repeatedly.
WHAT AYURVED SAYS ABOUT ANXIETY DISORDERS?
According to Ayurveda, Vata, Pitta and Kapha, three doshas are out of balance and are to be blamed for any type of mental or physical diseases. Any mental illness is referred to as Manshik Rog and is frequently brought on by vitiation of Vata dosha since it is connected to neurological system in our body. Doshas can be aggravated by number of things, including poor eating habits, indigestion, stress related toxin buildup , being physically inactive etc. This leads to vitiation of the Vata dosha which contributes to development of anxiety, insomnia or fear in individual.
HERBS :
Brahmi
Jatamansi
Ashwagandha
Yashtimadhu
Haridra
Guduchi
PANCHAKARMA :
Shiro abhyanga
Shiro dhara
Nasya karma
Shiro vasti
Takra dhara
CHANDIGARH AYURVED CENTRE MEDICATION FOR TREATMENT OF ANXIETY DISORDERS :
1. Calm Sleep Tablet:
Calm sleep tablet is an amazing combination of natural herbs like bhang, Brahmi, Tagar, jatamansi. It helps to relieve stressful conditions. They help to pacify the nervous system and also helps to calm minds and make your body relax and light. In Ayurveda when there is an imbalance of three energies i.e. vata, pitta and Kapha, it leads to disease. Vata has a sub dosha named prana doshas which regulates the sensory perception, brain, and mind. calm sleep tablets is effective in depression, anxiety, insomnia, amnesia, Alzheimer's disease, obesity, and hypertension.
Recommended Dosage– Take 2 tablets twice a day with normal water.
2. Nerve Up Tablet:
Nerve up tablet is a herbo-mineral tablet and is purely ayurvedic formulation. CAC Nerve up tablets help in balancing the vata doshas. It reduces kapha dosha, and acts as nervine stimulant. It shows effective results in improving the central nervous system. It contains natural ingredients like shudha kuchala, shudha shilajeet,  praval pishti, shankh bhasma etc. These contains natural vatahar properties and helps in curing vata diseases.
Recommended Dosage– Take 2 tablets twice a day with normal water.
3. Brodley Syrup
The syrup contains – Shankh pushpi (Convolvulus pluricalis), Brahmi (Bacopa monnieri), Yashti madhu (Glycyrihiza glabra), Dhania (Coriandrum sativum), Saunf (Foeniculum vulgare) etc…It mainly act as an Anti – Depressantand reduces the stress level. Syrup has best results in mental fatigue, aggressive behavior, learning disorder, mental retardation etc…
Recommended Dosage – Take 2 teaspoonful twice a day with normal water.
4. Brain Relaxant Churna
Brain relaxant churna is a herbal and purely ayurvedic formulation. It is 100% natural and pure. It is prepared from herbs that show calming effect on brainand gives you relaxation. It contains various herbs like Amla, Sonth, Pippali, Marich, Haldi, Bala, Suddha Gandhak, Lauh bhasma etc. that are Stress buster and provide you relief from anxiety. Herbs present in CAC Brain relaxant churna shows antioxidant, Neuroprotective, carminative and anti inflammatory properties.
Recommended Dosage– Take 1 teaspoonful twice a day with normal water.
5. Mann Mitra tablet:
Mann Mitra tablet is herbal and purely ayurvedic medicine. It is used in Ayurvedic treatment for psychiatric conditionsand help to balance all the three doshas of body i.e vata, pitta, kapha. CAC Mann Mitra tablet improves intelligence and speech problems. It is helpful for making the nervous system strong and nerves as well. It contains various herbs like Bala, Vacha, Shankhpushpi, Nagkeshar etc that help you fight insomnia, anxiety, and stress. It works as a antioxidant, anti depressant, immuno booster, anti epileptic and as neuro protective drug.
Recommended Dosage– Take 2 tablets twice a day with normal water.
6. Stress Care Tablet:
Stress care tablet is an amazing combination of natural herbs like Sarpgandha, Brahmi, Tagar, jatamansi. It helps to relieve stress conditions. They help to pacify the nervous system and also helps to increase the mental and physical performance. It is very helpful  in anxiety,  depression, loneliness, insomniaand Provide strength to the nervous system.
Recommended Dosage– Take 2 tablets twice a day with normal water.