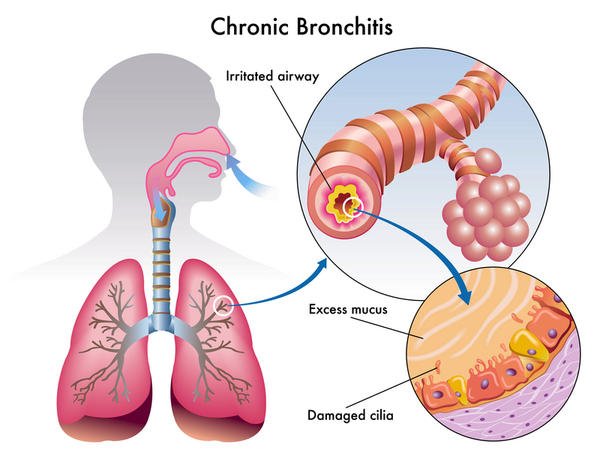 MANAGING BRONCHITIS WITH AYURVEDA
27 Apr, 2023
Posted by admin
The airways leading to lungs gets inflamed and filled with mucus is known as Bronchitis. When the trachea and bronchi(airways) are inflamed, they expand and produce mucus, which causes coughing. Coughing fits might linger for a few days to weeks. Cough is the primary symptom of the bronchitis.
The most frequent cause of acute bronchitis is viruses. Acute and chronic bronchitis can be brought on by smoke and other irritants.
WHAT ARE THE TYPES OF BRONCHITIS?
Bronchitis is categorized into two types which includes :
Acute Bronchitis : It is the most common type and is also known as a chest cold. It normally goes away without any lasting consequences within a week to 10 days, however the cough may persist for weeks.
Chronic Bronchitis : The other form, chronic bronchitis, causes periods of protracted coughing and inflammation and is a far more dangerous, irreversible lung condition. The illness alters the structure of the bronchial tubes, causing symptoms that may flare up and worsen over time but never go away completely.
WHAT ARE THE CAUSES OF BRONCHITIS?
Bronchitis may be brought on by almost anything that irritated the airways. The factors includes :
Viruses : The respiratory syncytial virus(RSV), adenovirus, rhinovirus and corona virus are among the viruses that can cause bronchitis.
Bacteria : Chlamydia pneumonia, Mycoplasma pneumonia and Brodetella pertussis are some of the cause bronchitis.
WHAT ARE THE RISK FACTORS OF BRONCHITIS?
There are certain factors that might increase the risk of bronchitis which includes :
Low Resistance : Individuals with low immunity are more at risk of developing this condition.
Gastric Reflux : Repeated episodes of excruciating heartburn can irritate the throat and increase the risk of bronchitis.
Smoking : Both acute and chronic bronchitis are more common in individuals who smoke or who live with smoker.
Exposure to irritants : If an individual works around specific lung irritants, like textiles or grains, or is exposed to chemical fumes, their chances of having bronchitis increases.
Other Respiratory conditions : Individuals with other respiratory conditions like COPD, asthma etc are more at risk of developing bronchitis.
WHAT ARE THE SYMPTOMS OF BRONCHITIS?
Some common symptoms experienced by individual with bronchitis includes :
Cough
Slight fever and chills
Chest discomfort
Fatigue
Production of clear, yellowish-green or white colored mucus
Wheezing
Blocked nose and sinuses
Headaches
Shortness of breath
Sore throat
LIFE STYLE CHANGES :
Avoid irritants like dust, smoke, vapors, fumes and other air pollutants.
Switch to healthy diet to boost your immunity.
Drink plenty of fluids like water, herbal tea, fruit juices, clear soups etc to thin the mucus
Wash hands frequently to reduce the risk of catching infections.
Use humidifier because breathing warm, moist air reduce cough, helps to loosen mucus in the airways and promotes expectoration,
WHAT AYURVED SAYS ABOUT BRONCHITIS?
It is comparable to Tamak Shwash in ayurveda. Doshas, especially kapha, gets vitiated as a result of exposure to etiological stimuli. The aggravated kapha dosha vitiates the digestive fire and causes ama(toxins) to develop. Ama builds up and together with vitiated kapha, cause blockage of Pranavaha strotos, which impedes the natural flow of prana vayu and leads to development of Tamak shwasa in individual.
HERBS :
Pushkarmoola
Tulsi
Haridra
Vasa
Yastimadhu
Vibhitaka
Bharangi
Shirisha
Shunthi
PANCHAKARMA :
Vaman
Uro vasti
Nasyam
Patra pottali pind swedan
Parisheka
CHANDIGARH AYURVED CENTRE MEDICATIONS FOR TREATMENT OF BRONCHITIS:



1. Broncho care syrup:
Broncho care syrup is used to eliminate chronic cough, bronchitis, common cold, whooping cough, etc. This ayurvedic syrup contains Vasa patra (Adhatoda vasica), Kantkari (Solanum surattense), Mulethi (Glycyrrhiza glabra), Bharangi (Clerodendrum serratum), Chitrakmool (Plumbago zeylanica), Sonth (Zingiber officinale), Pippali(Piper longum), Lasoda (Cordia dichotoma), Pudina (Mentha spicata), etc. These ingredients show antioxidant, anti-inflammatory, expectorant, bronchodilator properties.
Recommended Dosage –Take 2 teaspoonful twice a day.
2. Cough Go Tablets:
Cough Go tablets are ayurvedic formulation containing ingredients like Sonth (Zingiber officinale), Mulethi (Glycyrrhiza glabra), Pippali (Piper longum), Kali mirch (Piper nigrum), etc. These tablets are very effective in bronchitis, cough, cold, nasal problems, and other respiratory problems.
Recommended Dosage –Take 1 tablets twice a day with normal water.
3. Kapha Sachet
The powder contains a mixture of herbal ingredients which are mainly made for the treatment of asthma. Their properties generally balance the vata and kapha dosha. The sachet contains ingredients like – Sitopladi churna,  Laxmi vilas ras, Godanti bhasma, etc. It is used mainly in chronic cough, whooping cough and trouble breathing. It also relieves congestion of chest, sore throat. The ingredients loosen the mucus accumulated in the chest thus making it easy to cough it out. Its main therapeutic effects appear on lungs, pleura, and airways.
Recommended Dosage– Take 1 Sachet twice a day with normal water.
4. Giloy capsule:
Giloy capsules are formed with the standardized extract of herb giloy (Tinospora cordifolia). The Giloy herb improves immunity, removes toxins from body, purifies blood, beneficial in cough, cold, fever, & bronchitis.
Recommended Dosage:Take 2 capsules twice a day with normal water.
5. Trikatu Syrup:
Trikatu combines the goodness of Black pepper, Ginger and, Long pepper to create an herbal remedy for digestive ailments, sluggish metabolism, obesity, and high cholesterol. This syrup has best results in anti-inflammatory, pain-relieving, and expectorant. It also help to tackle the weight problems or obesity. It can modulate your body's immune response while cutting the characteristic inflammation associated with the back pain.
Recommended Dosage–Take 2 teaspoonful twice a day before meal with normal water.