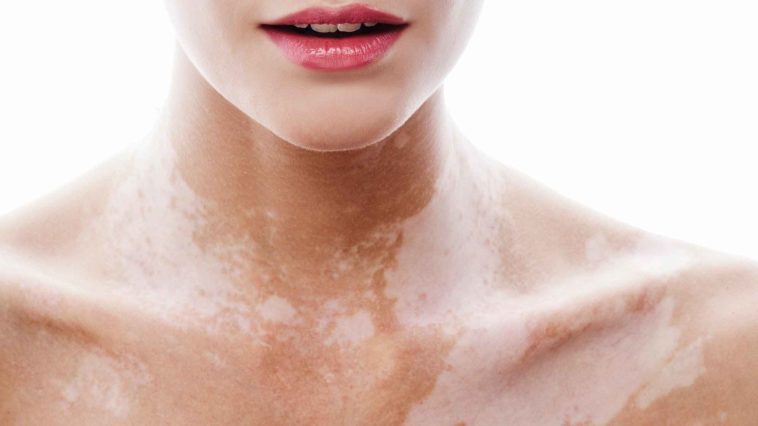 MANAGING LEUCODERMA WITH AYURVEDA
26 Apr, 2023
Posted by admin
A skin condition which causes the skin to lose its pigment or color is known as Leucoderma. This condition cause the skin to appear lighter than the natural skin tone or turn white. If the area of skin losing pigment is greater than 1 centimeter, it is referred to as a patch, and if it is less than 1 centimeter broad, it is known as a Macule.
This skin condition develop when body's immune system destroy melanocytes. Melanocytes are skin cells are responsible for producing melanin, the substance that gives pigmentation or color to skin. Neither the ailment is infectious nor life-threatening. It could cause stress or make individual feel self-conscious.
WHAT ARE THE TYPES OF LEUCODERMA ?
There are different types of Leucoderma including :
Generalized : This type is the most common type which causes macules to appear in different places on the body.
Mucosal : This type affects mucous membranes of mouth or genitals of the individual.
Segmental : Only one side of the body or one specific part, such as hands or face, is affected by this type.
Focal : This is a rare type in which macules develop in small area and do not spread in certain pattern within 1 to 2 years.
Universal : This is also rare type which causes more than 80% of the skin to not have pigment
Trichome : With this kind, individual gets a bulls-eye with a white or colorless center, followed by lighter-pigmented area and a spot that matches the skin tone.
WHAT ARE THE CAUSES OF LEUCODERMA?
Certain factors that might contribute in development of Leucoderma are :
Genetic Changes : Genetic mutation or change to body's DNA can affect how melanocytes function. There are more than 30 genes that can make individual more likely to get
An Auto-immune Condition : Melanocytes, which are healthy cells, are mistaken by immune system for foreign invaders like germs that might harm the body. Individuals immune system over-reacts to this, producing anti-bodies that attack melanocytes.
Stress : If individual frequently suffer physical stress on body or emotional stress on your body, particularly after an injury, the melanocyte cells may generate less pigment.
Environmental Triggers : Melanocyte cells ability to operate can be impacted by things like exposure to harmful chemicals and UV light.
WHAT ARE THE SYMPTOMS OF LEUCODERMA?
Common symptoms that are experienced by the individual Leucoderma includes :
Skin color loss which typically first manifests in patches on the hands, face and regions near body opening and the genitalia.
Premature greying or whitening of eyebrow, eyelashes, beard or scalp hair.
Mucosal membranes , the tissues that lines the interior of the nose and mouth lose color.
Loss or alteration of color in retina.
Depression
Mood swings
WHAT AYURVEDA SAYS ABOUT LEUCODERMA?
In Ayurveda it can be correlated with Shvitra kushta. Due to exposure to etiological factors like intake of unwholesome food, anger, stress etc leads to vitiation of the tri doshas in the body. The vitiated doshas hampers the digestive fire and leads to formation of Ama. The formed ama along with aggravated doshas get mixed with rasa, rakta and mansa dhatu and spreads all over the body which leads to discoloration of the skin color thus causing Shvitra kushta.
HERBS :
Maricha
Khadira
Jyotishmati
Markava
Bakuchi
Haridra
Patol
PANCHAKARMA :
Vaman
Body lepam
Rakta mokshan
Virechana
CHANDIGARH AYURVEDA CENTRE MEDICATION FOR TREATMENT OF LEUCODERMA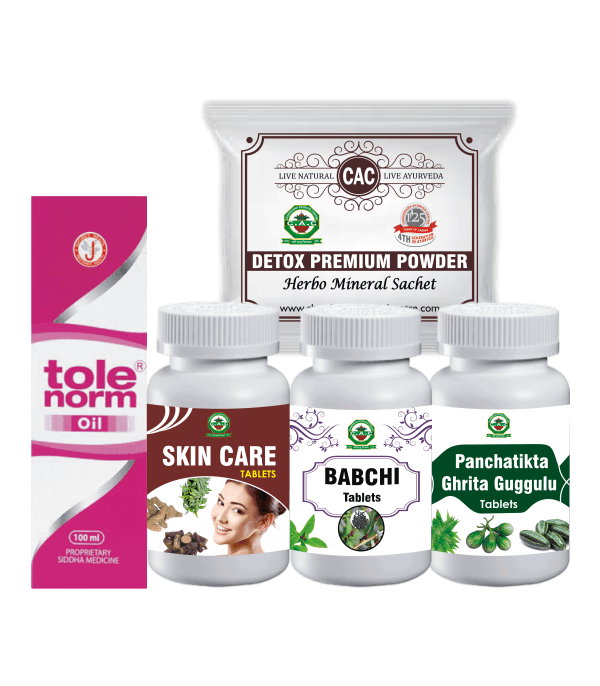 1. Detox Premium Powder
This is the mixture of all herbal medicines which are beneficial in the treatment of leucoderma. The mixture contains ingredients like- Moti pishti, Parwal pishti, Giloy satva, Jahar mohra, Akik pishti, Gandhak rasayan, etc. These ingredients balance all the Tridosha. It brings the cooling effect and useful in the inflamed parts of the body.
Recommended Dosage– Take 1 sachet twice a day with normal water.
2. Panchatikta Ghrita Guggulu
Panchatikta Ghrita Guggulu is a classical Ayurvedic formulation that keeps the Vata, Pitta, and Kapha calm. It purifies the blood and very beneficial for skin diseases. It is prepared form ingredients like – Patola (Trichosanthes dioica), Guduchi (Tinospora cordifolia), Vasa (Adhatoda vasica), etc. It reduces inflammation and provides cooling effects. This Ayurvedic medicine has potent use in managing skin problems like psoriasis, leucoderma, eczema, as it helps to eliminate the toxins from the blood.
Recommended Dosage–   Take 2 tablets twice a day with normal water.
3. Tolenorm oil
Tolenorm oil is a Proprietary Siddha Medicine which is specially formulated with both polar and non-polar actives prepared through a unique process from the following plants: Wrightia tinctoria, Psorolea corylifolia, Indigofera tinctoria, Piper longum and Oleum Cocos nucifera. Therapy with Tolenorm oil is proven to be effective in the management of Vitiligo and hypopigmentary problems.
Dosage: Apply on the effective area twice daily.
4. Skin Care tablet
Skin care tablet is herbo mineral and purely Ayurvedic formulation. It helps to maintain the texture of your skin depending on the type of skin you have. It contains various herbs like Haridra khand, Panchnimb churna, Khadir chahal, Chirayta, Mulethi, Chopchini, Gandhak, Ajmoda that work very effectively on all skin types. Skin care is a blood purifying tablet. It cools and detoxifies the blood, removes stagnant blood and dissolves obstructions in the blood flow that further increase blood circulation of the skin. It minimizes the blemishes, lighten sun tan, delay ageing of skin and heal skin problems. It is Natural skin moisturizer, Delay ageing, Remove blemishes, Reduce itching and burning sensation of skin, Prevent acne and pimples, In allergic skin diseases, Relieves leucoderma
DOSAGE: Take 1-2 tablets twice daily
5. Babchi Tablet
CAC Babchi Tablet is an herbal formulation which is beneficial in fungal infection of nail, psoriasis, deafness, bleedings from wounds, insomnia, vitiligo, Cancer, Jaundice, provide natural color to skin, Eczema, Leprosy, skin problems, Leucoderma, purifies blood, supports healthy melanin pigment (skin pigment that supports healthy skin color) in body.
DOSAGE: Take 1-2 tablets twice daily